Search London wiki and Pub wiki history sites
All public house, restaurants, bars etc closed for the forseeable future from 20th March 2020, but this is a history site.
Union Arms, 109 Bridge road, Battersea SW11
Battersea East pub history index
Historical London public houses, Taverns, Inns, Beer Houses and Hotels.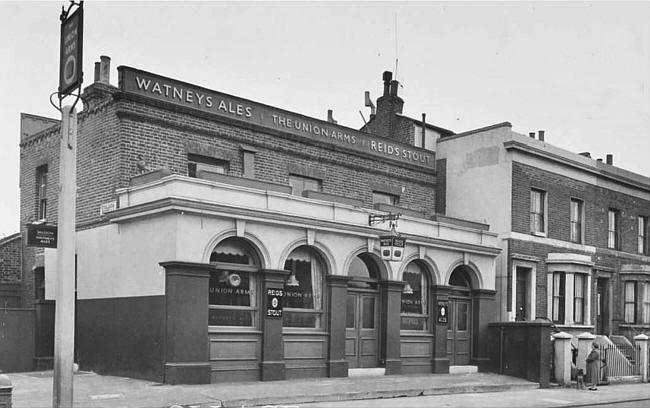 Union Arms, 109 Bridge road & Ethelburga street, Battersea in 1956
Kindly provided by Vincent O'Loughlin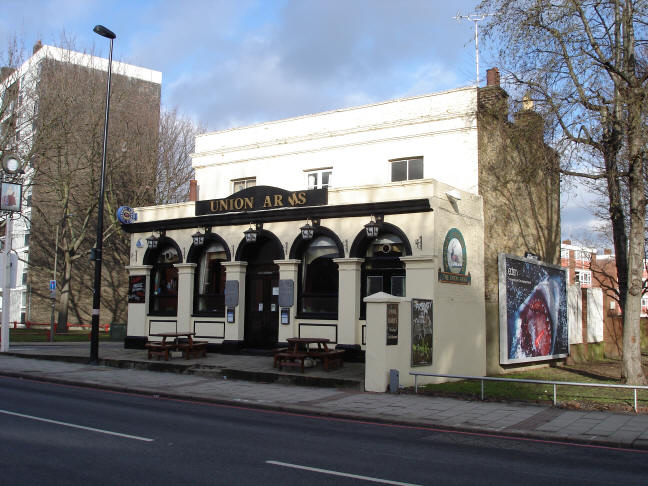 Union Arms, 109 Battersea Bridge Road SW11 - in February 2009
Kindly provided by Fred Roll
Residents at this address.
1848/Richard Johnson, Union, Bridge Road, Battersea/../../Post Office Directory

1851/Eliza Ayres/Beer Shop Keeper/22/Kingston, Surrey/Census
1851/Henry Henick/Uncle, Retired Butcher/40/Kingston, Surrey/Census
1851/Ann Henick/Aunt/39/Kingston, Surrey/Census
1851/Emma Henick/Cousin/18/Putney, Surrey/Census
1851/Henry Henick/Cousin, Attorney Clerk/15/Kingston, Surrey/Census
1851/Edward C Henick/Cousin/8/Southwark, Surrey/Census
1851/Louisa Henick/Cousin/5/Southwark, Surrey/Census
1851/Pamela A CArder/Servant/19/Bermondsey, Surrey/Census

1871/Henry Collins/Licensed Victualler/29/Kensington, Middlesex/Census
1871/Marian Collins/Wife/26/Cambridgeshire/Census
1871/Kate Collins/Daughter/4/Battersea, Surrey/Census
1871/Blanche Collins/Daughter/6 months/Battersea, Surrey/Census
1871/Susannah Collins/Visitor/11/Cambridgeshire/Census
1871/William Collins/Potman/30/Fulham, Middlesex/Census
1871/Elizabeth Burrell/Servant/28/Lynn, Norfolk/Census

1878/Henry Collins, Union Arms, 109 Bridge road/../../../Surrey Directory

1881/Henry Collins/Licensed Victualler/39/Kensington, Middlesex/Census
1881/Caroline Collins/Wife/36/Cheveley, Cambridge/Census
1881/Maude Collins/Daughter/7/Battersea, Surrey/Census
1881/Henry Collins/Son/2/Battersea, Surrey/Census
1881/Martha Holland/Mother In Law, Visitor, Widow/60/Fetchenton ?, Cambridge/Census
1881/Susannah Collins/Cousin, Barmaid/21/Fetchenton ?, Cambridge/Census
1881/Charles Bagley/Pot Boy/14/Battersea, Surrey/Census

1891/Catherine C Collins/Licensed Victualler/46/Cheveley, Cambridgeshire/Census
1891/Kate H Collins/Daughter/24/Battersea, London/Census
1891/Maud E Collins/Daughter/17/Battersea, London/Census
1891/Harry Collins/Son/12/Battersea, London/Census
1891/Martha A Holland/Mother, Widow/70/Stetchworth, Cambridgeshire/Census
1891/Agnes E Pummell/Barmaid/22/Hereford, Herefordshire/Census
1891/William Cooke/Barman/19/Hemel Hempstead, Hertfordshire/Census
1891/Agnes Taylor/General Servant/16/Ashley, Cambridgeshire/Census

1896/Mrs Catherine Collins/../../../../Post Office Directory

1901/Thomas Sullivan/Licensed Victualler/32/New Zealand/Census
1901/Alice Sullivan/Wife/26/Wandsworth, London/Census
1901/Child Sullivan/Son/1 week/Battersea, London/Census
1901/Amy Atkinson/Nurse/40/Lancashire/Census
1901/Edith Peck/Barmaid/27/Chelsea, London/Census
1901/Sybil Whitefort/Barmaid/37/Fulham, London/Census
1901/Alice McPhelan/Cook/22/Scotland/Census

1901/Tom Sullivan/../../../../Post Office Directory

1906/Tom Sullivan/../../../../Post Office Directory

1911/Henry Williams/../../../../Post Office Directory

1919/Harry Williams/../../../../Post Office Directory

1938/Williams & Frawley/../../../../Post Office Directory

1944/Williams & Frawley/../../../../Post Office Directory