Search London wiki and Pub wiki history sites
All public house, restaurants, bars etc closed for the forseeable future on 20th March 2020, but this is a history site. But how about the landlords give their tenants a break, no business, then please charge them no rent.
Victoria, 166 Queenstown Road, Battersea SW8
Battersea East pub history index
At 1 Victoria Terrace, Queens Road in 1881 census. The address alters to 166 Queenstown road from 166 Queens road by 1944; this is a Star UK pub in 2017.
A listing of historical London public houses, Taverns, Inns, Beer Houses and Hotels in the Battersea parish, London SW.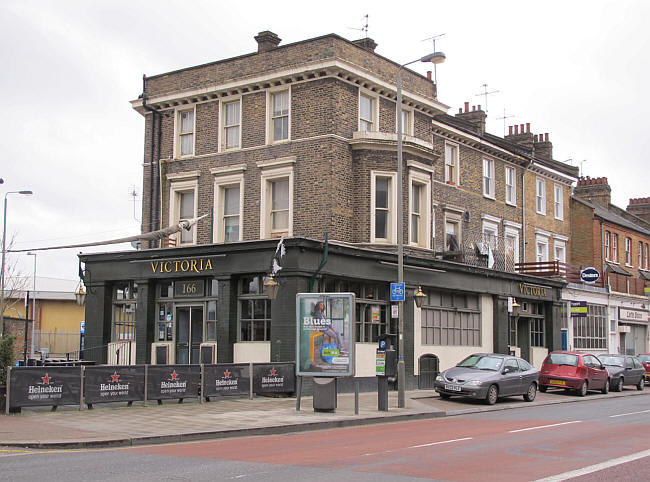 The Victoria, 166 Queenstown road, and Silvertown road SW8 in 2014
Kindly provided by Vincent O'Loughlin
Residents at this address.
1871/Theodore Muspratt/Plumber Painter etc/40/Heytesbury, Wiltshire/Census
1871/Susan Muspratt/Wife/45/Box, Wiltshire/Census
1871/Frederick W Muspratt/Son/12/Heytesbury, Wiltshire/Census
1871/Frank G Muspratt/Son/10/Pimlico, Middlesex/Census
1871/Ernest H Muspratt/Son/9/Pimlico, Middlesex/Census
1871/Julia A Muspratt/Daughter/7/Battersea Surrey/Census
1871/Thomas E Muspratt/Son/5/Battersea Surrey/Census
1871/John T Muspratt/Son/2/Battersea Surrey/Census
1871/Lucy M Muspratt/Daughter/1/Battersea Surrey/Census

1878/William Watson/../../../../Surrey Directory

1881/Richard Watson/Publican, Deaf/47/Hackney/Census
1881/Mary A Watson/Wife/45/City of London, Middlesex/Census
1881/William Thos Watson/Son, Assistant/21/Clerkenwell/Census
1881/Elizabeth A Watson/Daughter/8/Clerkenwell/Census
1881/Alice Watson/Daughter/5/Clerkenwell/Census
1881/Louisa Bloomfield/General Servant/35/Wilby, Suffolk/Census
1881/William Blackman/Inn Servant/14/Highbridge, Somerset/Census
1881/Edwin Warner/Inn Servant/17/Boro Southwark/Census
1881/George W Redman/Waiter/24/Isle of Wight, Hampshire/Census
1881/Caroline Watson/Mother, Widow/76/Clerkenwell/Census
1881/Emma E Stevens/Niece/11/St Pancras/Census
1881/Caroline E Stevens/Niece/5/Battersea/Census
1881/William Stevens/Nephew/8/Battersea/Census

1896/Hy Maltby/../../../../Post Office Directory

1901/Henry Maltby/Licensed Victualler/68/Clapham, London/Census
1901/Martha F Maltby/Wife/52/Oxford/Census
1901/Selina A Maltby/Daughter, Widow/43/Hampstead, London/Census
1901/Victor K Ayles/Manager/30/Southampton, Hants/Census
1901/Charls W Clifford/Barman/20/St Pancras, London/Census
1901/Sidney H Wightingal/Barman/20/Battersea, London/Census
1901/John Farrell/Barman/23/Bayswater, London/Census
1901/Elizabeth Johnson/General Servant/24/Bayswater, London/Census

1901/Hy Maltby/../../../../Post Office Directory

1906/R H N Thorne/../../../../Post Office Directory

1911/Harry Alfred Johnson/../../../../Post Office Directory

1919/Harry Alfred Johnson/../../../../Post Office Directory

1934/Allan Simon Belsher & Arthur Sheppard/../../../../Post Office Directory

1938/Short & Light/../../../../Post Office Directory

1944/R Glanvil/../../../../Post Office Directory