Search London wiki and Pub wiki history sites
All public house, restaurants, bars etc closed for the forseeable future on 20th March 2020, but this is a history site. But how about the landlords give their tenants a break, no business, then please charge them no rent.
Stag, 96 Bridge road west, Battersea SW11
Battersea North west pub history index
Historical London public houses, Taverns, Inns, Beer Houses and Hotels.
At 3 Stag Terrace, Bridge Road in 1861; renumbered to 96 Bridge Road West, later Westbridge Road; the Stag is the historic name, and it is written deep into the parapet of the building.
This pub is now closed and converted to restaurant use (2009). ** Reverted to pub use in 2012.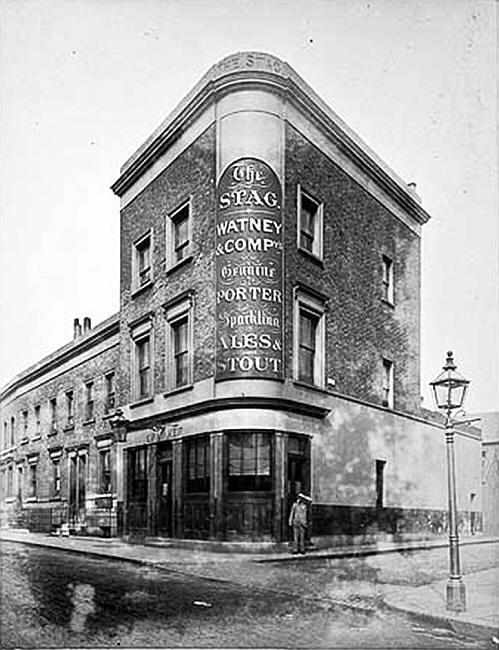 Stag, Bridge Road and Church lane, Battersea - in 1880 with landady Elizabeth Parker
Kindly provided by Vincent O'Loughlin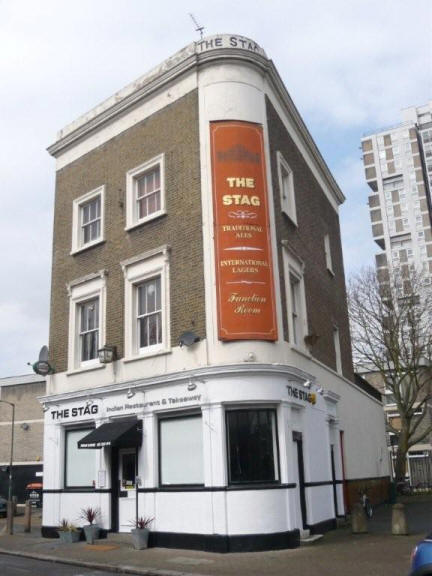 Stag, 96 Westbridge Road, SW11 - in March 2009
Kindly provided by Stephen Harris
Residents at this address.
1860/Thomas Parker, beer retailer, Bridge road/../../Post Office Directory

1861/Elizabeth Parker/Beer House Keeper, Widow/47/Harleston, Norfolk/Census *
1861/Alice M Parker/Daughter, Assistant/20/Horselydown, Surrey/Census
1861/Agnes Parker/Daughter, Assistant/18/Lambeth, Surrey/Census
1861/Fredric Parker/Son/16/Lambeth, Surrey/Census
1861/Jane Parker/Daughter/14/Lambeth, Surrey/Census
1861/Emily A Parker/Daughter/11/Isleworth, Middlesex/Census

1865/Mrs Elizabeth Parker, beer retailer, Bridge road west/../../Post Office Directory

1871/Elizabeth Parker/Beer House Keeper/54/Harleston Norfolk/Census ***
1871/Frederick Parker/Son/24/Lambeth Surrey/Census
1871/Adelina Shepstone/Visitor Independant/50/Harleston Norfolk/Census
1871/John Shepstone/Brother Independant/51/Deaf/Harleston Norfolk/Census

1878/Mrs Elizabeth Parker, beer retailer, 96 Bridge road west/../../../Surrey Post Office Directory

1881/Elizabeth Parker/Beer Retailer, Widow/66/Harleston, Norfolk/Census *
1881/Adeline Shepstone/Sister/63/Harleston, Norfolk/Census
1881/Frederick Allen/Son in Law, Mosaic Pavior/33/Lambeth, Surrey/Census
1881/Alice Allen/Daughter/36/Paddington, Middlesex/Census
1881/Graham Allen/Grandson/12/Battersea, Surrey/Census
1881/Adeline Allen/Grand Daughter/9/Battersea, Surrey/Census
1881/Frank Freestone/Son in Law, Mercantlie Clerk/34/Chelsea, Middlesex/Census
1881/Adeline Freestone/Daughter/30/Isleworth, Middlesex/Census
1881/Horace Freestone/Grandson/9/Battersea, Surrey/Census
1881/Ethel Freestone/Grand Daughter/7/Battersea, Surrey/Census
1881/Maud Freestone/Grand Daughter/3/Battersea, Surrey/Census
1881/Charled Claiden/Potman/18/Kingston, Surrey/Census

According to the 1891 Census, an ancestor of mine (Edward John PATRICK) was the publican of The Stag (at 96 Bridge Road West). Going backwards, the 1861, to the 1881 Census shows his then future mother-in-law (Elizabeth PARKER – Widow) as the "Beer House Keeper" of the Stag. *

1891/Edward J Patrick/Beer Retailer/35/Chelsea, London/Census *
1891/Alice M Patrick/Wife/46/Paddington, London/Census
1891/Graham F S Allen/Son, Assistant/22/Battersea, London/Census
1891/Lucy Allen/Wife, Assistant/21/City, London/Census
1891/Adeline Allen/Daughter, Actress/20/Battersea, London/Census
1891/Violet Boughton/Visitor/11/Southsea, Hampshire/Census
1891/Lydia Moore/General Servant/16/Battersea, London/Census

1896/George Eates/Beer Retailer/../../../Post Office Directory

1901/Martha Eates/Beer Retailer, Widow/57/Sheering, Essex/Census
1901/William Eates/Son, Barman/37/Hanover Square, London/Census
1901/Grace Eates/Daughter, Barmaid/21/Walton, Surrey/Census
1901/Edward Eates/Son, Clerk/17/Marylebone, London/Census
1901/Mabel Eates/Daughter/11/Marylebone, London/Census
1901/Maria Clemen/Sister, Widow/65/Sheering, Essex/Census
1901/Annie Norris/Niece, Dressmaker/33/Sheering, Essex/Census

1906/Miss Grace Eates/Beer Retailer/../../../Post Office Directory

1908/Walter H Wright/Beer Retailer/../../../Post Office Directory **

1919/Alfred Jas Beagle/Beer Retailer/../../../Post Office Directory **

1921/Alfred Jas Beagle/Beer Retailer/../../../Post Office Directory **

1934/Frederick George William Balls/Beer Retailer/../../../Post Office Directory **

1938/Timothy Joseph Darmody/Beer Retailer/../../../Post Office Directory **



* Provided By Brian Patrick

** Provided By Bill Rigby & Stephen Harris

*** Provided By Bev Howlett