Search London wiki and Pub wiki history sites
All public house, restaurants, bars etc closed for the forseeable future on 20th March 2020, but this is a history site. But how about the landlords give their tenants a break, no business, then please charge them no rent.
Gladstone, 64 Plough Road, Battersea SW11
At Plough Lane in 1878; Olney Terrace, Plough Lane in 1881. The 1890 photo of the Gladstone Arms, Plough Road, Battersea shows it at the corner of Tritton Street. The pub was demolished during the building of The Winstanley estate in the late 1960s. *
Battersea North west pub history index
Historical London public houses, Taverns, Inns, Beer Houses and Hotels.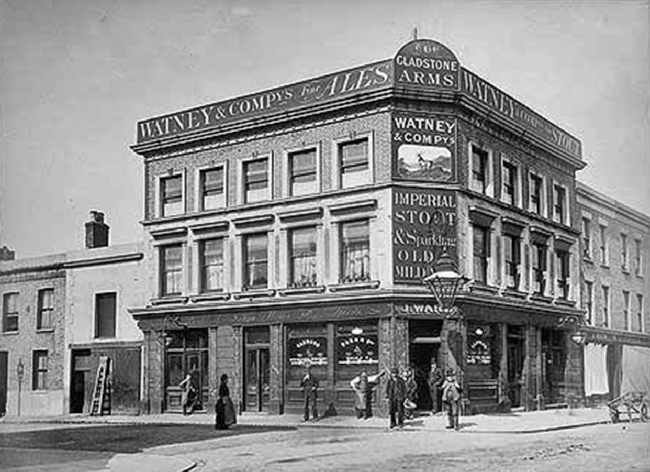 Gladstone Arms, Plough road and Tritton street, Battersea - circa 1890 with landlord J Ward
Kindly provided By Vincent O'Loughlin
Residents at this address.
1871/Henry Hugh Pugh/Licensed Victualler/29/London/Census
1871/Mary Pugh/Wife/30/East Grinstead/Census
1871/Lewis Pugh/Father, Retired Licensed Victualler/77//Census
1871/Mary Ann Pugh/Mother/59/London/Census
1871/Sarah Janet Pugh/Sister/28/London/Census
1871/Elizabeth Ann Pugh/Sister/19/London/Census
1871/Frederick Lock/Boarder/25/Prescott/Census
1871/Clarinda Senton/Boarder/66/Ewell, Surrey/Census

July 1872/Henry Hugh Pugh/Outgoing Licensee/../../Era Newspaper

July 1872/Thomas Walkden/Incoming Licensee/../../Era Newspaper

1878/W J Bromley/../../../../Surrey Directory

1881/William J Bromley/Licensed Victualler/35/Deptford, Kent/Census
1881/Ann Bromley/Wife/31/Poplar, Middlesex/Census
1881/Rebecca Bromley/Cousin, Formerly Barmaid/39/Poplar, Middlesex/Census
1881/W Matthews/Barman/29/Surrey,/Census
1881/_ Powell/Barmaid/21/Scotland/Census
1881/E Raggett/Domestic Servant/3/Vauxhall, Surrey/Census

1896/C Mayston/../../../../Post Office Directory

1901/C Mayston/../../../../Post Office Directory

1901/Robert Roll/Public House Manager/40/Norwich, Norfolk/Census
1901/William Streell/Barman/48/Flimmingham, Suffolk/Census
1901/Thomas Wetherill/Barman/25/Yarmouth, Norfolk/Census

1904/Alfred Dean/../../../../Post Office Directory

1905/Alfred Dean/../../../../Post Office Directory

1906/Hugh McPherson/../../../../Post Office Directory

1911/Hugh McPherson/../../../../Post Office Directory

1919/William Gladstone/../../../../Post Office Directory

1938/Henry James Chambers/../../../../Post Office Directory

1944/Henry James Chambers/../../../../Post Office Directory



* Provided By Vincent O'Loughlin