Search London wiki and Pub wiki history sites
All public house, restaurants, bars etc closed for the forseeable future from 20th March 2020, but this is a history site.
Raven Inn, 140 Bridge road west, Battersea SW11
At King Street in 1861 census and earlier
Battersea North west pub history index
Historical London public houses, Taverns, Inns, Beer Houses and Hotels.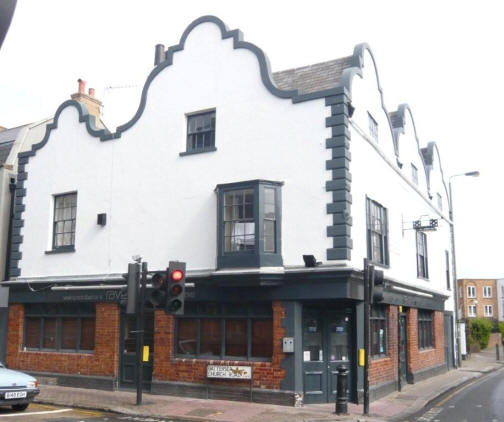 Raven Inn, 140 Westbridge Road, SW11 - in March 2009
Kindly provided by Stephen Harris
Residents at this address.
1822/Ann Pindar, Raven, Battersea/../../Victuallers Recognizances

1825/Mrs Pinder, Raven, Battersea/../../Licensed Victuallers Association

1827/Mrs Pinder, Raven, Battersea/../../Licensed Victuallers Association

1839/Henry Phillpot, Raven, Battersea/../../../Pigots Directory

1844/David Sanders, Raven, Battersea square/../../Post Office Directory

1847/David Sanders, Raven, Battersea square/../../Post Office Directory

1848/David Sanders, Raven, Battersea square/../../Post Office Directory

1851/Mrs Ann Sanders/../../../../Kellys Directory

1851/Ann Sanders/Licensed Victualler, Widow/45/Scotland/Census
1851/Mary Smith/Servant/50/Reading, Berkshire/Census
1851/James Watts/Servant/26/Battersea, Surrey/Census
1851/William Holinder/Lodger, Barge Builder/47/Limehouse, Middlesex/Census
1851/Ann Smith/Mother, Widow/70/Matlock, Yorkshire/Census

1852/Mrs Ann Sanders, Raven, Battersea square, Battersea/../../../London Post Office Directory

1854-55/William Ambrose, Raven Inn, Battersea/../../../Electoral Register

1858/William Ambrose, Raven, Battersea square, Battersea/../../../London Post Office Directory

1860/William Ambrose, Raven, High street, Battersea/../../../London Post Office Directory

1861/William Ambrose/Licensed Victualler/44/Battersea, Surrey/Census
1861/Susannah Ambrose/Wife/43/Mitcham, Surrey/Census
1861/William Edwards/Potman/30/Windsor, Berkshire/Census
1861/Ellen Ridmore/Domestic Servant/23/Battersea, Surrey/Census

1865/William Ambrose, Raven, Battersea square, High street/../../../London Post Office Directory

1867/W Ambrose, Raven, Battersea square, Battersea/../../../London Post Office Directory

1871/William Ambrose/Wid Publican/54/Batteresea Surrey/Census
1871/Amelia Ambrose/Dau/21/Battersea Surrey/Census
1871/William Ambrose/Son/19/Battersea Surrey/Census

1878/William Ambrose/../../../../Surrey Directory

1891/Sidney J Wingate/Licensed Victualler/21/Battersea, London/Census
1891/Emily Tame/Aunt, Publicans Manageress/43/Tonbridge, Kent/Census
1891/Emily M Wingate/Sister, Barmaid/17/Battersea, London/Census
1891/George G Wingate/Brother, Coach Builders Apprentice/15/Battersea, London/Census
1891/Agnes A Brunsden/Visitor/36/Cirencester, Gloucestershire/Census
1891/Henry Moushaw/Waiter/41/Commercial Road, London/Census
1891/Frances Hopkins/General Servant/32/Battersea, London/Census

1896/Sidney J Wingate/../../../../Post Office Directory

1901/S J Wingate/Publican/31/Battersea, London/Census
1901/Edith Wingate/Wife/31/Battersea, London/Census
1901/Mary E Wingate/Daughter/5/Battersea, London/Census
1901/Emily G Wingate/Daughter/3/Battersea, London/Census
1901/John D Wingate/Son/4 months/Battersea, London/Census
1901/Thomas C Wingate/Brother/13/Battersea, London/Census
1901/Elizabeth Jones/Barmaid/27/Richmond, Surrey/Census
1901/Ada Turber/Barmaid/22/Battersea, London/Census
1901/Alice Caughfrey/Domestic/15/Battersea, London/Census

1901/Sidney J Wingate/../../../../Post Office Directory

1906/Sidney J Wingate/../../../../Post Office Directory

1908/John James Bevan/../../../../Post Office Directory **

1911/John James Bevan/../../../../Post Office Directory

1919/Harry Burton/../../../../Post Office Directory

1938/Harry Burton/../../../../Post Office Directory



** Provided By Stephen Harris