Search London wiki and Pub wiki history sites
All public house, restaurants, bars etc closed for the forseeable future from 20th March 2020, but this is a history site.
Rising Sun Tavern, 186 Bridge road, Battersea SW11
Listed as 1 Surrey Lane in 1881 Census and earlier census, but at 186 Bridge Road in all Directories; This pub has been recently renamed the Prince of Wales. ** Closed February 2014. Converted into a branch of Tesco. *
Battersea North west pub history index
Historical London public houses, Taverns, Inns, Beer Houses and Hotels.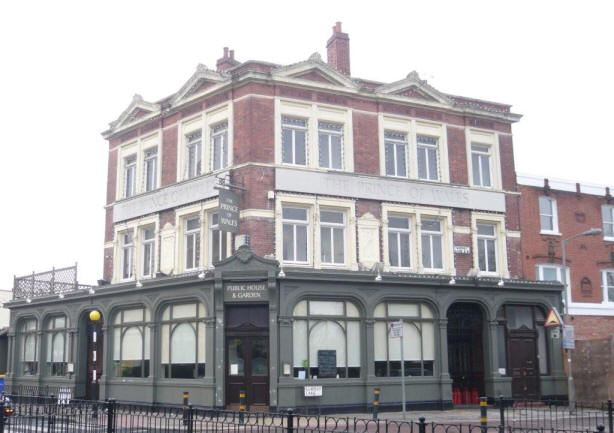 Rising Sun, 186 Battersea Bridge Road, SW11 - in February 2009
Kindly provided by Stephen Harris
Residents at this address.
1851/James Irvine/Victualler/38/Deal, Kent/Census
1851/Elizabeth Irvine/Wife/38/Wildensham, Surrey/Census
1851/Alexander Irvine/Son/5/Kensington, Middlesex/Census
1851/Elizabeth Irvine/Daughter/2/Brompton, Middlesex/Census
1851/Joseph Phillips/Pot Boy/17/Brompton, Middlesex/Census
1851/Joseph Abberley/Lodger, General Labourer/45/Battersea, Surrey/Census
1851/Martha Masden/Servant/17/Battersea, Surrey/Census

1853/James Irvine, Rising Sun, Surrey lane, Battersea /../../../London Post Office Directory

1858/James Alexander Irvine, Rising Sun, Surrey lane, Battersea /../../../London Post Office Directory

1860/James Alexander Irvin, Rising Sun, Surrey lane, Battersea /../../../London Post Office Directory

1861/Elizabeth Irvin/Public House, Widow/48/Kensington, Middlesex/Census
1861/Alexr Irvin/Son/14/Brompton, Middlesex/Census
1861/Elizth Irvin/Daughter/11/Battersea, Surrey/Census
1861/William Irvin/Son/7/Battersea, Surrey/Census
1861/Henry Irvin/Son/2/Battersea, Surrey/Census
1861/Elizth Symmonds/Servant/18/Battersea, Surrey/Census
1861/John Pay/Servant/16/Dover, Kent/Census
1861/Mary Banningham/Widow/51/Hammermsith, Middlesex/Census
1861/George Byard/Hall Porer, widow/72/Puttenham, Surey/Census
1861/Joseph Abberly/Lodger, Labourer/55/Battersea, Surrey/Census
1861/Andrew Symmonds/Lodger, Labourer/22/Battersea, Surrey/Census

1865/Mrs Elizabeth Irvine, Rising Sun, Surrey lane, Bridge road, Battersea /../../../London Post Office Directory

1867/Mrs E Irvine, Rising Sun, Surrey lane, Bridge road, Battersea /../../../London Post Office Directory

1871/James Green/Innkeeper/28/London/Census ***
1871/Charlotte Green/Wife/29/London/Census
1871/James J Green/Son/1/Bermondsey Surrey/Census
1871/Frank W Green/Son/Under 2mths/Holloway Middlesex/Census
1871/James Lovett/Visitor married Innkeeper out of business/46/Berkhampstead Hertfordshire/Census
1871/Mary Millhouse/Servant married Nurse/36/St George in East Middlesex

1878/Thomas Wellbeloved, Rising Sun, Surrey lane/../../../Post Office Directory

1881/Harriet Wellbeloved/Licensed Victualler, Widow/53/Bennington, Hertford/Census
1881/Thomas Wellbeloved/Son, Commercial Traveller/27/London City Of, Middlesex/Census
1881/Harriet Wellbeloved/Daughter, Millinary Saleswoman/24/London City Of, Middlesex/Census
1881/Richard Wellbeloved/Son, Manager/21/Stoke Newington, Middlesex/Census
1881/Martha Wellbeloved/Daughter/18/Stoke Newington, Middlesex/Census
1881/Letty Wellbeloved/Daughter, Milliners Assistant/16/Stoke Newington, Middlesex/Census
1881/Maria Hall/Cook, widow/57/London, Middlesex/Census
1881/Edward Phillips/General Servant/16/London, Middlesex/Census

1896/Alfered E Cooper/../../../../Post Office Directory

1901/William Glover/Licensed Victualler/50/Bradminch, Devonshire/Census
1901/Mary A Glover/Wife/50/Mayfair, London/Census
1901/William S Glover/Son, Manager/22/Brixton, London/Census
1901/Sidney G Glover/Son, Architects Clerk/19/Brixton, London/Census
1901/Caroline Lawbury/Visitor/70/Loughton, Essex/Census
1901/Fanny Frawley/Housemaid/25/Smethwick, Stafordshire/Census
1901/Ewin R Kent/Barman/21/Bridgham, Norfolk/Census
1901/Charles Theobald/Barman/20/Cussingham, Norfolk/Census
1901/Albert Gilbert/Barman/23/Eaton Socon, Bedfordshire/Census
1901/Jane E East/Visitor, Widow/54/Bradminch, Devonshire/Census

1901/William Glover/../../../../Post Office Directory

1905/William Glover/../../../../Post Office Directory **

1906/William Glover/../../../../Post Office Directory

1911/William Glover/../../../../Post Office Directory

1919/George Simmonds/../../../../Post Office Directory

1938/Mrs Mary Louise Walters/../../../../Post Office Directory



* Provided By Tris

** Provided By Stephen Harris

*** Provided By Bev Howlett