Search London wiki and Pub wiki history sites
All public house, restaurants, bars etc closed for the forseeable future from 20th March 2020, but this is a pub history site.
Star & Garter, 151 Church road, Battersea SW11
Battersea North west pub history index
The 1858 directory entry refers to the address at also being at 1 Spencer street.
Historical London public houses, Taverns, Inns, Beer Houses and Hotels.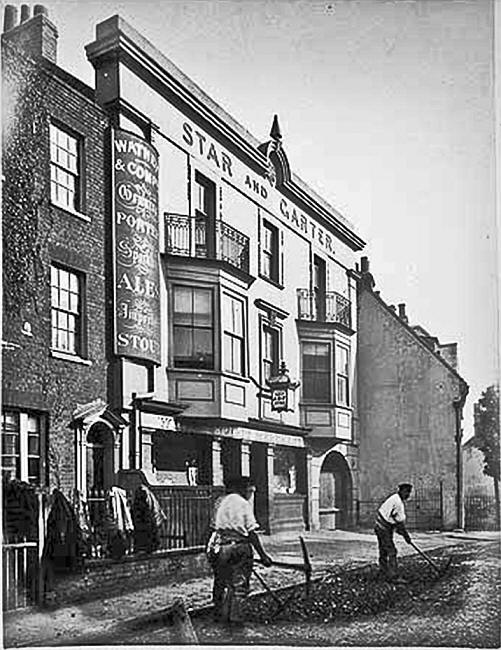 Star & Garter, Church road, Battersea - circa 1880 opposite St Marys Church
Kindly provided by Vincent O'Loughlin
Residents at this address.
1822/William Dangerfield, Star and Garter, Battersea/../../Victuallers Recognizances

1839/James Bowler, Star and Garter, Battersea/../../../Pigots Directory

1841/James Bowler/Publican/30/Surrey/Census
1841/Martha Bowler/../35/../Census
1841/Martha Bowler/../15/Surrey/Census
1841/Susanna Bowler/../14/Surrey/Census
1841/Ann Bowler/../13/Surrey/Census
1841/Elizabeth Bowler/../11/Surrey/Census
1841/Eliza Bowler/../6/Surrey/Census
1841/James Bowler/../1/Surrey/Census

1844/James Bowler, Star & Garter, Church Street, Battersea/../../Post Office Directory

1847/Mrs Martha Bowler, Star & Garter, Church Street, Battersea/../../Post Office Directory

1848/Mrs Martha Bowler, Star & Garter, Church Street, Battersea/../../Post Office Directory

1851/David Palmer/../../../../Kellys Directory

1851/David Palmer/Publican, Widow/45/Malborough, Wiltshire/Census
1851/Emma Palmer/Daughter, House Keeper/26/Bath, Somerset/Census
1851/Maria Allen/Servant/15/Frimley, Surrey/Census
1851/James Shelford/Servant/17/Southwark, Surrey/Census

1852/Charles Jacob, Star & Garter, Church road, Battersea/../../../London Post Office Directory

1853/Charles Jacob, Star & Garter, Church road, Battersea/../../../London Post Office Directory

1858/Richard Allen, Star & Garter, Church road & 1 Spencer street, Battersea/../../../London Post Office Directory

1860/Richard Allen, Star & Garter, Church road & 1 Spencer street, Battersea/../../../London Post Office Directory

1861/Richard Allen/Licensed Victualler, Widow/40/Piddington, Oxfordshire/Census
1861/Harriet/Daughter/27/Chelsea, Middlesex/Census
1861/George/Son/21/Chelsea, Middlesex/Census
1861/Amy Jacobs/Grand Daughter/5/Battersea, Surrey/Census

1865/Richard Allen, Star & Garter, Church road, Battersea/../../../London Post Office Directory

1867/R Allen, Star & Garter, Church road, Battersea/../../../London Post Office Directory

1871/Richard Allen/Licensed Victualler/58/Piddington Oxfordshire/Census ***
1871/Sarah Allen/Wife/47/Chelsea Middlesex/Census
1871/John Parker/Servant Potman/16/Brill Buckinghamshire/Census

1878/Richard Allen, Star & Garter, 149 Church road/../../../Surrey Post Office Directory

1881/Richard Allen/Licensed Victualler/68/Piddington, Oxford/Census
1881/Sarah Allen/Wife/59/Chelsea/Census
1881/Ellen Ashwith/Sister In Law, widow/49/Chelsea/Census

1896/George Archin/../../../../Post Office Directory

1901/Alfred Thomas/Publican/31/Glamorgan, Swansea/Census
1901/Harriet Thomas/Wife/31/regents Park, London/Census

1901/Alfred Thomas/../../../../Post Office Directory

1906/Edwin Hy Grant/../../../../Post Office Directory

1911/Edward Parker/../../../../Post Office Directory



*** Provided By Bev Howlett