Search London wiki and Pub wiki history sites
All public house, restaurants, bars etc closed for the forseeable future from 20th March 2020, but this is a history site.
White Hart Tavern, 4 Lombard road, Battersea SW11
Battersea North west pub history index
The White Hart, in Lombard Road, dates back to 1600. Charles II. was a frequent visitor to this house when he was in his merry moods, and it was while staying here that he almost lost his life. Colonel Blood, who some time afterwards attempted to steal the crown jewels, confessed to having had designs upon the king's life. Blood hid near Battersea Priory, where a subterranean passage led to the riverbank close to the place where the king came to bathe. He had been chosen to kill the king by a body of men who resented the king's interference with their religious opinions. Blood relented at the last moment, and the king returned to the inn. Rapier, in his history of England, says that Charles II. not only forgave him, but settled a pension of £500 per annum upon him for life (1913). * Rebuilt in 1934 to 1935
Historical London public houses, Taverns, Inns, Beer Houses and Hotels.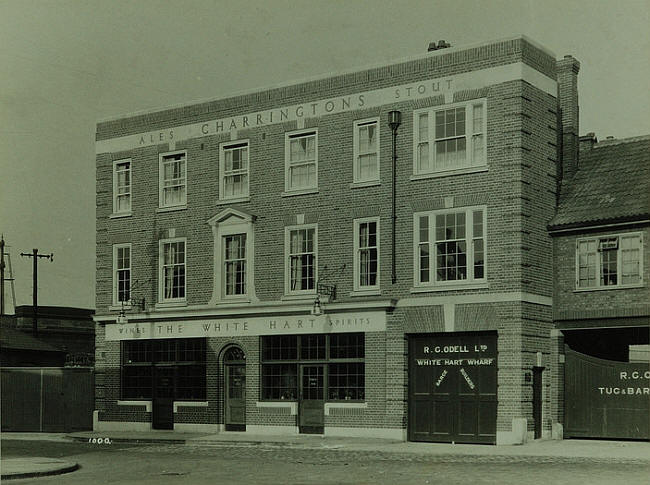 White Hart, 4 Lombard Road, Battersea
Residents at this address.
1822/Sarah Cleaver, White Hart, Battersea/../../Victuallers Recognizances

1827/John Regnold/../../../../Licensed Victuallers Association

1839/Robert Reynolds, White Hart, Battersea/../../../Pigots Directory

1841/Susan Reynolds/Licensed Victualler/45/../Census
1841/John Reynolds/Son/15/Surrey/Census
1841/Metiton Galpen/Independant/35/../Census
1841/Thomas Galpen/Son, Male Servant/15/../Census
1841/Mary Cooper/Female Servant/30/../Census
1841/Edward Louis/Gentleman/65/../Census

1842/J Reynolds/../../../../Robsons Directory

1843/Thomas Smith/../../../../Kellys Directory

1844/Thomas Smith/../../../../London Post Office Directory

1847/John Roles/../../../../London Post Office Directory

1848/John Roles/../../../../London Post Office Directory

1851/John Roles/../../../../Kellys Directory

1851/John Roles/Victualler/48/Bray, Berkshire/Census
1851/Emma Roles/Wife/38/Bray, Berkshire/Census
1851/John Roles/Son/1/Battersea, Surrey/Census
1851/Infant Roles/Daughter/Under 1 month/Battersea, Surrey/Census
1851/Martha Winch/House Servant/27/Burnham, Berkshire/Census
1851/William Edwards/Pot Boy/20/Windsor, Berkshire/Census
1851/Ellen Pridmore/Nurse/13/London, Middlesex/Census
1851/Hannah Winson/Nurse, Widow/48/Chelsea, Middlesex/Census

1852/John Roles, White Hart, Battersea/../../../London Post Office Directory

1853/John Roles, White Hart, Lombard road, Battersea/../../../London Post Office Directory

1856/John Roles/../../../../London Post Office Directory

1858/Mrs Susan Charlotte Doughty/../../../../London Post Office Directory

1860/John Smith/../../../../London Post Office Directory

1861/John Smith/Licensed Victualler/50/Battersea, Surrey/Census
1861/Jane Smith/Wife/50/Walthamstow, Essex/Census
1861/Elizabeth Smith/Daughter/18/Battersea, Surrey/Census
1861/John Smith/Son, Glover/16/Battersea, Surrey/Census
1861/Thomas Smith/Son/14/Battersea, Surrey/Census
1861/Frederick Smith/Son/12/Battersea, Surrey/Census
1861/Arthur Smith/Son/5/Battersea, Surrey/Census
1861/Jane Smith/Daughter/4/Battersea, Surrey/Census

1865/William Gerrard, White Hart, Lombard road, Battersea/../../../Surrey Directory

1867/W Gerrard, White Hart, Lombard road, Battersea/../../../Surrey Directory

1871/William Gerrard/Licensed Victualler/41/Clapton, Middlesex/Census
1871/Lydia Gerrard/Wife/44/Norton Folgate, Middlesex/Census
1871/William Gerrard/Son/16/St Pancras, Middlesex/Census
1871/Henry Gerrard/Son/12/Shoreditch, Middlesex/Census
1871/John Gerrard/Son/10/Shoreditch, Middlesex/Census
1871/Alfred Gerrard/Son/7/Battersea, Surrey/Census

1878/William Gerrard/../../../../Surrey Directory

1881/William Gerrard/Licensed Victualler/55/Hackney, Middlesex/Census
1881/Lydia Gerrard/Wife/53/Norton Folgate, Middlesex/Census
1881/Henry Gerrard/Son, Artist/22/Shoreditch, Middlesex/Census
1881/Alfred Gerrard/Son, Glass Blower/17/Battersea, Surrey/Census
1881/John Gerrard/Son, Professor Of Music/19/Shoreditch, Middlesex/Census
1881/Alice M Waterer/Domestic Servant/16/Battersea, Surrey/Census

1896/Mrs Ellen Wingate/../../../../Post Office Directory

1901/Henry James Hirst/../../../../Post Office Directory

1901/Henry J Hirst/Licensed Victualler/40/Chelsea, London/Census
1901/Mary P Hirst/Wife/40/Chelsea, London/Census
1901/Henry J Hirst/Son/18/Chelsea, London/Census
1901/Arthur G Hirst/Son/12/Chelsea, London/Census
1901/Isabella Hirst/Daughter/8/Chelsea, London/Census

1904/Henry James Hirst/../../../../Post Office Directory

1906/Henry James Hirst/../../../../Post Office Directory

1911/Henry James Hirst/../../../../Post Office Directory

1919/Henry James Hirst/../../../../Post Office Directory

1934/Herbert Archer/../../../../Kellys Directory

1938/Herbert Archer/../../../../Post Office Directory

1944/Herbert Archer/../../../../Post Office Directory



* Provided By John Carnaby