Search London wiki and Pub wiki history sites
All public house, restaurants, bars etc closed for the forseeable future from 20th March 2020, but this is a pub history site.
Woodman, 60 High Street, Battersea North West SW11
Not to be confused with the Original Woodman, a few doors along at number 42. They are both separately named in the 1861 and 1881 census. The 1891 census lists the Woodman at 50 High street **
Battersea North west pub history index
Historical London public houses, Taverns, Inns, Beer Houses and Hotels.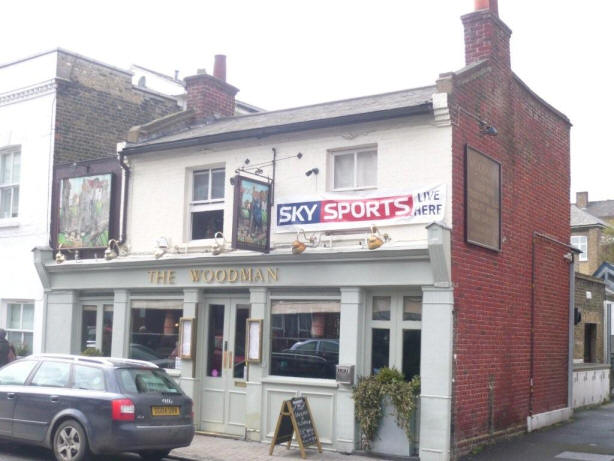 Woodman, 60 High Street, Battersea, SW11 - in March 2009
Kindly provided by Stephen Harris
Residents at this address.
1844/Robert Ash, Beer Retailer, High Street, Battersea/../../Post Office Directory

1847/Robert Ash, Beer Retailer, High Street, Battersea/../../Post Office Directory

1848/Robert Ash, Beer Retailer, High Street, Battersea/../../Post Office Directory

1851/Robert Ash/Beer Retailer/54/Lambeth, Surrey/Census
1851/Maria Ash/Wife/55/Barnstaple, Devon/Census
1851/Ann Ash/Daughter/22/Brixton, Surrey/Census
1851/Robert Ash/Son, Wheelwright/19/Brixton, Surrey/Census
1851/Elizabeth Ash/Daughter, Dressmaker/16/Brixton, Surrey/Census

1860/Mrs Maria Ash, Beer Retailer, High Street, Battersea/../../Post Office Directory

1861/Maria Ash/Beer Shop Keeper, Widow/66/Barnstaple, Devon/Census
1861/William Ash/Son, Chelsea Pensioner/37/Brixton, Surrey/Census
1861/Elizabeth Ash/Daughter, Dressmaker/26/Brixton, Surrey/Census
1861/John Kelly/Pot Man/18/Battersea, Surrey/Census

1871/George Turrall/Beer House Keeper/44/Long Langford, Warwickshire/Census
1871/Ann Turrall/Wife/40/Royton on Dunsmore, Warwickshire/Census
1871/Emily Turrall/Daughter/12/Stepney, Middlesex/Census
1871/Edwin Turrall/Son/10/Hackney, Middlesex/Census
1871/Alfred Turrall/Son/6/Clapham, Surrey/Census
1871/Beatrice Turrall/Daughter/3/Battersea, Surrey/Census

1878/George Turrell, wine & beer retailer, 50 High street/../../Post Office Directory

1881/Ann Turrall/Wine & Beer Retailers Wife/50/Ryton, Warwick/Census
1881/Emily Turrall/Daughter/22/Stepney, Middlesex/Census
1881/Edwin Turrall/Son, Wood Engraver/20/Hackney, Middlesex/Census
1881/Alfred Turrall/Son, Junior Clerk/16/Clapham, Surrey/Census
1881/Beatrice Turrall/Daughter/13/Battersea, Surrey/Census

1891/Alfred Turrall/Beer & Wine Retailer/26/Clapham, Surrey/Census *
1891/Amy E Turrall/Wife/28/Hastings, Sussex/Census
1891/Alfred Turrall/Son/2/Kings Cross, London/Census
1891/George Turrall/Son/1 month/Battersea, London/Census
1891/Sarah Burrows/General Aervant/13/Battersea, London/Census

1896/Alfred Turrill/Beer Retailer/../../../Post Office Directory

On the 1901 Census he is described as �living on own means� (his name is mistranscribed as �Turnell� on this census. Sadly, by 1911 Alfred Turrall is described as �Beer & Wine retailer, out of business�. *

1908/Frederick Poulton/Beer Retailer/../../../Post Office Directory **



* Provided By Corinne Brice

** Provided By Stephen Harris