Search London wiki and Pub wiki history sites
All public house, restaurants, bars etc closed for the forseeable future from 20th March 2020, but this is a history site.
York Tavern, 347 York road, Battersea SW11
Battersea North west pub history index
Located at the junction with Usk Road west side, trading by the late 1960s but has since been demolished. *
Historical London public houses, Taverns, Inns, Beer Houses and Hotels.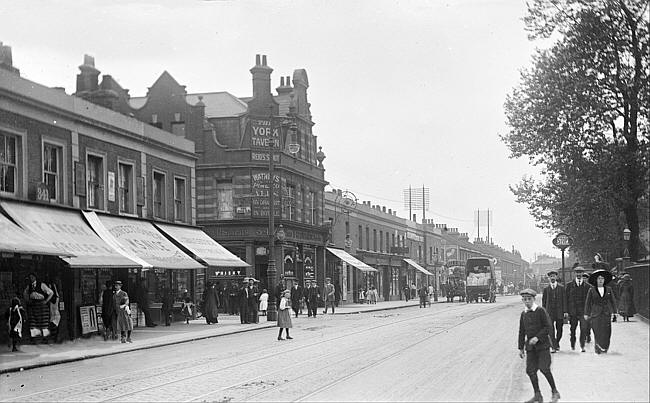 York Tavern, York road, Battersea - in 1910
Kindly provided by Vincent O'Loughlin
Residents at this address.
1858/William Ing/Beer Retailer, York road/../../Post Office Directory

1860/William Ing/Beer Retailer, York road/../../Post Office Directory

1861/William Ing/Beer & Wine Retailer/50/Battersea, Surrey/Census
1861/Mary A Ing/Wife/41/Reading, Berkshire/Census
1861/William Ing/Son/6/Battersea, Surrey/Census
1861/John Ing/Son/3/Battersea, Surrey/Census
1861/Mary A Ing/Daughter/1/Battersea, Surrey/Census
1861/Emma M Aldridge/Sister/21/Windsor, Berkshire/Census
1861/Mary A Hapcroft/Niece/4/Paddington, Middlesex/Census

1865/William Ing/Beer Retailer, York road/../../Post Office Directory

1871/William Ing/Licensed Victualler/59/Battersea, Surrey/Census
1871/Mary A Ing/Wife/50/Reading, Berkshire/Census
1871/William Ing/Son/16/Battersea, Surrey/Census
1871/Mary A Ing/Daughter/11/Battersea, Surrey/Census
1871/Louisa Pearce/General Servant/18/Battersea, Surrey/Census

March 1872/James Chorley and Edwin John Crute, executors of William Ing, deceased/Outgoing Licensee/../../Era

March 1872/Mary Ann Ing, Widow/Incoming Licensee/../../Era

1878/Mrs Mary Ann Ing, York tavern, York road/../../../Surrey Directory

1881/Mary A Ing/Licensed Victualler, Widow/61/Reading, Berkshire/Census
1881/William Ing/Son, Licensed Victualler/25/Battersea, Surrey/Census
1881/Mary Ing/Daughter, Barmaid/21/Battersea, Surrey/Census
1881/Ada Laidlar/Cousin, Barmaid, Widow/46/Boro, Surrey/Census
1881/Ralph Laidlar/Cousin, Barman/17/Newington, Surrey/Census

1896/W Hirst/../../../../Post Office Directory

1901/William Rugg/Licensed Victualler/28/Plaistow, London/Census
1901/Emily Rugg/Wife/23/Walworth, London/Census
1901/William W Rugg/Son/2/Wandsworth, Surrey/Census
1901/Frederick Rugg/Son/1/Battersea, Surrey/Census
1901/Frederick Blackbon/Barman/28/Camden Town, London/Census
1901/Violett Barnett?/House Servant/15/London/Census

1901/Wm Rugg jun/../../../../Post Office Directory

1906/Wm Rugg jun/../../../../Post Office Directory

1911/George Edward Shearmur/../../../../Post Office Directory

1919/Richard Balshaw/../../../../Post Office Directory

1921/Richard Balshaw/../../../../Post Office Directory

1938/Rd Bainbridge/../../../../Post Office Directory

1944/Rd Bainbridge/../../../../Post Office Directory



* Provided By Tris