Search London wiki and Pub wiki history sites
All public house, restaurants, bars etc closed for the forseeable future from 20th March 2020, but this is a history site.
Bolingbroke Arms, 17 Chatham road, Battersea SW11
Battersea south west pub history index
Named in the 1861, 1871, 1881 & 1911 census summary, and also in 1971; The Bolingbroke opened circa 1855, it was later expanded into the adjoining building. It was closed in 2003 and demolished in 2008. The later address is at 2 Chobham close.*
Historical London public houses, Taverns, Inns, Beer Houses and Hotels.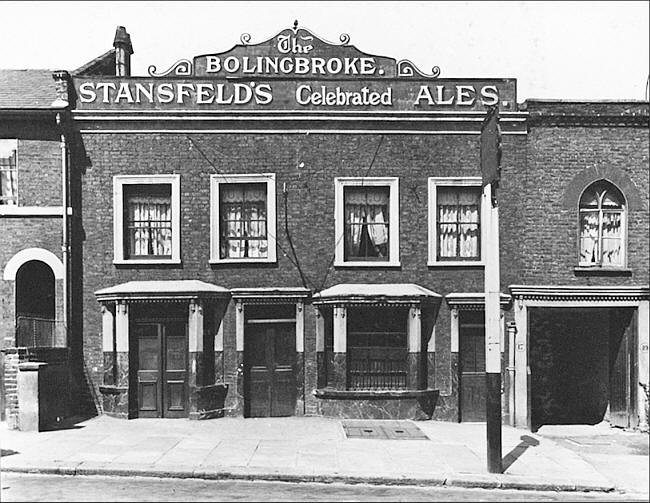 Bolingbroke, 17 Chatham road, Battersea - circa 1920
Kindly provided by Vincent O'Loughlin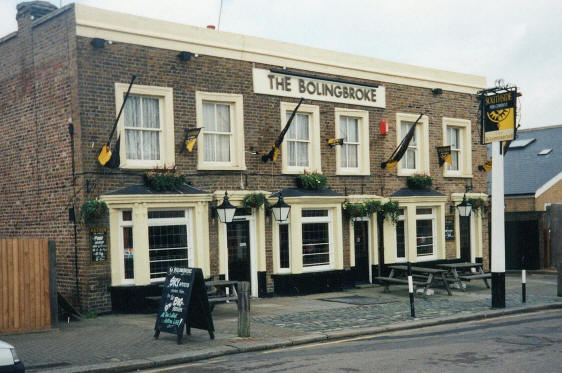 Bolingbroke, Battersea SW11
Kindly provided by Philip Carter
Residents at this address.
1861/Joseph Stapleton/Carpenter/37/Ampthill, Bedfordshire/Census
1861/Lucy Stapleton/Wife/37/Ringnor, Sussex/Census
1861/Lucy Stapleton/Daughter/12/Paddington, Middlesex/Census
1861/Joseph Stapleton/Son/9/Vauxhall, Surrey/Census
1861/Frederick Stapleton/Son/2/Battersea, Surrey/Census

1871/Frank Welch/Publican/33/Dover River, Kent/Census
1871/Harriet Welch/Wife/29/Canterbury, Kent/Census
1871/Frank A Welch/Son/6/London, Middlesex/Census
1871/John Thomas Griffiths/Cellerman/20/London, Middlesex/Census

1881/John Trendall/Beer House Keeper & Bricklayer/38/Radnage, Buckingham/Census
1881/Sarah Trendall/Wife/41/Springfield, Essex/Census
1881/Henry Ward/Nephew, Errand Boy/14/Chelmsford, Essex/Census

1896/Frederick A Stapleton/Beer Retailer, 15 Chatham road, Wandsworth Common/../../../Post Office Directory

1905/F A Stapleton/Beer Retailer/../../../Post Office Directory

In September 1902 in Brixton, Colin Briggs aged 25 marries Florence Jessie Bansted aged 27; both parents are deceased.

1911/Colin Briggs/Beer House Keeper/34/Brighton, Sussex/Census
1911/Florence Jessie Briggs/Wife/36/Hoxton, London/Census
1911/Sarah Bansted/Mother in Law/66/Hackney, London/Census
1911/Doris Jessie Briggs/Daughter/7/Clapham, London/Census
1911/Edith Nellie Briggs/Daughter/5/Bermondsey, London/Census
1911/Daisy Florence Briggs/Daughter/3/Bermondsey, London/Census
1911/Gladys Mary Briggs/Daughter/4 months/New Wandsworth, London/Census
1911/Luke Woodward Holmes/Potman/33/Steyning, Sussex/Census

1919/Colin Briggs/Beer Retailer/../../../Post Office Directory

1934/Colin Briggs/Beer Retailer/../../../Post Office Directory

1938/Colin Briggs/Beer Retailer/../../../Post Office Directory

1939/Colin Briggs/Beer Retailer/Born 18 March 1877//Electoral Register
1939/Florence F Briggs/Domestic/Born 18th Jan 1875//Electoral Register
1939/Colin J R Briggs/Commercial Traveller/Born 29th May 1912//Electoral Register
1939/Gladys M Evans/Dressmaking/Born 24th Nov 1910//Electoral Register
1939/Marie M Evans/Dressmaking/Born 24th Nov 1916//Electoral Register

1942/Colin Briggs/Beer Retailer/../../../Post Office Directory

1944/Colin Briggs/Beer Retailer/../../../Post Office Directory

1971/../Bolingbroke, 17 Chatham Road SW11/../../../Pub Directory



* Provided By Vincent O'Loughlin