Search London wiki and Pub wiki history sites
All public house, restaurants, bars etc closed for the forseeable future from 20th March 2020, but this is a history site.
Falcon, 2 St Johns hill, Battersea SW11
Battersea south west pub history index
One of the most ancient taverns in Battersea was the old " Falcon," which was built nearly 300 years ago. The original house stood near where the present "Falcon" stands, it was surrounded by orchards and floral gardens, flanking on country lanes, with few houses until the village of Wandsworth was reached. A later house, built about the beginning of the nineteenth century, was kept by a man named Robert Death, and at this time the house was a place of call for undertakers on their return from the burial ground ; some of these men and their friends often got merry in their cups, and it was not an uncommon sight to see a funeral-party dancing on the green in front of the inn. The artist, John Nixon, was so much amused by the landlord's name that he painted a picture of the tavern entitled " Drinking at Death's door," in which he depicted a merry lot of undertakers disporting themselves in front of the inn (1913). *
Historical London public houses, Taverns, Inns, Beer Houses and Hotels.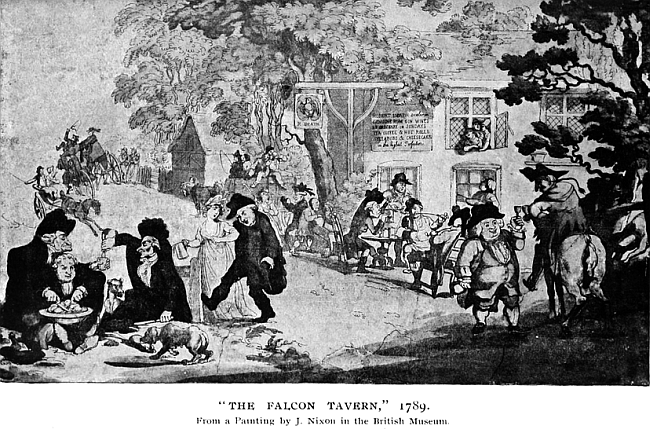 The Falcon Tavern, Battersea - in 1789
Kindly provided by John Carnaby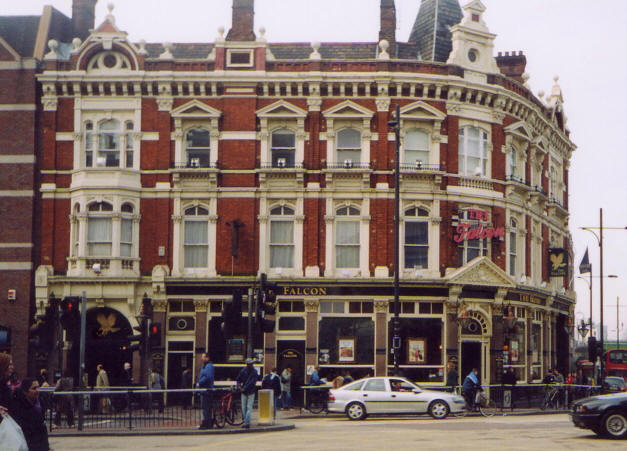 The Falcon, 2 St Johns Hill, Battersea South West
Kindly provided by Philip Carter
Residents at this address.
1822/John Alder, Falcon, Battersea/../../Victuallers Recognizances

1825/Mr Alder, Falcon, Battersea/../../Licensed Victuallers Association

1827/William Steward, Falcon, Battersea/../../Licensed Victuallers Association

1839/Samuel Fisher, Falcon, Rise, Battersea/../../../Pigots Directory

1841/Thomas Palmer/Licensed Victualler/40/Surrey/Census
1841/Sarah Palmer/../35/Surrey/Census
1841/Emma Palmer/../12/Surrey/Census
1841/Thomas Palmer/../7/../Census
1841/Elizabeth Palmer/../5/../Census
1841/Sarah Potter/Female Servant/15/Surrey/Census
1841/John Wheeler/Male Servant/15/../Census

1851/Neat Ladd/../../../../Kellys Directory

1851/Neat Ladd/Licensed Victualler/50/Folkestone, Kent/Census
1851/Susannah Ladd/Wife/38/Folkestone, Kent/Census
1851/Frances Myer/Mother in Law, Widow/71/Folkestone, Kent/Census
1851/William Inman/Pot Man/21/Wapping, Middlesex/Census
1851/Sarah Dicken/House Servant/40/Kingswarden, Bedfordshire/Census
1851/Sarah Culvert/House Servant/22/Wapping, Middlesex/Census
1851/Ricard Ladd/Son/2/Battersea, Surrey/Census

1871/John G Brown/Licensed Victualler/39/Stratford, Essex/Census
1871/Elizabeth Brown/Wife/37/Barking, Essex/Census
1871/Frederick G Brown/Son/15/Leytonstone, Essex/Census
1871/Henry Brown/Son/13/Barking, Essex/Census
1871/Arthur Brown/Son/11/Barking, Essex/Census
1871/Elizabeth Brown/Daughter/5/Battersea, Surrey/Census
1871/Florence Brown/Daughter/4/Battersea, Surrey/Census
1871/Ada Brown/Daughter/2/Battersea, Surrey/Census
1871/Ann Horvell/Servant/25/Westminster/Census
1871/Emily Higgins/Nursemaid/11/Risborough, Buckinghamshire/Census

1878/Thomas Collingwood/../../../Surrey Directory

1881/John Giles Brown/Licensed Victualler/44/West Ham, Essex/Census
1881/Elizabeth Brown/Wife/47/Barking, Essex/Census
1881/Henry Brown/Son/23/Barking, Essex/Census
1881/Arthur Brown/Son/21/Barking, Essex/Census
1881/Elizabeth Brown/Daughter/15/Battersea, Surrey/Census
1881/Florence Brown/Daughter/14/Battersea, Surrey/Census
1881/Ada Brown/Daughter/12/Battersea, Surrey/Census
1881/Alice Saunders/Domestic Servant/21/Covent Garden, Middlesex/Census

1896/John Tavener/../../../../Post Office Directory

1901/John S Tavener/Licensed Victualler/37/Southwark, London/Census
1901/Florence Tavener/Wife/36/Wandsworth, London/Census
1901/Julia Phillips/House Keeper, Widow/61/City, London/Census
1901/Sarah E Flow/Cook, Widow/63/Bexley Heath, Kent/Census
1901/Easher Kabble/Servant/29/City, London/Census
1901/Alice E Osborne/General Servant/42/City, London/Census
1901/Rose Martin/Barmaid/28/Kingston, Hampshire/Census
1901/Ada Town/Barmaid/22/London/Census
1901/Alice Kemp/Barmaid/24/Teddington, London/Census
1901/Florence Baker/Barmaid/30/Clapton, London/Census
1901/Marryian Smith/Barmaid/19/Lambeth, London/Census
1901/Ellie B French/Barmaid/20/Somerset/Census
1901/John D Blackledge/Barman/19/Guildford, Surrey/Census
1901/William Jeffries/Barman/21/Germany/Census
1901/Walter J Ridgwell/Barman/21/Lambeth, London/Census
1901/George Darby/Barman/24/Lambeth, London/Census
1901/George J Burrell/Barman/21/Clerkenwell, London/Census
1901/Louis Newell/Barman/18/Reading, Berks/Census
1901/Alfred Tomlins/Barman/19/Bletchington, Oxon/Census
1901/Arthur C Herd/Barman/29/Bermondsey, London/Census

1901/John Tavener/../../../../Post Office Directory

1906/John Tavener/../../../../Post Office Directory

1911/Mrs Charlotte Tavener/../../../../Post Office Directory

1919/Tavener Ltd/../../../../Post Office Directory

1921/Tavener Ltd/../../../Hughes Directory **

1944/E L Short & Co Ltd/../../../../Post Office Directory



* Provided By John Carnaby