Search London and Pub history
Coopers Arms, 19 Tanner street, Bermondsey SE1
Bermondsey pub history index
A listing of historical London public houses, Taverns, Inns, Beer Houses and Hotels in Bermondsey, Surrey, London. The Bermondsey, Surrey, London listing uses information from census, Trade Directories and History to add licensees, bar staff, Lodgers and Visitors.
At 7 Russell Street in 1839; then 109 Russell Street now renamed, at 19 Tanner Street by 1884 until at least 1921-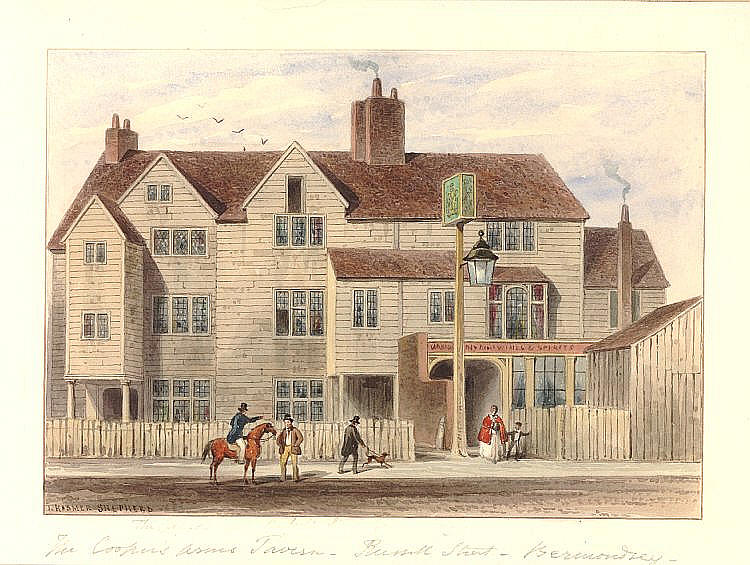 Coopers Arms, Russell Street - in 1854
Kindly provided by Fred Roll
Residents at this address.
1791/John Ludman/victualler [Five Foot Lane]/../../Sun Fire Office records held at the London Metropolitan Archives *

1807/William Ross/victualler [Lower Russell Street]/../../Sun Fire Office records held at the London Metropolitan Archives *

1822/Mary Blackburn/Coopers Arms, Russell street/../../Licensed Victualler Recognizances

1825/Henry Blackburn/Coopers Arms, Russell street/../../Licensed Victualler Recognizances

1826/Henry Blackburn/Coopers Arms, Russell street/../../Licensed Victualler Recognizances

1833-34/Henry Blackburn, Coopers Arms, 7 Great Russell street, Bermondsey/../../Pigots Directory

1834/Mr Henry Blackburn/../../../Licensed Victuallers Association

1839/John Cooper/../../../Pigots Directory

1841/John Morgan/../../../Post Office Directory *

1851/John Morgan/Licensed Victualler/50/Stogumber, Somerset/Census
1851/Sarah Morgan/Wife/48/Stogumber, Somerset/Census
1851/Mary Morgan/Niece, Barmaid/16/Stogumber, Somerset/Census
1851/Sarah Morgan/Grand Daughter/6/Bermondsey, Surrey/Census
1851/John Eagle/Potman/49/St Lukes, Middlesex/Census

1856/John Morgan/../../../Post Office Directory *

1861/John Morgan/Licensed Victualler/60/Lydard St Lawrence, Somerset/Census
1861/Sarah Morgan/Wife/58/Lydard St Lawrence, Somerset/Census
1861/Sarah A Morgan/Grand Daughter, Barmaid/16/Bermondsey/Census
1861/John Cook/Potman/18/Bermondsey/Census

1869/J Morgan/../../../Post Office Directory

March 1870/John Morgan/Outgoing Licensee/../../Era

March 1870/Charles Heming and Sarah Morgan, executors of John Morgan, late occupier/Incoming Licensee/../../Era

June 1870/Charles Fleming and Sarah Morgan/Outgoing Licensee/../../Era

June 1870/George Garland/Incoming Licensee/../../Era

1874/W T Hodges/../../../Licensed Victualler & Hoteliers Directory

1881/Thomas Hodges/Licensed Victualler/38/Farnham, Kent/Census
1881/George Hodges/Son/8/Bermondsey, Surrey/Census
1881/Jane Butler/Niece, Housekeeper/22/Teynham, Kent/Census

1882/Geo H Hodges/../../../Post Office Directory
[Russell Street now renamed, at 19 Tanner Street by 1884]

1884/Louisa Millett/../../../Post Office Directory

1891/Martin Gardner/../../../Post Office Directory

1895/John Male Fiddes/../../../Post Office Directory *

1899/John Male Fiddes/../../../Post Office Directory

1915/Walter William Nickolls/../../../Post Office Directory

1921/Mrs Mary Ann Pilditch/../../../Post Office Directory

1923/Mary Ann Pilditch/Coopers Arms, 19 Tanner street/../../Electoral Register
1923/William George Pilditch/../../../Electoral Register



* Provided By Ewan