Search London wiki and Pub wiki history sites
All public house, restaurants, bars etc closed for the forseeable future from 20th March 2020, but this is a history site.
Feathers, 13 DockHead, Bermondsey SE1
Bermondsey pub history index
Existed from at least 1789.
Historical London public houses, Taverns, Inns, Beer Houses and Hotels.
At 6 Dockhead by 1921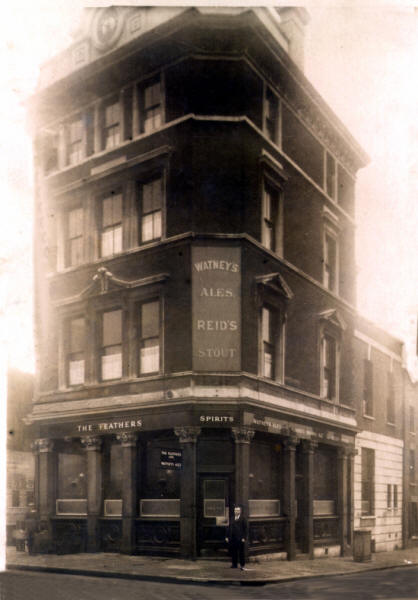 Feathers, 6 Dockhead, Bermondsey - circa 1920
Kindly provided by Eric Stacey
Residents at this address.
1789/Griffiths Roberts/victualler, Plume of Feathers/../../Sun Fire Office records held at the London Metropolitan Archives *

1791/Griffith Roberts/victualler, Plume of Feathers/../../Sun Fire Office records held at the London Metropolitan Archives *

1808/John Harley/victualler/../../Sun Fire Office records held at the London Metropolitan Archives *

1809/John Harley/victualler/../../Sun Fire Office records held at the London Metropolitan Archives *

1811/John Harley/victualler/../../Sun Fire Office records held at the London Metropolitan Archives *

1812/John Harley/victualler/../../Sun Fire Office records held at the London Metropolitan Archives *

1817/John Harley/victualler/../../Sun Fire Office records held at the London Metropolitan Archives *

1818/John Harley junior/victualler/../../Sun Fire Office records held at the London Metropolitan Archives *

1819/Samuel Smith/victualler/../../Sun Fire Office records held at the London Metropolitan Archives *

1822/Hugh Capp/Feathers, Dockhead/../../Licensed Victualler Recognizances

1825/Hugh Capp/Feathers, Hickmans Folly/../../Licensed Victualler Recognizances

1826/Hugh Capp/Feathers, Dockhead/../../Licensed Victualler Recognizances

1831/Edward Angell/victualler/../../Sun Fire Office records held at the London Metropolitan Archives *

1831/Edward Aingell/victualler/../../Sun Fire Office records held at the London Metropolitan Archives *

1833/Edward Aingell/victualler/../../Sun Fire Office records held at the London Metropolitan Archives *

1834/Charles Beck/victualler/../../Sun Fire Office records held at the London Metropolitan Archives *

1839/Charles Beck/../../../Pigot's Directory *

1841/Charles Beck/../../../Post Office Directory *

1851/Daniel Spurgin/../../../Kellys Directory

December1853/Daniel Spurgin/Outgoing Licensee/../../Era

December 1853/William Ayley/Incoming Licensee/../../Era

1856/William Ayley/../../../Post Office Directory

Rebecca Craft is earlier (1851 census) at the Two Brewers, Bethnal Green

1861/Rebecca Craft/Retired Licensed Victualler, Widow/62/Aldgate, Middlesex/Census
1861/Wm Hy Billers/Barman/26/Aldgate, Middlesex/Census
1861/Thomas Sherry/Barman/22/Buckland, Berkshire/Census
1861/William Senior/Barman/22/Hoxton, Middlesex/Census
1861/Charlotte Freame/House Servant/48/Bloomsbury, Middlesex/Census
1861/Nathaniel Phillpot/Potman/15/Camberwell, Surrey/Census

In the freebmd of 1862, there is a marriage between a Rebecca Craft and William Henry Billers. Rebecca Billers, aged 69, died 2 January 1869 at "The Crown and Sceptre". She was a victualler by occupation. (Taken from her Probate notice.) *+

My great great grandparents were "licensed victuallers" and on their probates for both in 1878 it said
"late of The Woolpack, Bermondsey". For how long they were therefore running it is not clear. Names: Robert and Rebecca WINTER. He was born 1831 Roecliffe, Yorkshire and she was born 1827 Bethnal Green.
Spookily, they both died on the 12th of the month, he aged 47 in June 1878 and she aged 50 exactly three months later in September. *+

Robert Winter was also formerly of the Kings Arms, Three Colt Street, Limehouse and also The Cherry Garden, Cherry Garden Street, Bermondsey. In 1871 they are here at the Feathers, Dockhead, Bermondsey whilst Robert's mother, Elizabeth Winter, was housekeeper at the Kings Arms, Three Colt Street. *+

1869/Robert Winter/Wine & Spirit Merchant/../../Post Office Directory

1871/Robert Winter/Licensed Victualler/39/Roecliff, Yorkshire/Census *+
1871/Rebecca Winter/Wife/43/Bethnal Green, Middlesex/Census
1871/John Dryden/Son, Brass Founder/19/Bethnal Green, Middlesex/Census
1871/James Dryden/Son, Merchant Clerk/15/Bethnal Green, Middlesex/Census
1871/Robert N Winter/Son/7/Bermondsey, Surrey/Census
1871/Edward B Winter/Son/5/Bermondsey, Surrey/Census
1871/Sarah Pullen/Visitor, Lady/58/Leeds, Yorkshire/Census
1871/Henry Tree/Servant/20/Bishop Stortford, Hertfordshire/Census
1871/William Johnson/Servant/18/Bermondsey, Surrey/Census
1871/Harriett Smith/Servant/17/St Lukes, Middlesex/Census
1871/Ada E Winter/Daughter/3/Bermondsey, Surrey/Census

1881/Henry F Hoole/Licensed Victualler/34/Southwark, Surrey/Census
1881/Julia S Hoole/Wife/27/Southwark, Surrey/Census
1881/Francis H Hoole/Son/10/Camberwell, Surrey/Census
1881/Charles J Hoole/Son/2/Finsbury, Middlesex/Census
1881/Stanley M B Hoole/Son/8 months/Bermondsey, Surrey/Census
1881/Charles S Matz/Brother in Law,Manager/19/Camberwell, Surrey/Census
1881/Ada H Handler/Visitor, Musician/26/Pimlico, Middlesex/Census
1881/Mary A Goodey/Domestic Servant, Widow/52/Witheridge Hill, Oxford/Census
1881/Mary A Button/Servant/24/Limehouse, Middlesex/Census

1882/Henry Hobson Finch/../../../Post Office Directory

1884/Henry H Finch/../../../Post Office Directory

1891/Henry Hobson Finch/../../../Post Office Directory

1895/Henry Hobson Finch/../../../Post Office Directory

1899/Henry Hobson Finch/../../../Post Office Directory

1915/Arthur Benjamin Lund/../../../Post Office Directory

1921/John Climo Lidbury/../../../Post Office Directory

1923/Stephen Charles Hillyer/Feathers/../../Electoral Register
1923/Florence Hillyer/../../../Electoral Register

There are two Pubs and the Off-license listed on your website that were once owned by my Grandfather Charles Stacey about the 1920's. These were the Feathers, 6 Dockhead Road, Bermondsey, The Royal Fort, 131 Grange Road and the Off License at 165 Church Street, Deptford. ***

1928/C Stacey/../../../BT Telephone Directory [BERmndsy 1055]

1929/C Stacey/../../../BT Telephone Directory [BERmndsy 1055]

1930/C Stacey/../../../BT Telephone Directory [BERmndsy 1055]

1931/C Stacey/../../../BT Telephone Directory [BERmndsy 1055]

1934/Charles Stacey/../../../Kellys Directory

1938/Charles Stacey/../../../Post Office Directory *

1944/Charles Stacey/../../../Post Office Directory *



* Provided By Ewan

*+ Provided By Nickie Johnson

*** Provided By Eric Stacey