Gregorian Arms, 96 Jamaica road, Bermondsey SE1
Bermondsey pub history index
Existed from at least 1822. At St James Place, Lower Road in 1851 and 1853 license transfer; believed to be present by 1550, It was re-built in mock-Tudor style shortly after World War II.
Historical London public houses, Taverns, Inns, Beer Houses and Hotels.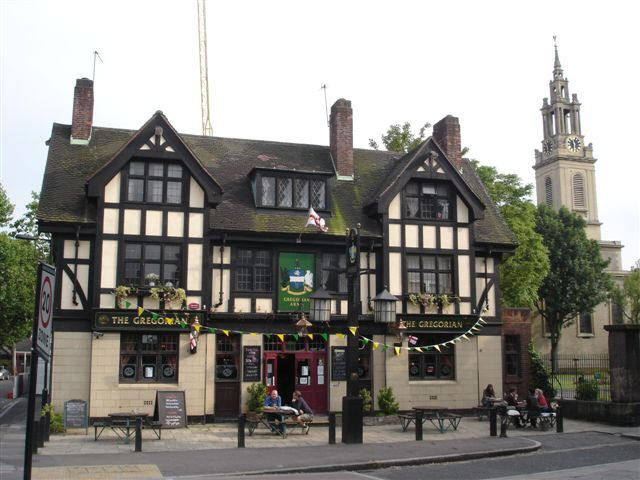 Gregorian, 96 Jamaica Road, SE1 - in June 2007
Kindly provided by Stephen Harris
Residents at this address.
1822/William Carpenter/Gregorian Arms, Deptford Lower road/../../Licensed Victualler Recognizances

1823/William Greenslade/victualler/../../Sun Fire Office records held at the London Metropolitan Archives *

1825/William Greenslade/Gregorian Arms, Dandys Turnpike/../../Licensed Victualler Recognizances

1826/William Greenslade/Gregorian Arms, Dandys Turnpike/../../Licensed Victualler Recognizances

1827/William Greenslade, Gregorian Arms, Prospect row/../../Pigot's Directory

1839/James Short/../../../Pigot's Directory *

1851/Geo Eaton/../../../Kellys Directory

November 1850/George Eaton/Outgoing Licensee/../../Era

November 1850/James Frederick Wrangham/Incoming Licensee/../../Era

1851/James F Wrangham/Victualler/30/Limehouse, Middlesex/Census
1851/Mary Ann Wrangham/Wife/29/Lambeth, Surrey/Census
1851/Manfred J Wrangham/Son/9/Stepney, Middlesex/Census
1851/Harriet R Wrangham/Son/7/Stepney, Middlesex/Census
1851/Alice Wrangham/Daughter/2/Bermondsey, Surrey/Census
1851/Maria Ann Wrangham/Daughter/2/Bermondsey, Surrey/Census
1851/Anna Maria Josling/Barmaid/25/Lambeth, Surrey/Census
1851/Mary Ann Parker/House Servant/22/Bermondsey, Surrey/Census

July 1853/James Frederick Wrangham/Outgoing Licensee/../../Era

July 1853/Maria Goaling/Incoming Licensee/../../Era

1856/Alfred John Wrangham/../../../Post Office Directory *

1861/Alfred J Wrangham/Licensed Victualler/33/Limehouse, Middlesex/Census
1861/Eliza M Wrangham/Wife/22/Yarmouth, Norfolk/Census
1861/Ellen Townshend/Barmaid/18/Yarmouth, Norfolk/Census
1861/Elizabeth Lucas/Housemaid/16/Enfield, Middlesex/Census

April 1862/Alfred James Wrangham/Outgoing Licensee/../../Era

April 1862/George Drapper/Incoming Licensee/../../Era

1869/George Drapper/../../../Post Office Directory

1879/Robert Thos Meacock/../../../Post Office Directory **

1881/Robert T Meacock/Licensed Victualler/42/London City, Middlesex/Census
1881/Annie E Meacock/Wife/42/London City, Middlesex/Census
1881/Annie Meacock/Daughter/19/Clerkenwell, Middlesex/Census
1881/Emily Meacock/Daughter/16/Clerkenwell, Middlesex/Census
1881/Laura Meacock/Daughter/11/Kensington, Middlesex/Census
1881/James Meacock/Son/9/Kensington, Middlesex/Census
1881/Alice Meacock/Daughter/5/Kensington, Middlesex/Census
1881/Edwin Meacock/Son/3/Bermondsey, Surrey/Census
1881/Caroline F Coles/Barmaid/24/London City, Middlesex/Census
1881/Edith T Clarkson/Barmaid/22/London City, Middlesex/Census
1881/Thomas Spalding/Potman/26/Richmond, Surrey/Census
1881/Francis E Hill/Nursemaid/17/Newington, Surrey/Census
1881/Emily Hogben/General Servant/25/Sutton Valence, Kent/Census

1882/Robert Thomas Meacock/../../../Post Office Directory *

1884/Robert T Meacock/../../../Post Office Directory

1891/John Edward Poole/../../../Post Office Directory

1895/John Edward Poole/../../../Post Office Directory *

1899/John Edward Poole/../../../Post Office Directory

1911/John Edward Poole/Licensed Victualler/56/Bayswater, London/Census
1911/Kate Poole/Wife/58/Hanover Square, London/Census
1911/George Edward Poole/Son/25/Essex/Census
1911/Stanley Wickworth Poole/Son/22/Bermondsey, London/Census
1911/Gertrude Doris Poole/Daughter/20/Bermondsey, London/Census
1911/Kate Bertha Billinghurst/Barmaid/39/Portsmouth, Hampshire/Census
1911/Martha Smith/Barmaid/34/Camberwell, London/Census
1911/Margaret Eliza Smith/Domestic Servant/20/Leytonstone, Essex/Census

1915/John Edward Poole/../../../Post Office Directory

1921/John Edward Poole/../../../Post Office Directory

1923/John Edward Poole/Gregorian/../../Electoral Register
1923/Kate Poole/../../../Electoral Register
1923/Bessie Collins/../../../Electoral Register
1923/Henry Charles Collins/../../../Electoral Register
1923/Robert Wheeler/../../../Electoral Register

1934/John Edward Poole/../../../Kellys Directory

1938/John Edward Poole/../../../Post Office Directory

1944/Jn Thos Bagley/../../../Post Office Directory



* Provided By Ewan

** Provided By Stephen Harris