Horns, 162 Grange road, Bermondsey SE1
Bermondsey pub history index
Existed from at least 1792. Historical London public houses, Taverns, Inns, Beer Houses and Hotels.
This is the Horns & Two Brewers in 1839, 1848 and 1851; and listed as the Horns at all other times. This is also listed as the Horns and Two Brewers in the 1944 Directory *, so it may have briefly gone back to its original name. *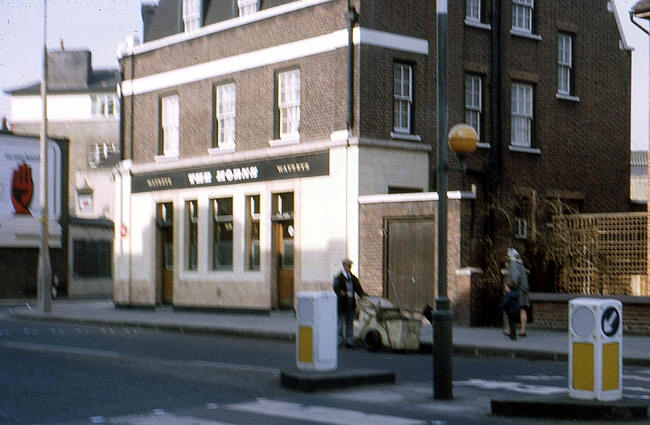 The Horns, 162 Grange Road - in March 1969
Kindly provided by Fred Roll
Residents at this address.
1792/George Rogers/victualler, Horns and Two Brewers/../../Sun Fire Office records held at the London Metropolitan Archives *

1811/John Wheeler, Horns and Two Brewers, Grange road, Bermondsey/../../Holdens Directory

1822/William Farmer/victualler, Horns and Two Brewers/../../Sun Fire Office records held at the London Metropolitan Archives *

1822/William Farmer/Horns and Two Brewers, Grange road/../../Licensed Victualler Recognizances

1823/William Farmer/victualler, Horns and Two Brewers/../../Sun Fire Office records held at the London Metropolitan Archives *

1825/Jane Farmer/Horns and Two Brewers, Grange road/../../Licensed Victualler Recognizances

1826/Jesse Shaw/Horns & Two Brewers, Grange Road/../../Licensed Victualler Recognizances

1827/Jesse Shaw/victualler, Horns and Two Brewers/../../Sun Fire Office records held at the London Metropolitan Archives *

1829/Jesse Shaw/victualler, Horns and Two Brewers/../../Sun Fire Office records held at the London Metropolitan Archives *

1831/Jesse Shaw/victualler, Horns and Two Brewers/../../Sun Fire Office records held at the London Metropolitan Archives *

1834/Jesse Shaw/victualler, Horns/../../Sun Fire Office records held at the London Metropolitan Archives *

1839/Jesse Shaw/../../../Pigots Directory

1841/William Wilbourn/../../../Kellys Directory

1843/William Wilbourn/../../../Kellys Directory

1851/William Wilbourn/../../../Kellys Directory

1851/William Wilbourn/Licensed Victualler/41/Stanstead, Hertfordshire/Census
1851/Mary Wilbourn/Wife/38/Worcestershire/Census
1851/William Wilbourn/Son/11/St Martins, Middlesex/Census
1851/Mary Ann Wilbourn/Daughter/9/Bermondsey, Surrey/Census
1851/George Wilbourn/Son/7/Bermondsey, Surrey/Census
1851/Matilda Wilbourn/Daughter/6/Bermondsey, Surrey/Census
1851/Amelia Wilbourn/Daughter/11 months/Bermondsey, Surrey/Census
1851/Henry Laming/House Servant/22/Garrett, Surrey/Census
1851/Mary Fay/House Servant/24/Galway, Ireland/Census

1856/William Wilbourn/../../../Post Office Directory

1861/William Wilbourn/Licensed Victualler/57/Stanstead, Hertfordshire/Census
1861/Mary Wilbourn/Wife/49/Stamford, Worcestershire/Census
1861/William Wilbourn/Son, Licensed Victualler/21//Census
1861/Mary Ann Wilbourn/Daughter/19/Bermondsey, Surrey/Census
1861/George Wilbourn/Son, App Chronometer Maker/17/Bermondsey, Surrey/Census
1861/Matilda Wilbourn/Daughter/16/Bermondsey, Surrey/Census
1861/Eliza Wilbourn/Daughter/9/Bermondsey, Surrey/Census
1861/Walter Wilbourn/Son/6/Bermondsey, Surrey/Census
1861/Jane Cooper/House Servant/25/Frome, Somerset/Census
1861/Emelia Wilbourn/Daughter/10/Bermondsey, Surrey/Census

1869/W Wilbourn/../../../Post Office Directory

1871/William Wilbourn/Licensed Victualler/31/St Martins London/Census ***
1871/Jane Martha Wilbourn/Wife/25/Stepney London/Census
1871/Walter Swainson/servant Barman/26/Lambeth Surrey/Census
1871/Amelia Godman/Servant Barmaid/20/St Pancras London/Census
1871/Clara Terry/Servant Domestic/22/Lambeth Surrey/Census
1871/Jemima Kemp/Servant Domestic/15/Dundee Scotland/Census
1871/Ada Jane Wilbourn/Dau/2/Bermondsey Surrey/Census
1871/Horace Wilbourn/Son/9m/Bermondsey Surrey/Census

1881/Henry Hodgkinson/Licensed Victualler, Widow/62/Marylebone, Middlesex/Census
1881/Susannah Hodgkinson/Daughter, Barmaid/23/St James, Middlesex/Census
1881/Herbert J Hodgkinson/Son, Barman/18/(British S), France/Census
1881/William Cole/Barman/29/Newington, Surrey/Census
1881/Mary Barker/Domestic Servant/18/Walworth, Surrey/Census

1882/Henry Hodgkinson/../../../Post Office Directory

1884/Henry P Hodgkinson/../../../Post Office Directory

1891/Hugh John Curley/../../../Post Office Directory

1891/Hugh J Curley/Licensed Victualler/53/Windsor, Berkshire/Census
1891/Rebecca A Curley/Wife/47/Wapping, London/Census
1891/Hugh J Curley/Son, Surveyor/24/Rotherhithe/Census
1891/Edward F Curley/Brother, Barman, Widow/45/Windsor, Berkshire/Census
1891/Margaret Holland/Niece, Barmaid/21/Bermondsey, London/Census
1891/Margaret White/Niece, Barmaid/19/Windsor, Berkshire/Census

1895/Hugh John Curley/../../../Post Office Directory

1899/Mrs Rebecca Agnes Curley/../../../Post Office Directory

1915/George Hy Walters/../../../Post Office Directory

1921/Edgar Finch/../../../Post Office Directory

1923/Edgar Finch/Horns/../../Electoral Register
1923/Elizabeth Finch/../../../Electoral Register
1923/Maurice Pickford Edgar Finch/../../../Electoral Register

1934/Maurice P E Finch/../../../Kellys Directory



* Provided By Ewan

*** Provided By Bev Howlett