Search London wiki and Pub wiki history sites
All public house, restaurants, bars etc closed for the forseeable future from 20th March 2020, but this is a pub history site.
Horns, 1 Crucifix Lane, Bermondsey SE1
Bermondsey pub history index
Existed from at least 1791. In recent years renamed Suchards ** This should really be listed under Southwark St John, so I will add this pub to that index. The address is 12 Crucifix Lane in 1856 and earlier, and by 1938 it is at 2 Crucifix Lane, following street renumbering. *
Historical London public houses, Taverns, Inns, Beer Houses and Hotels.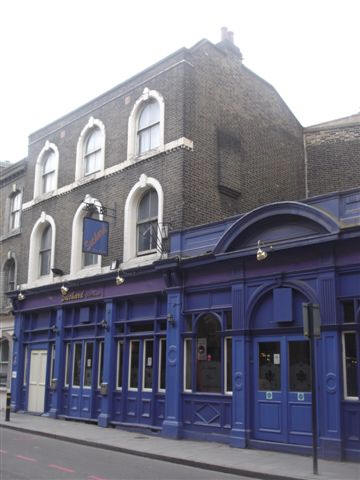 Horns, 1 Crucifix Lane, SE1 - in January 2008
Kindly provided by Stephen Harris
Residents at this address.
1791/James Ward/victualler, Stags Horns/../../Sun Fire Office records held at the London Metropolitan Archives *

1803/John Hobbs/victualler/../../Sun Fire Office records held at the London Metropolitan Archives *

1809/John Hobbs/victualler/../../Sun Fire Office records held at the London Metropolitan Archives *

1822/Elizabeth Edwards/Horns, Crucifix Lane/../../Victuallers Recognizance

1823/Elizabeth Edwards/Horns, Crucifix Lane/../../Victuallers Recognizance

1825/Catherine Parkinson/../../../Victuallers Recognizance

February 1826/Catherine Parkinson/Horns, Crucifix Lane/../../Victuallers Recognizance

June 1826/James Hicks/Horns, Crucifix Lane/../../Victuallers Recognizance

October 1826/James Hicks/Horns, Crucifix Lane/../../Victuallers Recognizance

1833-34/James Hicks, Horns, 12 Crucifix Lane, Bermondsey/../../Pigots Directory

1839/Robert McRae/../../../Pigot's Directory *

1842/Robert McRae/../../../Robson's Directory *

1851/Robert McRae/../../../Kellys Directory

1856/R McRae/../../../Post Office Directory

1862/Robert McRae/../../../Licensed Victuallers Association

1865/Mr Robert McRae, Horns, 12 Crucifix lane, Bermondsey/../../Licensed Victuallers Association

1869/Edward Cuthbertson/../../../Post Office Directory

March 1869/Edward Cuthbertson/Outgoing Licensee/../../Era

March 1869/Alfred William Davies/Incoming Licensee/../../Era

1870/Alfred William Davis/../../../Post Office Directory **

1881/Walter R Green/Licensed Victualler/33/Brompton, Middlesex/Census
1881/Fanny Green/Wife/25/London, Middlesex/Census
1881/George Bowess/../21/Wales/Census
1881/Harry Barer/../20/Bermondsey, Surrey/Census
1881/Harriett Castella/../28/Dover, Kent/Census

1882/Edwin Francis Drake/../../../Post Office Directory

1884/William Pelling/../../../Post Office Directory

1891/William Henry Clements/../../../Post Office Directory

1891/William H Clements/Licensed Victualler/43/Gloucestershire/Census
1891/Marie Clements/Wife/36/Paddington, London/Census
1891/Annie A Clements/Daughter/11/New Jersey, America/Census
1891/Henry Parker/Potman/19/Romford, Essex/Census
1891/Alice Crow/Domestic Servant/28/Bermondsey, London/Census

1895/William Howell/../../../Post Office Directory

1899/William John Williams/../../../Post Office Directory

1901/Anna S Collings/Wife/46/City, London/Census
1901/William Collings/Son, Publican/23/Camberwell, London/Census
1901/John Collings/Son, Publicans Brother/25/Camberwell, London/Census
1901/Edward Collings/Son/15/Camberwell, London/Census
1901/Charles Collings/Son/11/Camberwell, London/Census
1901/Walter Collings/Son/10/Camberwell, London/Census
1901/Mary Curtis/Barmaid/22/Bermondsey, London/Census

Charles Dwyer is at the Holly Tree in about 1901 *+

1907/Charles Dwyer/../../../Birth certificate of Rosie Dwyer in 1907 *+

1908/George Howse/../../../Post Office Directory

Ernest William Thomas Easty is the licensee of the Ship Afloat, Lower Thames street, at the time of the 1901 census; by 1915 he is at the Fountain, 93 Virginia road, Bethnal Green and at the Coach & Horses, Fann street in about 1918

1910/Ernest William Thomas Easty/../../../Post Office Directory

1911/Earnest William Thomas Easty/Publican/43/Clerkenwell, London/Census
1911/Annie Easty/Wife, Home Work/39/Moscow/Census
1911/Alice Easty/Daughter, Barmaid/21/Battersea, London/Census
1911/Earnest Easty/Son, Clerk/17/Hackney Wick/Census
1911/Victoria Easty/Daughter/14/Marylebone/Census
1911/Edward Easty/Son/10/Fulham/Census
1911/Ivy Easty/Daughter/8/Anerley/Census
1911/Fred Sutterlock/Potman, Widow/56/Bow, London/Census
1911/George Leonard Ford/Barman/21/Kennington, London/Census

1913/Arthur Cornwall Ward/../../../Post Office Directory

1915/George William Gooding/../../../Post Office Directory

1921/George Spencer Reynolds/../../../Post Office Directory

1923/George Spencer Reynolds/Horns/../../Electoral Register
1923/Mary Ann Reynolds/../../../Electoral Register

1934/George Thomas Philpot/../../../Kellys Directory

1938/Mrs G. B. E. Stevenson/../../../Post Office Directory *

1944/Isaac Miller/../../../Post Office Directory *



* Provided By Ewan

*+ Provided By Andy Roberts

** Provided By Stephen Harris