Ship, 228 Long lane, Bermondsey SE1
Bermondsey pub history index
Existed from at least 1791. At 170 Long Lane in 1851, then at 189 Long Lane in 1871 and earlier. Closed circa 2001 and seemingly in office use.
Historical London public houses, Taverns, Inns, Beer Houses and Hotels.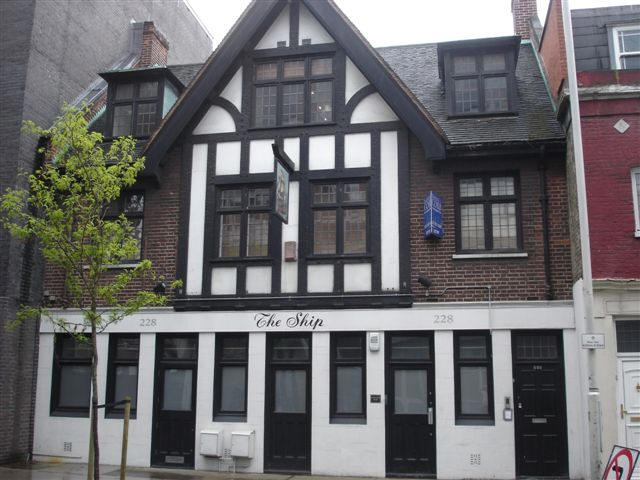 Ship, 228 Long Lane, SE1 - in June 2007
Kindly provided by Stephen Harris
Residents at this address.
1791/John Palmer/victualler/../../Sun Fire Office records held at the London Metropolitan Archives *

1792/John Palmer/victualler/../../Sun Fire Office records held at the London Metropolitan Archives *

1794/John Palmer/victualler/../../Sun Fire Office records held at the London Metropolitan Archives *

1795/John Palmer/victualler/../../Sun Fire Office records held at the London Metropolitan Archives *

1810/Mr Pratt/victualler/../../Sun Fire Office records held at the London Metropolitan Archives *

1811/Mr Spraley/victualler/../../Sun Fire Office records held at the London Metropolitan Archives *

1822/George Castle/Ship, Long lane/../../Licensed Victualler Recognizances

1825/George Castle/Ship, Long lane/../../Licensed Victualler Recognizances

1826/George Castle/Ship, Long lane/../../Licensed Victualler Recognizances

1827/Thomas Cropp/../../../Licensed Victuallers Association

1839/Giles Lone/../../../Pigots Directory

1841/Gyles Lone/../../../Post Office Directory

1842/Giles Lone/../../../Robsons Directory

1848/Peter Ramage/../../../Post Office Directory

1851/Emma Meggs/Barmaid/26/Bury St Edmunds, Suffolk/Census
1851/Thomas Overton/Potman/24/Norwood, Surrey/Census

November 1852/Thomas Meadows/Outgoing Licensee/../../Era Newspaper

November 1852/Thomas Jacob Hewer/Incoming Licensee/../../Era Newspaper

1856/William Wenham/../../../Post Office Directory

September 1855/William Wenham/ Outgoing Licensee /../../The Era

September 1855/Edwin Nunn/ Incoming Licensee /../../The Era

February 1857/Edwin Nunn/ Outgoing Licensee /../../The Era

February 1857/John Humphreys/ Incoming Licensee /../../The Era

September 1857/John Humphreys/Outgoing Licensee/../../Era

September 1857/Joseph Baggarley/Incoming Licensee/../../Era

November 1867/Thomas White/Outgoing Licensee/../../Era

November 1867/Alexander Scott/Incoming Licensee/../../Era

1869/Alex Scott/../../../Post Office Directory

1871/Alexander Scott/Publican/42/Carlisle/Census ***
1871/Emily Scott/Wife/39/Bermondsey Surrey/Census
1871/Jessey Scott/Dau Scholar/14/Bermondsey Surrey/Census
1871/Emily Scott/Dau Scholar/12/Bermondsey Surrey/Census
1871/Mary Ann Scott/Dau Scholar/10/Bermondsey Surrey/Census
1871/Sarah Scott/Dau Scholar/7/Bermondsey Surrey/Census
1871/Alexander Scott/Son Scholar/5/Bermondsey Surrey/Census
1871/Robert Scott/Son/2/Bermondsey Surrey/Census
1871/James Scott/Son/3m/Bermondsey Surrey/Census
1871/Ann Hart/Grandmother Wid/80/Wolverhampton/Census
1871/George Gillies/Servant/27/London/Census
1871/James Freestone/Lodger married Skinner/43/Sawston/Census
1871/William Given/Lodger married Skinner/35/Manchester/Census
1871/James Davies/Lodger married/Skinner/25/Colne Lane/Census
1871/James Rogers/Lodger married Skinner/37/Arthborough/Census
1871/Henry Cuting/Lodger Lighterman/30/London/Census
1871/Herbert Grimer/Lodger married Dyer/38/London/Census

1881/John Bell/Licensed Victualler/56/Southwark, Surrey/Census
1881/Martha Bell/Wife/44/Glasgow/Census
1881/Thos Bell/Son/13/Leeth/Census
1881/Matthew Bell/Son/8/Southwark, Surrey/Census
1881/Annie Bell/Daughter/3/Southwark, Surrey/Census

1882/John Henry Bell/../../../Post Office Directory

1884/John Bell/../../../Post Office Directory

1891/John Porter/../../../Post Office Directory

1895/Joseph Bush/../../../Post Office Directory *

1899/Joseph Bush/../../../Post Office Directory

1910/Thomas Butler/../../../Post Office Directory

1911/Thomas F Butler/Publican/41/Bermondsey/Census
1911/Eliza Jane Butler/Wife/45/India/Census
1911/Eliza Emily Butler/Daughter/8/Bermondsey/Census
1911/James Joseph Bush/Stepson, Barman/22/Bermondsey/Census
1911/Robert William Bush/Stepson, Barman/20/Bermondsey/Census
1911/John Henry Bush/Stepson, Barman/18/Bermondsey/Census
1911/Richard Bush/Stepson/12/Bermondsey/Census
1911/Robert Fielding/Lodger, Commercial Traveller/29/Blackburn/Census

1914/Alfred John Amis/../../../Post Office Directory

1921/Abraham Bresslaw/../../../Post Office Directory

1923/Percy Fitzgibbons/Ship/../../Electoral Register

1934/Harry Arthur Trewwinnard/../../../Kellys Directory

1938/N. Rogers & P. W. Kirkham/../../../Post Office Directory *

1944/N. Rogers/../../../Post Office Directory *



* Provided By Ewan

*** Provided By Bev Howlett