Search London wiki and Pub wiki history sites
All public house, restaurants, bars etc closed for the forseeable future from 20th March 2020, but this is a history site.
Ship, 16 Marigold street, Bermondsey SE16
Bermondsey pub history index
Existed from at least 1822. aka Ship in Distress, e.g. in 1851 census, 1866, 1872, 1884 and 1921.
Historical London public houses, Taverns, Inns, Beer Houses and Hotels.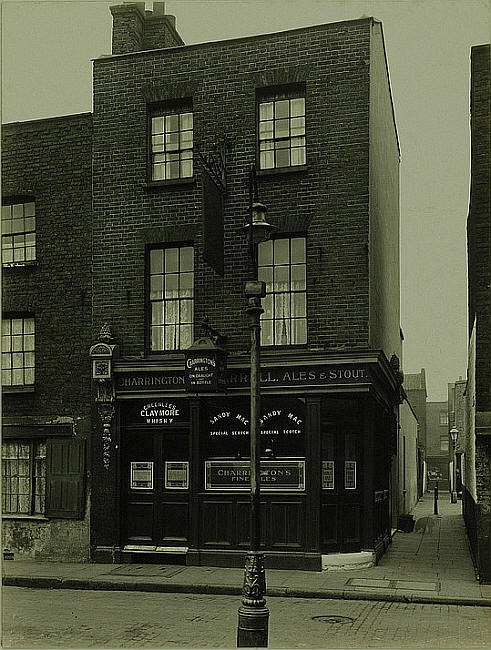 Ship in Distress, 16 Marigold Street, Bermondsey - in 1930
Residents at this address.
1822/Edward Giles/Ship, Marygold street/../../Licensed Victualler Recognizances

1825/Edward Giles/Ship, Marygold street/../../Licensed Victualler Recognizances

1826/Edward Giles/Ship, Marygold street/../../Licensed Victualler Recognizances

1839/George Letts/../../../Pigot's Directory *

1851/Mrs Mary Ann Bear/../../../Post Office Directory *

1851/Mary A Bear/Victualler, Widow/43/Rotherhithe, Surrey/Census
1851/Mary A Bear/Daughter/19/Bermondsey, Surrey/Census
1851/Daniel Bear/Son, Shipwright Apprentice/18/Bermondsey, Surrey/Census
1851/Joseph Bear/Son, Engineer/16/Bermondsey, Surrey/Census
1851/Sarah Bear/Daughter/15/Bermondsey, Surrey/Census
1851/Susan Bear/Daughter/13/Bermondsey, Surrey/Census
1851/Thomas Bear/Son/10/Bermondsey, Surrey/Census
1851/Caroline Bear/Daughter/9/Bermondsey, Surrey/Census
1851/Esther Bear/Daughter/7/Bermondsey, Surrey/Census
1851/Rosina Bear/Daughter/5/Bermondsey, Surrey/Census
1851/Harriett Bear/Daughter/3/Bermondsey, Surrey/Census
1851/Robert Nicholls/Potman/19/Cornwall/Census

1856/Mrs Jane Aldridge/../../../Post Office Directory *

1861/Jane Newton/Publicnn, Widow/52/Marylebone, Middlesex/Census
1861/Charlotte Harton/Niece/27/London, Middlesex/Census

September 1862/Jane Newton/Outgoing Licensee/../../../London Daily News

September 1862/James Cooke Webster/Incoming Licensee/../../London Daily News

May 1866/William Hellewell/Outgoing Licensee/../../Era

May 1866/John Henry Dixon/Incoming Licensee/../../Era

November 1867/Edward Downing/Outgoing Licensee/../../Era

November 1867/George Gilbert/Incoming Licensee/../../Era

1869/George Gilbert/../../../Post Office Directory

June 1872/Thomas Brinn/Outgoing Licensee/../../Era

June 1872/Alfred Chettle/Incoming Licensee/../../Era

1881/Richard Gardner/Licensed Victualler/57/Rotherhithe, Surrey/Census
1881/Catherine Gardner/Wife/46/Rotherhithe, Surrey/Census
1881/Walter Gardner/Son/16/Rotherhithe, Surrey/Census
1881/Catherine Gardner/Daughter/12/Rotherhithe, Surrey/Census
1881/Augusta Gardner/Daughter/11/Rotherhithe, Surrey/Census
1881/Ada Gardner/Daughter/4/Bermondsey, Surrey/Census

1882/Richard William Gardner/../../../Post Office Directory

1884/Henry Hawes/../../../Post Office Directory

1891/Wm Reeves/../../../Post Office Directory

1895/Geo Knott/../../../Post Office Directory

1899/James Connolly/../../../Post Office Directory

1910/Thomas Geraghty/../../../Post Office Directory

1914/Alex Mudie/../../../Post Office Directory

1915/Alexander Mudie/../../../Post Office Directory *

1918 - 1928/Nelson/../../../Freehold

1921/William Nelson/../../../Post Office Directory

1923/Matilda Agnes Nelson/Ship in Distress/../../Electoral Register
1923/William Nelson/../../../Electoral Register

1929 - 1931/Barrell/../../../Freehold

1934/Hy Barrell/../../../Kellys Directory

1938/William Lewis Pick/../../../Post Office Directory *

1944/William Lewis Pick/../../../Post Office Directory

* Provided By Ewan