Search London wiki and Pub wiki history sites
All public house, restaurants, bars etc closed for the forseeable future from 20th March 2020, but this is a history site.
St James Tavern, 72 St James road, Bermondsey SE16
Bermondsey pub history index
Existed from at least 1869. At 70 Blue Anchor Lane until at least 1884, which used to extend under the railway bridge to where the pub is, but this is now part of St James Road; and listed at 72 St James Road by 1891 ***
Historical London public houses, Taverns, Inns, Beer Houses and Hotels.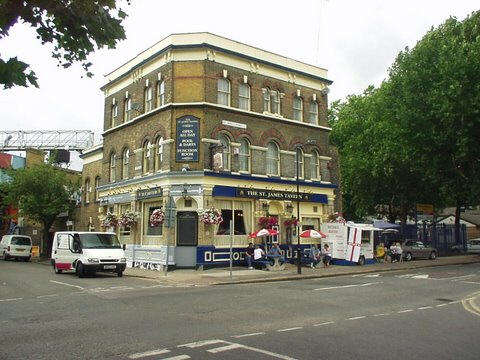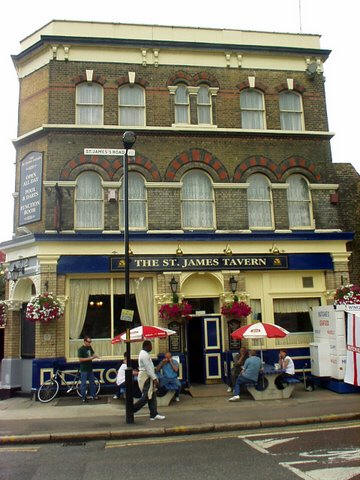 St James Tavern, 72 St James Road - & St James Tavern, an alternative view - both in 2007
Kindly provided by Peter Iles
Residents at this address.
1869/Frederick Shoults/../../../Post Office Directory

1871/Thomas Butler/Licensed Victualler/55/Chiltern, Berkshire/Census *
1871/Ann Butler/Wife/53/Nottingham, Nottinghamshire/Census
1871/Mary J. Butler/Daughter/21/Ireland/Census
1871/Charlotte Green/Companion, Housekeeper/24/Bloomsbury, Middlesex/Census
1871/Jane Wood/General Servant/19/Kingsland, Middlesex/Census
1871/William Butler/Nephew, Barman/22/Rainsby, Berkshire/Census
1871/Herbert Musselwhite/Barman/22/Ashford, Kent/Census
1871/James Garnett/Potman/19/Salisbury, Wiltshire/Census

April 1872/J Carman/Outgoing Licensee/../../Era Newspaper

April 1872/Geo Franklin/Incoming Licensee/../../Era Newspaper

1881/Peter Topp/Publican/45/Southwark, Surrey/Census
1881/Ellen Topp/Wife/29/Lutterworth, Leicester/Census
1881/Ellen Topp/Daughter/6/Bermondsey, Surrey/Census
1881/Edward F Topp/Son/4/Bermondsey, Surrey/Census
1881/Charles F Topp/Son/8 months/Bermondsey, Surrey/Census
1881/Robert Turner/Barman/24/Banningham, Norfolk/Census
1881/John Holland/Under Barman/20/Worcester, Worcester/Census
1881/William Huntingford/Potman/23/Newington, Surrey/Census
1881/Jane Brown/General Servant/21/Islington, Middlesex/Census
1881/Sarah Smith/Nursemaid/38/Norwich, Norfolk/Census

1884/Peter Topp/../../../Post Office Directory

1891/George Watson Kidd & Co/../../../Post Office Directory

My great grandfather, JOHN VIAN was landlord here in 1891 ***

1891/John Vian/Licensed Victualler/40/St Stephens in Brannell, Cornwall/Census ***
1891/Ann J Vian/Wife/40/North Bradley, Wiltshire/Census
1891/Florence M Vian/Daughter/17/St Austell, Cornwall/Census
1891/Selina A Vian/Daughter/9/Holborn, London/Census
1891/William J Vian/Son/8/Holborn, London/Census
1891/Daisy E Vian/Daughter/6/Holborn, London/Census
1891/Lily Vian/Daughter/3/Shoreditch, London/Census
1891/Beatrice Vian/Daughter/1/Shoreditch, London/Census
1891/Albert E Vian/Son/3 months/Walthamstow/Census
1891/William Fairbank/Bar Assistant/28/Halstead, Essex/Census
1891/Frank Russ/Bar Assistant/22/Chelsea/Census
1891/Martha Clark/Bar Assistant/21/Islington/Census
1891/Florence E Wallace/Bar Assistant/21/Mile End/Census
1891/Mary Maud Hunt/Barmaid/19/Stockwell/Census

1895/John Vian/../../../Post Office Directory

By 1901, John Vian is at the Brondesbury Arms, Kilburn where he was the landlord until about 1928 ***

1899/George John Block/../../../Post Office Directory

1910/Miss Nellie Maria Farrants/../../../Post Office Directory

1911/Nellie Maria Farrants/Sister, Licensed Victualler/26/Clapham, Surrey/Census
1911/Alice Elizabeth/Sister, Assistant/40/Waterloo/Census
1911/Arthur James/Cousin, Licensed Victualler/40/Thornton Heath, Surrey/Census
1911/Mabel Dories/Barmaid/22/Finsbury Park/Census
1911/Ellen Mary Fitzgerald/Cook/32/Poplar/Census

1915/Miss Nellie Maria Farrants/../../../Post Office Directory

1921/Miss Minnie Ethel Mogridge/../../../Post Office Directory

1923/Victor William Scott/St James Tavern/../../Electoral Register
1923/Albert Edward Mogridge/../../../Electoral Register

1934/Alfred William Ashdown/../../../Kellys Directory

1938/Alfred William Ashdown/../../../Post Office Directory

1944/Alfred William Ashdown/../../../Post Office Directory

My mother's aunt and uncle, Vera and Bill Crammond, owned the pub for a few years during the early 1960s. **



** Provided By Chris Glew

*** Provided By Peter Iles