Search London wiki and Pub wiki history sites
All public house, restaurants, bars etc closed for the forseeable future from 20th March 2020, but this is a history site.
Stingo Arms, 86 Tanner street, Bermondsey SE1
Bermondsey pub history index
Existed from at least 1881. The address is at Russell Street before 1884. The pub disappears from directories in 1938 and 1944 but is again a licensed beer & wine house by 1950. *
Historical London public houses, Taverns, Inns, Beer Houses and Hotels.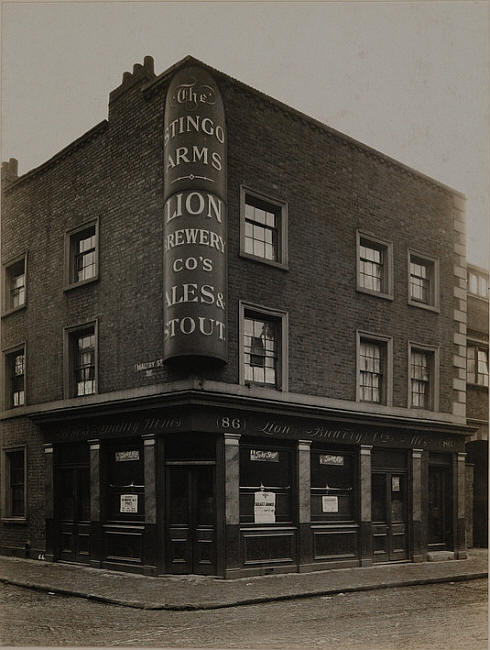 Stingo Arms, 86 Tanner Street, Bermondsey
Residents at this address.
1881/George Holloway/Beer House Keeper/45/Wells, Somerset/Census
1881/Mary Holloway/Wife/39/City, Middlesex/Census
1881/Geo L Holloway/Son, Salesman/19/City, Middlesex/Census
1881/Isabella M Holloway/Daughter/17/City, Middlesex/Census
1881/Chas Alfred Holloway/Son/15/City, Middlesex/Census
1881/Herbert Holloway/Son/12/Bermondsey, Surrey/Census
1881/Thomas Gilfrin/Potman/18/Bermondsey, Surrey/Census

1882/William Peasley/beer retailer/../../Post Office Directory *

1891/Henry Smith/Beer Retailer/../../Post Office Directory

1895/Mrs Sarah Mary Mercer/beer retailer/../../Post Office Directory *

1899/Chas Pearce/Beer Retailer/../../Post Office Directory

1910/John Lavis/Beer Retailer/../../Post Office Directory

1914/John Lavis/beer retailer/../../Post Office Directory *

1915/John Lavis/beer retailer/../../Post Office Directory *

1921/Charles Mellish/Beer Retailer/../../Hughes Directory

1923/Charles Mellish/Stingo Arms/../../Electoral Register
1923/Charles Mellish junior/../../../Electoral Register
1923/Ellen Mellish/../../../Electoral Register

1934/Charles Mellish/Beer Retailer/../../Kellys Directory

I lived there from 1950 to 1953. My father was the licensee. It was a Beer and Wine House only and I recall that the electricity was DC. *+



* Provided By Ewan

*+ Provided by Tom Goldsmith