Search London wiki and Pub wiki history sites
All public house, restaurants, bars etc closed for the forseeable future from 20th March 2020, but this is a history site.
Ancient Briton, 5 & 6 Wilds rents, Long lane, Bermondsey SE1 4QG
Bermondsey pub history index
Named in the 1923 electoral register
Historical London public houses, Taverns, Inns, Beer Houses and Hotels.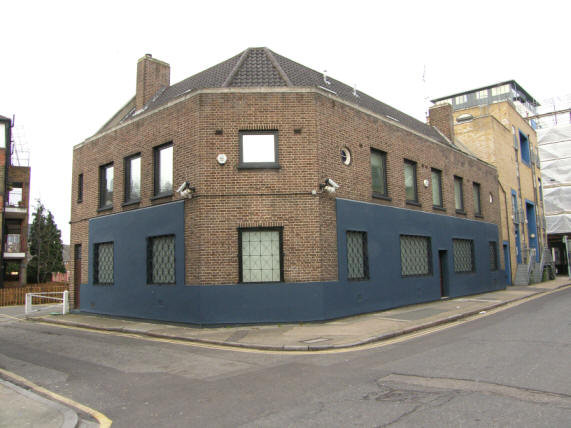 6 Wilds Rents, Bermondsey - in February 2009
Kindly provided by Fred Roll
Residents at this address.
1856/Thomas Ladd/beer retailer/../../Post Office Directory *

1861/Frederic Ryan/Beer Shop Keeper/39/Kennington, Surrey/Census *
1861/Jane Ryan/Wife/38/Shoreditch, Middlesex/Census
1861/Marion J. Ryan/Daughter/12/Camberwell, Surrey/Census
1861/Frederick Ryan/Son/10/Marylebone, Middlesex/Census
1861/John H. Ryan/Son/8/Bermondsey, Surrey/Census
1861/Charles Ryan/Son/2/Walworth, Surrey/Census
1861/Florence Ryan/Daughter/6 months/Bermondsey, Surrey/Census

1869/Robert Chapman/Beer Retailer/../../Post Office Directory

1881/Robert Chapman/Licensed Victualler/49/Bermondsey, Surrey/Census
1881/Johanna Chapman/Wife/40/Lambeth, Surrey/Census
1881/Robt E Chapman/Son/14/Bermondsey, Surrey/Census
1881/Alice H Chapman/Daughter/11/Bermondsey, Surrey/Census
1881/Charles C Chapman/Son/10/Bermondsey, Surrey/Census
1881/Thomas Chapman/Son/9/Bermondsey, Surrey/Census
1881/Anna Chapman/Daughter/3/Bermondsey, Surrey/Census
1881/Rosina Chapman/Daughter/1/Bermondsey, Surrey/Census
1881/James Felstead/Barman/20/Bermondsey, Surrey/Census
1881/Elizabeth Barrun/General Servant/15/Maldon, Essex/Census

1882/Robert Chapman/Beer Retailer/../../Post Office Directory

1891/Henry Waring Wolloms/beer retailer/../../Post Office Directory *

1895/Henry Waring Wollom/beer retailer/../../Post Office Directory *

1899/Thomas William Hucker/beer retailer/../../Post Office Directory *

1910/James Edward Grist/beer retailer/../../Post Office Directory *

1915/James Edward Grist/beer retailer/../../Post Office Directory *

1921/James Edward Grist/Beer Retailer/../../Post Office Directory

1923/Matilda Maud Grist/Ancient Briton/../../Electoral Register
1923/Sidney Moyce/../../../Electoral Register

1934/Mrs Matilda Maud Grist/beer retailer/../../Post Office Directory *

1938/Mrs Matilda Maud Grist/Beer Retailer/../../Post Office Directory

1944/Mrs Matilda Maud Grist/beer retailer/../../Post Office Directory *



* Provided By Ewan

*** Provided By Bev Howlett