Search London wiki and Pub wiki history sites
All public house, restaurants, bars etc closed for the forseeable future from 20th March 2020, but this is a history site.
Yorkshire Grey, 99 Bermondsey Street, Bermondsey SE1
Bermondsey pub history index
Existed from at least 1822. Bermondsey Street gets renumbered quite a few times. The address is at 86 Bermondsey Street until about 1851, then 68 Bermondsey Street from about 1856. The numbering alters again about 1910 to 99 Bermondsey Street. **
Historical London public houses, Taverns, Inns, Beer Houses and Hotels.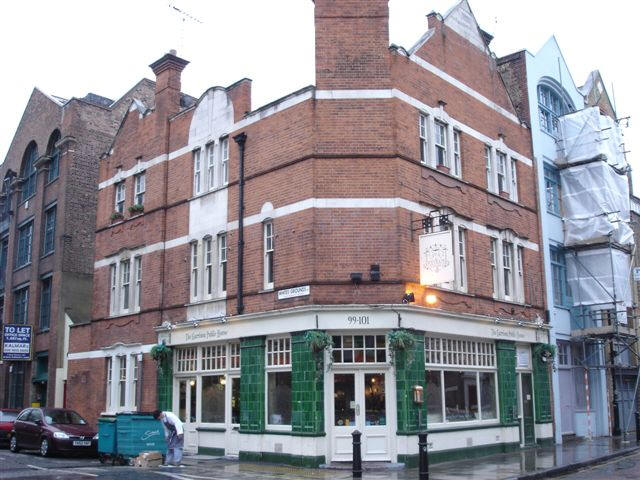 Yorkshire Grey, 99 - 101 Bermondsey Street - in February 2007
Kindly provided by Stephen Harris
Residents at this address.
1822/Whitwright Franklin/Yorkshire Grey, Bermondsey street/../../Licensed Victualler Recognizances

1825/Mr. Cable, Yorkshire Grey, Bermondsey street /../../Licensed Victuallers Association

1825/Whitwright Franklin/Yorkshire Grey, Bermondsey street/../../Licensed Victualler Recognizances

1826/Whitwright Franklin/Yorkshire Grey, Bermondsey street/../../Licensed Victualler Recognizances

1827/W Franklin/../../../Licensed Victuallers Association

1830/Mrs Franklin, Yorkshire grey, Bermondsey street/../../Licensed Victuallers Association

1830/Whitnight (otherwise Whitright) Franklin/victualler/../../Prerogative Court of Canterbury wills and probate records held at the National Archives *

1839/William Shipley/../../../Pigots Directory

1841/W Shipley/../../../Kellys Directory

1842/W Shipley/../../../Robsons Directory

1848/Joseph Barton/../../../Post Office Directory

July 1849/Sarah Barton, widow and executrix of Joseph Barton/Incoming Licensee/../../Era

1851/Mrs Sarah Barton/../../../Kellys Directory

1851/Henry Reeves/Victualler/35/../Census
1851/Elizabeth Reeves/Wife/32/../Census
1851/Sophia Tayler/General Servant/18/../Census
1851/Henry Bennett/General Servant/20/../Census
1851/Charles Bowers/Coachman/42/../Census
1851/William Mitchell/Carman/38/../Census
1851/Charles Hall/Currier/34/../Census

April 1853/Henry Reeves/Outgoing Licensee/../../Era

April 1853/Ralph Taylor/Incoming Licensee/../../Era

February 1854/Ralph Taylor/ Outgoing Licensee /../../The Era

February 1854/George Jermain Ellis/ Incoming Licensee /../../The Era

1856/George Ellis/../../../Post Office Directory

1861/George Ellis/Victualler/42/Limehouse, Middlesex/Census
1861/Ann Ellis/Wife/41/St Lukes, Middlesex/Census
1861/Frederick Ellis/Son/11/St Lukes, Middlesex/Census
1861/Caroline Ellis/Daughter/6/Bermondsey, Surrey/Census
1861/Amelia Ellis/Daughter/3/Bermondsey, Surrey/Census
1861/Norah Shea/House Servant/17/Bermondsey, Surrey/Census
1861/William Hill/Potman/24/../Census

1866/Frederick Johnson/../../../Post Office Directory

1869/Fredk Johnson/../../../Post Office Directory

1881/Frederick Johnson/Licensed Victualler/39/London, Surrey/Census
1881/Emma Johnson/Wife/37/London, Surrey/Census
1881/E E Johnson/Daughter/16/London, Surrey/Census
1881/T V Johnson/Son/14/London, Surrey/Census
1881/A J F Johnson/Daughter/10/London, Surrey/Census
1881/J F C Johnson/Daughter/8/London, Surrey/Census
1881/J C M Johnson/Daughter/6/London, Surrey/Census
1881/E H M Johnson/Daughter/4/London, Surrey/Census
1881/G M Taylor/Barman/18/London, Surrey/Census
1881/G M Lovelock/Potman/41/London, Surrey/Census
1881/L M Grey/Domestic Servant/19/Holloway, Middlesex/Census

1882/Frederick Johnson/../../../Post Office Directory

1884/Emma Johnson/../../../Post Office Directory

1891/Albert East Coombs/../../../Post Office Directory

1891/Albert E Coombs/Licensed Victualler/29/Blackfriars, London/Census
1891/Elizabeth A/Wife, Barmaid/34/Bermondsey, London/Census
1891/Rose Reed/Barmaid/24/London, Middlesex/Census
1891/Jane Evans/Barmaid, Widow/36/Bermondsey, London/Census
1891/George Boon/Barman/19/Ipswich, Suffolk/Census

1895/Mrs Elizabeth Coombs/../../../Post Office Directory *

1899/Edwin McRae/../../../Post Office Directory

1901/Edwin McRae/Licensed Victualler/44/Mitcham, London/Census
1901/Elizabeth A McRae/Wife/44/Bermondsey, London/Census
1901/Edmund Valentine/Head Barman/30/Bow, London/Census
1901/William J Russell/Barman/20/Rugby, Warwickshire/Census
1901/Amy Palmer/Barmaid/21/St Johns Wood, London/Census
1901/Nellie Smith/Domestic Servant/20/Deptford, London/Census

1910/William Edmund Reed/../../../Post Office Directory

1911/William Edmund Reed/Licensed Victualler/41/Bury St Edmunds, Suffolk/Census
1911/Emily Elizabeth Reed/Wife/35/Woolwich, London/Census
1911/William Edward Reed/Son/12/Deptford, London/Census
1911/Louis Reed/Son/11/Deptford, London/Census
1911/Ronald Reed/Son/10/Deptford, London/Census
1911/Doris Reed/Daughter/8/Deptford, London/Census
1911/Harold Reed/Son/4/Deptford, London/Census
1911/Winifred Reed/Daughter/7 months/Bermondsey, London/Census
1911/Mable Trudgett/Barmaid/19/Lambeth, London/Census
1911/Robert Minter/Barman/29/Bermondsey, London/Census
1911/Clara Beard/Servant/14/Cannon Town/Census
1911/Kate Hump/Servant, Widow/38/Bow/Census

1914/Wm Edmund Reed/../../../Post Office Directory

1915/William Edmund Reed/../../../Post Office Directory *

1921/Arthur Dickson Mitchell/../../../Post Office Directory

1923/Arthur Dixon Mitchell/Yorkshire Grey/../../Electoral Register
1923/Ada Emily Mitchell/../../../Electoral Register

1934/Mitchell & Potter/../../../Post Office Directory *

1938/Jn F H Boggust/../../../Post Office Directory

1944/Jn F H Boggust/../../../Post Office Directory



* Provided By Ewan

** Provided By Stephen Harris