Angel and Crown, 180 Green Street, Bethnal Green E2
Bethnal Green pub history index
Existed from at least 1809. [Now at 170 Roman Road ) ; as Green Street is now the Western half of Roman Road; At 112 Green Street in 1856 & 1861 census. This pub was rebuilt in c.1951 and remains open. ** The address is at 180 Roman Road by 1942, following street renaming (and prior to rebuilding at 170 Roman Road). *+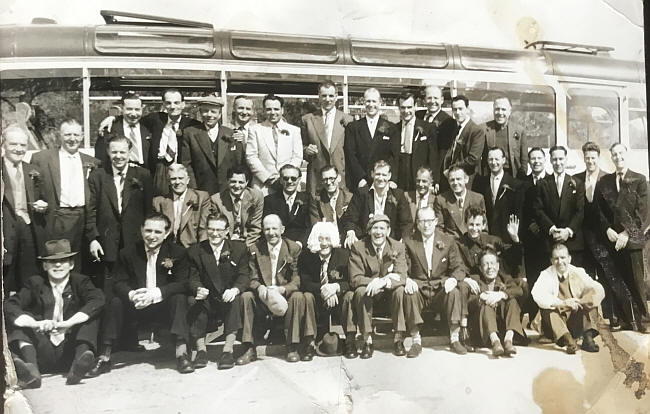 Angel & Crown, Roman Road - a mens outing in circa early 1950s
This is another outing, this time from the Angel & Crown. This time my father is sitting on the floor in the right of the photo, still wearing his trilby hat. The Landlord Cyril Trowbridge is sitting in the front row four from the left, he is the one wearing glasses.
Kindly provided by Jean Ellis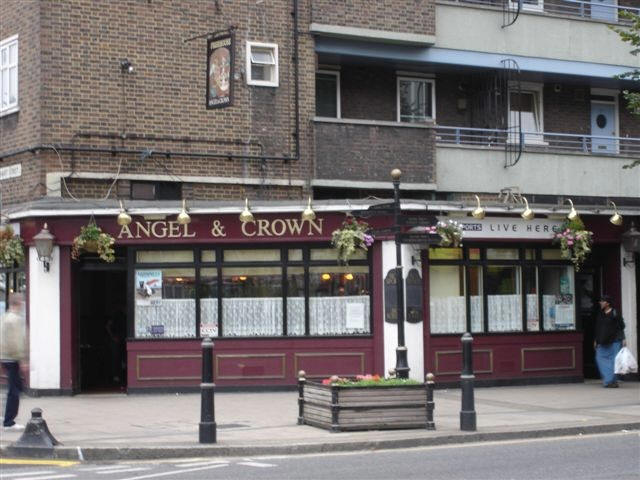 Angel & Crown, 170 Roman Road - in September 2006
Kindly provided by Stephen Harris
Residents at this address.
1809/Henry Smart / Victualler //../../../Sun Fire Office Records held at Guildhall Library **

1825/Mr. Crawley, Angel and Crown, Green street, Bethnal green/../../Licensed Victuallers Association

1833-34/Richard Swallow, Angel and Crown, Green Street, Bethnal Green/../../Pigots Directory

1839/Edward How/../../../Pigots Directory

1842/Edw. How/../../../Robson's Directory **

1846/Edw. How/../../../Post Office Directory

1851/William Bullock/Victualler/60/Barking, Essex/Census
1851/Susannah Wood/Sister in Law, Governess/48/Witham, Essex/Census
1851/Emma Jarvis/Niece/17/St George Hanover Square, Middlesex/Census
1851/James Power/Barman/21/Bethnal Green, Middlesex/Census

1852/William Bullock/../../../Watkins Directory **

1856/William Bullock/../../../Post Office Directory **

4th March 1858/William Bullock/Outgoing Licensee/../../East London Observer +

4th March 1858/Peter Osgood/Incoming Licensee/../../East London Observer +

1860/Joseph Jacobs/../../../Post Office Directory **

January 1860/Joseph Jacobs/Outgoing Licensee/../../Era Newspaper

January 1860/Charles Entwistle/Incoming Licensee/../../Era Newspaper

1861/Charles Entwistle/Licensed Victualler/26/Bethnal Green, Middlesex/Census
1861/Elizabeth Phillips/Niece/7/Bethnal Green, Middlesex/Census
1861/Emily Abbott/Barmaid/20/Bethnal Green, Middlesex/Census
1861/Maria Gordon/Domestic Servant/40/Bethnal Green, Middlesex/Census

1862/Charles Entwistle/../../../Post Office Directory **

May 1862/Charles Entwistle/Licensed Victuallers Association/../../Era

March 1862/Charles Entwistle/Outgoing Licensee/../../Era

March 1862/Henry Alfred Challenor/Incoming Licensee/../../Era

July 1865/Henry Alfred Challoner/Outgoing Licensee/../../East London Observer +

July 1865/John Allard/Incoming Licensee/../../East London Observer +

1869/John Allard/../../../Post Office Directory

January 1869/John Allard/Outgoing Licensee/../../Era

January 1869/John Scott Towne/Incoming Licensee/../../Era

1871/John S Towne/Licensed Victualler/44/Surrey/Census
1871/Sophia Towne/Wife/41/Southwark, Surrey/Census
1871/Elizabeth Towne/Daughter/6/Southwark, Surrey/Census
1871/Alice Towne/Friend, Tailors Daughter/20/Southwark, Surrey/Census

1872/John S Towne/../../../Post Office Directory **

1874/John S Towne/../../../Post Office Directory **

1875/John S Towne/../../../Post Office Directory **

8th July 1876/John Scott Towne/Outgoing Licensee/../../East London Observer +

8th July 1876/Henry Zabell/Incoming Licensee/../../East London Observer +

1879/Alfred Buckley/../../../Post Office Directory **

August 1878/A Buckley/Outgoing Licensee/../../East London Observer

August 1878/Joseph Johnson/Incoming Licensee/../../East London Observer

1881/Joseph Johnson/Licensed Victualler/35/Shoreditch, Middlesex/Census
1881/Amelia Johnson/Wife/37/Bethnal Green, Middlesex/Census
1881/Matilda Johnson/Daughter/12/Hackney/Census
1881/Joseph Johnson/Son/10/Hackney/Census
1881/James Johnson/Son/8/Hackney/Census
1881/Amelia Johnson/Daughter/6/Hackney/Census
1881/Eleanor Johnson/Daughter/2/Bethnal Green, Middlesex/Census
1881/Mary Ann Thomas/Wifes Sister, Assistant/27/Bethnal Green, Middlesex/Census
1881/Robert Allen/Potman/28/Hackney/Census
1881/Eliza England/Nurse Maid/13/Bethnal Green, Middlesex/Census

1882/Joseph Johnson/../../../Post Office Directory

1884/Joseph Johnson/../../../Post Office Directory

1886/Wm. Friedlander/../../../Business Directory of London **

1891/George Poolman/../../../Post Office Directory

1895/George Poolman/../../../Post Office Directory *+

1899/George Garlick/../../../Post Office Directory

1901/Joseph Brown/Licensed Victuallers manager/32/Islington, London/Census
1901/Annie Brown/Wife/27/Tottenham, London/Census
1901/Frank Andrews/Barman/24/Bethnal Green, London/Census
1901/Bertie Marchmont/Barman/17/Stepney, London/Census
1901/Eleanor Newton/Barmaid/25/Wood Green, London/Census
1901/Cristana Hicks/Barmaid/18/Poplar, London/Census
1901/Mary Bowen/Domestic Servant/30/Hackney, London/Census

1906/Alfred Condon/../../../Morris' Business Directory of London **

1910/Laurence Ward/../../../Post Office Directory

1911/David Richard Mudie/Public House manager/28/Southampton, Hampshire/Census
1911/Elizabeth Mudie/Mother, Cook, widow/54/Redruth, Cornwall/Census
1911/Annie Maud Mudie/Sister, Housekeeper/23/St Lukes, London/Census
1911/Charles Matthew Groom/Barman/18/Whitechapel, London/Census
1911/Herbert Nicholson/Potman/22/Askham, Cumberland/Census
1911/Alexander Mudie/Visitor, Soldier (Private East Surrey regiment)/27/Southampton, Hampshire/Census

1915/Morris Garret/../../../Post Office Directory

1921/Morris Garretts/../../../Post Office Directory *+

1923/Morris Garretts/../../../Post Office Directory **

1934/Jack Cohen/../../../Kelly's

1940/Sam Chalmo/../../../../Post Office Directory **

1941/Sam Chalmo/../../../../Post Office Directory **

1944/Sam Chalmo/../../../../Post Office Directory **

The Angel and Crown Pub originally stood on the opposite corner of Smart Street and Roman Road at No 180. In 1951/2 it was relocated at 170 Roman Road under the new block of flats called Chater House. ***

The landlord at the time was Cyril Trowbridge who ran the pub with his wife Helen known as Nellie. They ran both the old and the new pub until 1964. I know this information is correct as it was the family's local. ***

Prior to taking over the Angel and Crown in 1950 Cyril was the landlord at The Railway Tavern at 131 Globe Road, Bethnal Green from 1946 to 1949. ***

1950 - 52/C R Trowbridge, Angel and Crown, Roman road E2/../../BT Telephone Directory [ADVance 3387]

1953 - 68/C R Trowbridge, Angel and Crown, 170 Roman road E2/../../BT Telephone Directory [ADVance 3387]



* Later information from Keith Emmerson

+ Provided by Friends of Tower Hamlets Cemetery Park

*+ Provided By Ewan

** Provided By Stephen Harris

*** Provided By Jean Ellis