Search London wiki and Pub wiki history sites
All public house, restaurants, bars etc closed for the forseeable future from 20th March 2020, but this is a history site.
Arabian Arms, 234 Cambridge Road, Bethnal Green E2
Bethnal Green pub history index
The address is given as 1 Gloucester Terrace in the 1861 census. * The address is at Gloucester Place in 1865. This pub was re-built in its present form in 1902 and was re-named Metropolis in c.1991 - it is now a 'gentlemens club'. **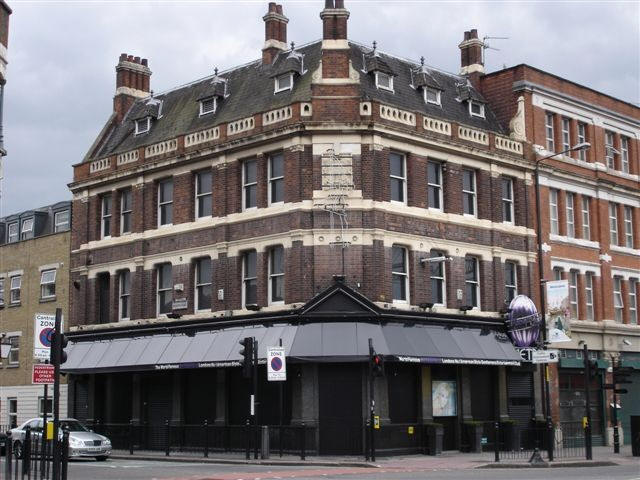 Arabian Arms, 234 Cambridge Heath Road - in May 2006
Kindly provided by Stephen Harris
Residents at this address.
1861/Charles Burge/Beer Seller (Widower)/54/London, Middlesex/Census *
1861/Elizabeth Burge/Sister/28/../Census
1861/Ellen Burge/Daughter/10/London, Middlesex/Census
1861/Charles Burge/Son/8/London, Middlesex/Census

July 1864/John Bowen/Outgoing Licensee/../../Era

July 1864/Charles Mees/Incoming Licensee/../../Era

July 1865/Charles Mees/Outgoing Licensee/../../East London Observer +

July 1865/John Robert Bowen/Incoming Licensee/../../East London Observer +

1869/J Bowen/../../../Post Office Directory

1870/Mr Bowen/../../../London Gazette, 29 March 1870 **

1871/John R Bowen / Head / 47 / Licensed Victualler / Spitalfields, London / Census **
1871/Eliza Bowen / Wife / 29 / / St Pancras, London / Census
1871/Frederick H Bowen / Son / 11 m / / Bethnal Green, London / Census
1871/Mary St. Bowen / Mother / 73 / / Spitalfields, London / Census
1871/Alice Farris / / 27 / Barmaid / St Pancras, London / Census
1871/Annie Green / / 34 / Servant / Guernsey / Census
1871/Hannah Jates / / 36 / General Servant / / Census
1871/Mary Edwin / / 13 / Servant / Hackney, London / Census

1872/J Bowen/../../../Brabner's Hackney Directory **

1876/John Robt. Bowen/../../../P.O. Directory **

1881/John R Bowen/Licensed Victualler/35/Spitalfields, Middlesex/Census
1881/Sarah Bowen/Wife/32/Bethnal Green, Middlesex/Census
1881/Arthur G Bowen/Son/10 months/Bethnal Green, Middlesex/Census
1881/Eliza Starke/Barmaid/28/Tileby, Leicester/Census
1881/Kate Titmus/Barmaid/21/Gravely, Hertford/Census
1881/Ellen Newton/Barmaid/22/Shadwell, Middlesex/Census
1881/Anne Woods/Barmaid/20/Geamenchester, Huntingdon/Census
1881/Fanny Brider/General Servant/26/Tunbridge Wells, Kent/Census
1881/Louisa Lewington/Barmaid/23/Bow, Middlesex/Census

1882/John Robert Bowen/../../../Post Office Directory

1884/John R Bowen/../../../Post Office Directory

1884/John R Bowen/../../../Business Directory of London **

1885/John Robt. Bowen/../../../P.O. Directory **

1886/John Robert Bowen/../../../Business Directory of London **

1891/John Robert Bowen/../../../Post Office Directory

1892/John Robert Bowen / Licensed Victualler/../../../Proceedings of the Old Bailey **

1895/John Robert Bowen/../../../Post Office Directory *

1899/Herbert Henry Bowen/../../../Post Office Directory

1901/Herbert H Bowen/Licensed Victualler/30/City of London/Census
1901/Arthur G Bowen/Brother, Assistant/20/Bethnal Green, London/Census
1901/John H Hibberd/Manager/28/Southend, Essex/Census
1901/Susannah Merryman/Barmaid/39/shoreditch, London/Census
1901/Ada New/Barmaid/27/City/Census
1901/Mary Barton/Barmaid/24/../Census
1901/Mary A Murphy/Cook/40/Poplar, London/Census

1902/Herbt. Hy. Bowen/../../../P.O. Directory **

1903/Herbt. Hy. Bowen/../../../P.O. Directory **

1910/John Wilby/../../../Post Office Directory

1911/John Wilby/Licensed Victualler/49/Glemsford, Suffolk/Census
1911/Emily Laura Wilby/Wife, Assistant/43/East Hanningfield, Essex/Census
1911/May Florence Wilby/Daughter, Assistant/24/Paddington, London/Census
1911/Mary Ann Buckels/Sister, Cook, Widow/55/Bures, Essex/Census
1911/Kate Dora Buckels/Niece, Waitress/24/Wherstead, Suffolk/Census
1911/Mabel Agnes Buckels/Niece, Housemaid/26/Wherstead, Suffolk/Census
1911/James Alfred Brooks/Barman/25/Shoreditch, London/Census
1911/Harry Albert Stokes/Barman/24/Shoreditch, London/Census

1915/John Wilby/../../../Post Office Directory

1921/Mrs Mabel Edith Knowland/../../../Post Office Directory

1934/Alex Henry Hemming/../../../Kelly's

1936/Alex Henry Hemming/../../../.. **

1938/George L Rees/../../../Post Office Directory

1940/George I. Rees/../../../Post Office Directory *

1942/Cecil H. J. Broadway & H. J. Davey/../../../Post Office Directory *

1944/Cecil h J Broadway & J Davey/../../../Post Office Directory



+ Provided by Friends of Tower Hamlets Cemetery Park

* Provided By Ewan

** Provided By Stephen Harris