Search London wiki and Pub wiki history sites
All public house, restaurants, bars etc closed for the forseeable future from 20th March 2020, but this is a history site.
Artichoke / Foresters, 93 Cambridge Road, Bethnal Green E1
Bethnal Green pub history index
Existed from at least 1814. This part of Cambridge Road / Cambridge Heath Road was earlier called Dog Row, e.g in the 1866 and 1870 license transfers. This knowledge leads to an earlier record in 1814, and 1825 may be the year in which the road name changed. In 1861, the Artichoke is listed as at 18 Giles Row. This pub was therefore established as the Artichoke before 1825 and was altered in 1875 to become the Foresters (or Royal Foresters) Music Hall ( although some sources give the date for this change as being 1889 ). In 1893 it was rebuilt and expended and later became the New Lyric Theatre. In 1910 it was converted to a cinema which traded under various names including New Lyric and Foresters until its closure and demolition in 1960. **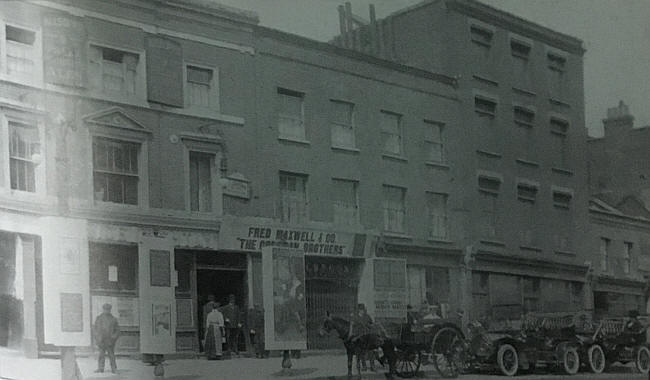 Artichoke, Cambridge Heath Road - in 1909
Kindly provided by Jean Ellis
Residents at this address.
1814/Thomas Davis / Victualler /../../London Gazette, 6 August 1814 **

1829/William Smith, Artichoke, Cambridge road, Whitechapel/../../Robsons Directory

1833-34/William Smith, Artichoke, 18 Cambridge Road/../../Pigots Directory

1839/William Smith/../../../Pigot�s Directory **

1842/W Smith/../../../Robson�s Directory **

1844/William Smith/../../../Thompson�s Directory **

1846/William Smith/../../../Post Office Directory

November 1849/William Smith/Outgoing Licensee/../../Era Newspaper

November 1849/Colin McKenzie/Incoming Licensee/../../Era Newspaper

1851/Colin McKenzie/../../../Kelly�s Directory **

1856/Thomas Jones/../../../Post Office Directory

4th March 1858/Thomas Jones/Outgoing Licensee/../../East London Observer +

4th March 1858/George John Rogers/Incoming Licensee/../../East London Observer +

1861/George J Rogers/Licensed Victualler/46/Hackney, Middlesex/Census
1861/Eliza Rogers/Wife/47/Hackney, Middlesex/Census
1861/Kate Rogers/Daughter, assistant/19/Hackney, Middlesex/Census
1861/Walter Rogers/Son/14/City, London/Census
1861/Clement Rogers/Son/11/City, London/Census
1861/Alfred Rogers/Son/6/Peckham, Surrey/Census
1861/Samuel Low/Potman/18/Hackney, Middlesex/Census

1862/George John Rogers/../../../Post Office Directory

May 1866/George John Rogers/Outgoing Licensee/../../Era

May 1866/A C Moss/Incoming Licensee/../../Era

1869/Abraham Chas Moss/../../../Post Office Directory

November 1870/William Stafford Street and Thomas Kite/Outgoing Licensee/../../Era

November 1870/William Stafford Street/Incoming Licensee/../../Era

11th March 1871/William Stafford Street/Outgoing Licensee/../../East London Observer +

11th March 1871/Robert Fort/Incoming Licensee/../../East London Observer +

1871/Robert Fort/Licensed Victualler/40/London/Census *
1871/Harriet Fort/Wife/31/London/Census
1871/Harriet Fort/Daughter/5/London/Census
1871/Mary Day/Niece/20/Strand, Middlesex/Census
1871/Emma East/Domestic Servant/25/Norfolk/Census
1871/Joseph Babiste/Barman/21/Kent/Census

1872/R Ford/../../../Brabner�s Hackney Directory **

1876/Robert Ford/../../../P.O. Directory **

March 1879/Robert Fort/Outgoing Licensee/../../East London Observer

March 1879/Charles Merion/Incoming Licensee/../../East London Observer

1881/Henry Smith/Public House Manager/32/Shoreditch/Census
1881/Eliza Smith/Wife/23/Spitalfields/Census
1881/George Fowler/Potman/27/St Pancras/Census

1884/James Seward/../../../Post Office Directory

1884/James Seward/../../../Business Directory of London **

1885/Jas. Lawrence & Mrs Sarah Graydon/../../../P.O. Directory **

1886/James Graydon/../../../Business Directory of London **

1891/William Lusby/Licensed Victualler, Widow/78/City of London/Census
1891/Harriett Harlock/Housekeeper/28/Dagenham, Essex/Census
1891/Alice Sell/Servant/16/East Horndon, Essex/Census

1895/William Lusby/../../../Post Office Directory

1899/George Hastings MacDermott/../../../Post Office Directory

1901/John Lee/Public House Manager/66/Lambeth, London/Census
1901/Jane Lee/Wife/56/Kennington, London/Census
1901/John Lee/Son, Cellerman/21/Stepney, London/Census
1901/Alice Lee/Daughter, Barmaid/19/Bethnal Green, London/Census
1901/George Elam/Grandson/5/Camberwell, London/Census
1901/Lena Milham/Barnaid/26/Hastings, Sussex/Census

1902/Gilbert Hastings MacDermott/../../../execs. of **/../../../P.O. Directory **

1903/Frank MacNaughten/../../../P.O. Directory **

1910/Frank MacNaghten/../../../Post Office Directory

1911/Frederick Baugh/Theatrical Manager & Publican, Widow/42/Woolwich, Kent/Census
1911/Ruth Harry Baugh/Daughter/19/London, Surrey/Census
1911/Edna Frances Harry Baugh/Daughter/16/London, SurreyCensus
1911/Clara Nella Baugh/Daughter/10/Leicester/Census
1911/Clara Jane Baugh/Mother, Widow/61/Woolwich, Kent/Census
1911/Marie Louise Crosford/General Servant/33/London, Middlesex/Census

1915/Frederick Baugh/../../../Post Office Directory



* Provided By Chris Roller

+ Provided by Friends of Tower Hamlets Cemetery Park

** Provided By Stephen Harris