Search London wiki and Pub wiki history sites
All public house, restaurants, bars etc closed for the forseeable future from 20th March 2020, but this is a history site.
Bakers Arms, 44 Warner Place, Hackney Road, Bethnal Green E2
Bethnal Green pub history index
Existed from at least 1830. At 15 Warner Place in 1878 and earlier; This pub is now demolished **
Historical London public houses, Taverns, Inns, Beer Houses and Hotels.
Residents at this address.
1830/Thomas Cockerill/licensed victualler/../../Prerogative Court of Canterbury records held at the National Archives *

1833-34/William John Courbold, Bakers Arms, 18 Warners place, Hackney road/../../Pigots Directory

1842/W Goodman, Bakers Arms, Warners Place, Hackney Road/../../Robsons Directory

1848/James Potter/../../../Post Office Directory

1851/James Potter/../../../Kellys Directory

1851/James Potter/Licensed Victualler, Widow/55/Bethnal Green, Middlesex/Census
1851/Sarah Potter/Daughter/20/Bethnal Green, Middlesex/Census
1851/Eliza Potter/Daughter/18/Bethnal Green, Middlesex/Census
1851/Jane Potter/Daughter/16/Bethnal Green, Middlesex/Census
1851/Elizabeth George/Housekeeper/27/Bethnal Green, Middlesex/Census
1851/Phillis Gates/Visitor/5/Spitalfields, Middlesex/Census

September 1853/James Potter/ Outgoing Licensee /../../The Era

September 1853/William Thomas Walker/ Incoming Licensee /../../The Era

1856/William Thomas Walker/../../../Post Office Directory

15 Warner Place :
1861/William T Walker/Victualler/40/Bethnal Green, Middlesex/Census
1861/Harriet Walker/Wife/40/Bethnal Green, Middlesex/Census
1861/William J Walker/Son/17/Bethnal Green, Middlesex/Census
1861/Harriet Walker/Daughter/15/Bethnal Green, Middlesex/Census
1861/James Walker/Son/11/Bethnal Green, Middlesex/Census
1861/Sarah Walker/Daughter/9/Bethnal Green, Middlesex/Census
1861/Caroline Walker/Daughter/7/Bethnal Green, Middlesex/Census
1861/Arthur Walker/Son/5/Bethnal Green, Middlesex/Census
1861/Rose Hannah Walker/Son/1 month/Bethnal Green, Middlesex/Census
1861/Jane Brandon/Lodger/61/Bethnal Green, Middlesex/Census

1862/William Thomas Walker/../../../Post Office Directory

1869/William Thomas Walker/../../../Post Office Directory

May 1869/William Thomas Walker/Outgoing Licensee/../../Era

May 1869/Thomas Gibson/Incoming Licensee/../../Era

January 1870/Thomas Gibson/Outgoing Licensee/../../Era Newspaper

January 1870/James Joseph Measures/Incoming Licensee/../../Era Newspaper

13th August 1870/James Joseph Measures/Outgoing Licensee/../../East London Observer +

13th August 1870/Benjamin Richards/Incoming Licensee/../../East London Observer +

1871/Benjamin Richards/Publican/33/Bethnal Green/Census
1871/Martha Richards/Wife/32/Bethnal Green/Census
1871/Martha Richards/Daughter/10/Bethnal Green/Census
1871/Benjamin Richards/Son/7/Bethnal Green/Census
1871/George Richards/Son/4/Bethnal Green/Census
1871/Louisa Richards/Daughter/1/Bethnal Green/Census
1871/Richard Richards/Brother, Barman/24/Bethnal Green/Census
1871/Martha Moore/General Servant/17/Spitalfields/Census

July 1872/Benjamin Richards/Outgoing Licensee/../../Era Newspaper

July 1872/Robert Charles Shaw/Incoming Licensee/../../Era Newspaper

1873/Robert Charles Shaw/../../../Post Office Directory **

1876/Robert Charles Shaw/../../../Post Office Directory **

January 1877/Robert Charles Shaw/Outgoing Licensee/../../East London Observer

January 1877/Benjamin Vans/Incoming Licensee/../../East London Observer

August 1878/Benjamin Vans/Outgoing Licensee/../../East London Observer

August 1878/Walter Appleby/Incoming Licensee/../../East London Observer

1881/James A Elliott/Licensed Victualler/57/Edinburgh, Scotland/Census
1881/Mary Elliott/Wife/33/Edinburgh, Scotland/Census
1881/Mary M Elliott/Daughter/11/Edinburgh, Scotland/Census
1881/Jane Elliott/Daughter/9/Edinburgh, Scotland/Census
1881/Katherine Elliott/Daughter/5/Edinburgh, Scotland/Census
1881/Alexander Elliott/Son/4/Edinburgh, Scotland/Census
1881/Charles Elliott/Son/2/Camberwell, Middlesex/Census
1881/Emily Elliott/Daughter/8 months/Bethnal Green, Middlesex/Census
1881/Emily Young/Barmaid/22/Cerne Abbas, Dorset/Census

1882/James Alexander Elliott/../../../Post Office Directory

1884/James Elliott/../../../Post Office Directory

1885/William Edwards/../../../P. O. Directory **

1886/William Edwards/../../../Business Directory of London **

1889/Parker & Latham/../../../Post Office Directory **

1891/Tom Lockyer/../../../Post Office Directory

1891/Miles Hall/Licensed Victualler/27/Bethnal Green, London/Census
1891/Alice Hall/Wife/22/Hoxton, London/Census
1891/Alice Hall/Daughter/4/Hoxton, London/Census
1891/Miles Hall/Son/5 months/Shoreditch, London/Census
1891/Emily Jarvis/General Servant/16/Bethnal Green, London/Census

1895/John Prior/../../../Post Office Directory *

1897/John Prior/68 Warner Place/../../Electoral Registers

1898/C Hall / Licensed Victualler /../../London Gazette, 16 February 1898 **

1899/Charles Hall/../../../Post Office Directory

1900/Charles Hall/68 Warner Place/../../Electoral Registers

1900/C Hall / Licensed Victualler /../../London Gazette, 17 February 1900 **

1901/Charles Hall/../../../Post Office Directory **

1901/Charles Hall/Licensed Victualler/60/Bethnal Green, London/Census
1901/Eliza E Hall/Wife/51/Attenborough, Norfolk/Census
1901/Annie Lamey/Barmaid/19/Bethnal Green, London/Census
1901/Annie Platon/General Servant, Widow/40/City of London/Census

1902/C Hall / Licensed Victualler /../../London Gazette, 17 February 1902 **

1903/C Hall / Licensed Victualler /../../London Gazette, 25 February 1903 **

1905/Charles Hall / Licensed Victualler /../../London Gazette, 23 February 1905 **

1906/Charles Hall/../../../Morris' Business Directory of London **

1911/William Turner/68 Warner Place/../../Electoral Registers

1911/William Turner/Licensed Victualler/48/Finsbury, London/Census
1911/Phebe Louisa Hicks/Barmaid/29/Loughton, Essex/Census
1911/William Gidney/Barman/21/Hoxton, London/Census

1912/William Turner/../../../Post Office Directory **

1915/William Turner/../../../Post Office Directory

1921/William Turner/../../../Post Office Directory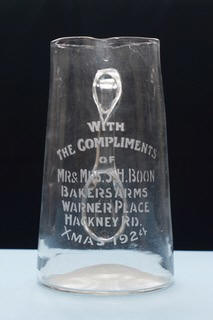 With the compliments of Mr & Mrs J H Boon, Bakers Arms, Warner place - Xmas 1924
Kindly provided by Derek

1931/Frederick Jn Stratford/../../../Post Office Directory **

1934/Chas Creasey/../../../Kellys Directory

1938/Alfred William Pavitt/../../../Post Office Directory

1944/Alfred William Pavitt/../../../Post Office Directory



+ Provided by Friends of Tower Hamlets Cemetery Park

* Provided By Ewan

** Provided By Stephen Harris