Search London wiki and Pub wiki history sites
All public house, restaurants, bars etc closed for the forseeable future on 20th March 2020, but this is a history site. But how about the landlords give their tenants a break, no business, then please charge them no rent.
Black Horse, 67 Roman road, Bethnal Green E2
Bethnal Green pub history index
Existed from at least 1869. Green Street is now the Western half of Roman Road; Rebuilt in its present form in 1883 ** Later at 67 Roman Road by 1944, no longer a pub - 1995 *+
Historical London public houses, Taverns, Inns, Beer Houses and Hotels.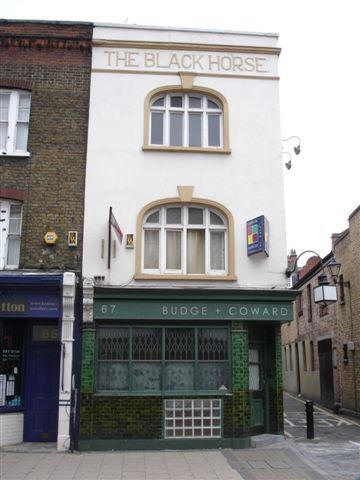 Black Horse, 67 Roman Road - in September 2006
Kindly provided by Stephen Harris
Residents at this address.
1869/Joseph Osborn/../../../Post Office Directory **

1871/Elijah Curd/Beer Shop Keeper/42/Redbourne, Hertfordshire/Census
1871/Mary Curd/Wife/40/Clerkenwell, Middlesex/Census
1871/Henry Curd/Son, Cabinet Maker/17/Bethnal Green/Census
1871/Emma Curd/Daughter, Assistant/20/Clerkenwell, Middlesex/Census
1871/Btnjamin Curd/Son/15/Bethnal Green/Census
1871/Elijah Curd/Son/10/Bethnal Green/Census
1871/George Curd/Son/7/Bethnal Green/Census
1871/William Curd/Son/4/Bethnal Green/Census

1872/Elijah Curd/../../../Post Office Directory **

1875/Elijah Curd/../../../Post Office Directory **

1879/Elijah Curd/../../../Post Office Directory **

1881/Elijah Curd/Cabinet Maker & Beer Retailer/52/England/Census
1881/Mary Curd/Wife/50/../Census
1881/Emma Curd/Daughter, Barmaid/30/../Census
1881/Elijah Curd/Son, Cabinet Maker/20/../Census
1881/George Curd/Son, Cabinet Maker/17/../Census
1881/William Curd/Son/14/../Census
1881/Rose Curd/Daughter/10/../Census

1882/Elijah Curd/beer retailer/../../Post Office Directory *

1891/Mary Curd/Beer House Keeper (Widow)/60/Smithfield/Census *
1891/Emma Curd/Daughter, Assistant (Beer House)/40/St Lukes/Census
1891/William Curd/Son, Table Maker/25/Old Ford/Census
1891/Rose Curd/Daughter, Assistant in Beer House/19/Bethnal Green/Census

1891/Mrs Mary Curd/Beer Retailer/../../Post Office Directory

1895/Mrs Mary Curd/Beer Retailer/../../Post Office Directory

1899/Ernest Samuel Howell/beer retailer/../../Post Office Directory *

My grandfather, Charles Waple, was landlord from 1898 to 1900, an aunt was in fact born there. ***

1901/George Wignell/Beer Seller/28/Bethnal Green, London/Census
1901/Alice Wignell/Wife/28/Bethnal Green, London/Census
1901/George Wignell/Son/2/Bethnal Green, London/Census
1901/Arthur Wignell/Son/1/Bethnal Green, London/Census
1901/May Wignell/Daughter/2 months/Bethnal Green, London/Census

1909/Harry Mitchell/Beer Retailer/../../Post Office Directory **

1910/John Hand/Beer Retailer/../../Post Office Directory

1911/Ernest Albert Mail/Beer House Keeper/28/Tonbridge, Kent/Census
1911/Annie Mail/Wife, Assistant/29/Faversham, Kent/Census
1911/Ernest Albert Mail/Son/3/Borough, Southwark/Census

1914/Ernest Albert Mail/Beer Retailer/../../Post Office Directory **

1915/Ernest Albert Mail/Beer Retailer/../../Post Office Directory **

1921/Wm Hy Smith/Beer Retailer/../../Post Office Directory

1923/Arthur Edwin Godwin/Beer Retailer/../../Post Office Directory **

1934/Edward Jas Godden/Beer Retailer/../../Kellys Directory

1938/Edward James Godden/beer retailer/../../Post Office Directory *

1940/Edward Jas Godden/Beer Retailer/../../Post Office Directory **

1941/Edward Jas Godden/Beer Retailer/../../Post Office Directory **

1942/Edward James Godden/beer retailer/../../Post Office Directory *

1944/Mrs Eliz E Godden/Beer Retailer/../../Post Office Directory **



* Provided By Ewan

*+ Later information from Keith Emmerson

** Provided by Stephen Harris

*** Provided by Colin Smith