Search London wiki and Pub wiki history sites
All public house, restaurants, bars etc closed for the forseeable future from 20th March 2020, but this is a history site.
Bohola House, 423 Bethnal Green Road, Bethnal Green E2
Bethnal Green pub history index
Existed from at least 1861. This pub appears earlier to have been called the Albion, including in 1911. At 210 Bethnal Green Road before 1870 ** The pub still displays a Charringtons 'winged tankard 1757' trademark between the windows to the first and second floors.. It is currently known as Bar Valient'e (2014). *+ By 2018, this is now a wine bar called Coupettes, and the Charringtons facia is again displayed.
Historical London public houses, Taverns, Inns, Beer Houses and Hotels.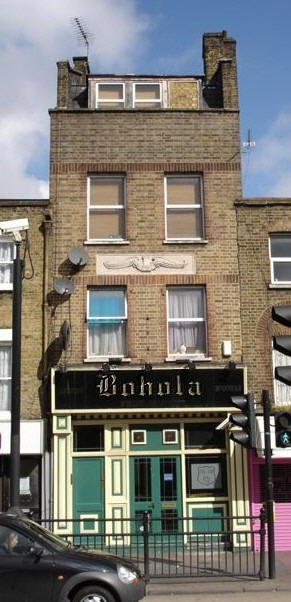 Bohola, 423 Bethnal Green Road - in May 2006
Kindly provided by Stephen Harris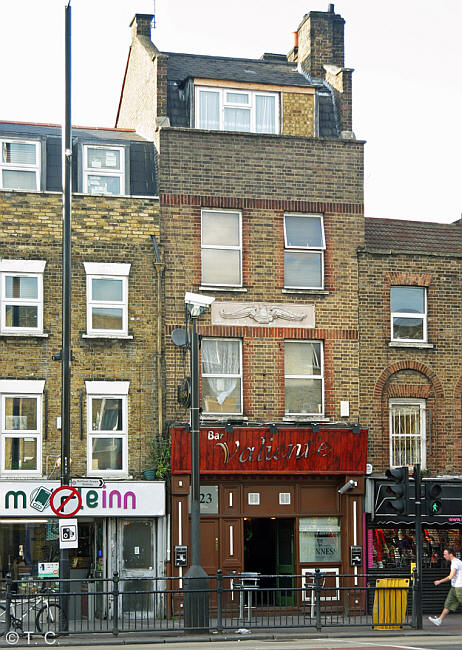 Albion, 423 Bethnal Green Road E2 - in May 2011
Kindly provided by Tris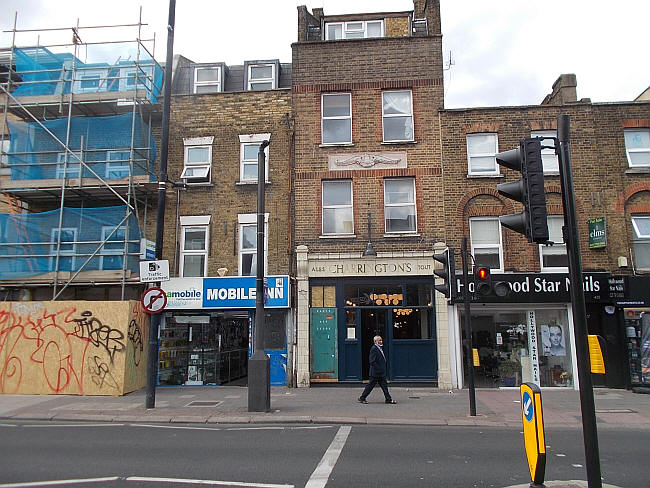 Albion, 423 Bethnal Green Road E2 - in June 2018
Residents at this address.
1861/Adolphus Payne/Wine & Beer Seller/51/Whitechapel, Middlesex/Census *
1861/Catherine Payne/Wife/24/Bethnal Green, Middlesex/Census
1861/Adolphus Payne/Son/5/Bethnal Green, Middlesex/Census
1861/Thomas Payne/Son/3/Bethnal Green, Middlesex/Census
1861/Sarah Head/Sister-in-Law, Barmaid/20/Mile End Old Town, Middlesex/Census

1869/William Sharpe/Beer Retailer/../../P.O. Directory **

1870/William Sharpe/Beer Retailer/../../P.O. Directory **

1872/W Sharpe/../../../Brabner's Hackney Directory **

1876/Thomas Bridge/../../../P.O. Directory **

1881/Henry Slater/Beer House Keeper/49/Shoreditch, Middlesex/Census
1881/Emma Slater/Wife/46/Shoreditch, Middlesex/Census
1881/Minnie Slater/Daughter/24/Shoreditch, Middlesex/Census
1881/Henry James Slater/Son, Assistant/22/Shoreditch, Middlesex/Census
1881/Adelaide Slater/Daughter/11/Shoreditch, Middlesex/Census
1881/Clara Marshall/Servant Domestic/16/Bethnal Green, Middlesex/Census

1882/Henry Slater//Beer Retailer/../../Post Office Directory

1888/George Parrish/../../../P.O. Directory **

1891/George Parrish/Beer Retailer/../../Post Office Directory

1895/Charles Fears/Beer Retailer/../../Post Office Directory

1899/Thomas Fish/beer retailer/../../Post Office Directory *

1900/Thomas Fish/Beer Retailer/../../P.O. Directory **

1901/Henry Macaire/Beer Retailer/38/Forest Gate, Essex/Census
1901/Alice L Macaire/Wife/37/Bethnal Green, London/Census
1901/Jessie M Macaire/Daughter/13/Bethnal Green, London/Census
1901/Joseph Brown/Barman/26/Bow, London/Census

1910/Charles Pye/Beer Retailer/../../Post Office Directory

1911/Charles R Pye/Licensed Victualler/26/Stepney, London/Census
1911/Maud L Pye/Wife/25/Bethnal Green, London/Census
1911/Matilda Reynolds/Mother in Law, Widow/48/Bethnal Green, London/Census

1914/Ellis Chamberlain/beer retailer/../../Post Office Directory *

1915/Ellis Chamberlain/Beer Retailer/../../Post Office Directory

1917/Ellis Chamberlain/../../../P.O. Directory **

1921/Ellis Chamberlain/Beer Retailer/../../Post Office Directory

1934/Wm Legg/Beer Retailer/../../Post Office Directory

1938/Clarence Roy Kinnaird/Beer Retailer/../../Post Office Directory

1944/Mrs Margaret Onslow/Beer Retailer/../../Post Office Directory



* Provided By Ewan

*+ Provided By Tris

** Provided By Stephen Harris