Search London wiki and Pub wiki history sites
All public house, restaurants, bars etc closed for the forseeable future from 20th March 2020, but this is a history site.
Camel, 277 Globe Road, Bethnal Green E2
Bethnal Green pub history index
The early address is formerly at Globe Street. ** This is named in the 1861 census as the Museum beer shop and at 19 Globe street; and again in the 1871 census although the numbering is a little unclear. The numbering is at 273 to 277 Globe road by 1881.
Historical London public houses, Taverns, Inns, Beer Houses and Hotels.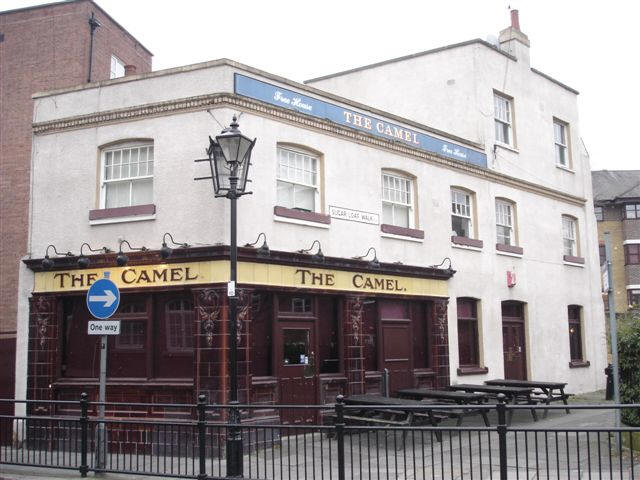 Camel, 277 Globe Road - in December 2006
Kindly Provided by Stephen Harris
Residents at this address.
1871/John Grinonneau/Beer House Keeper/31/Shoreditch, Middlesex/Census **
1871/Emily Grinonneau/Wife/27/Stepney, Middlesex/Census
1871/Ada Grinonneau/Daughter/3/Bethnal Green, Middlesex/Census
1871/Clara Grinonneau/Daughter/1/Bethnal Green, Middlesex/Census

1872/J Grinnobeau jun./../../../Brabnerís Hackney Directory **

1881/John T Grinonneau/Beer Retailer/42/Bethnal Green, Middlesex/Census
1881/Emily Grinonneau/Wife/38/Bethnal Green, Middlesex/Census
1881/Emily Ada Grinonneau/Daughter/13/Bethnal Green, Middlesex/Census
1881/Clara L Grinonneau/Daughter/11/Bethnal Green, Middlesex/Census
1881/John F C Grinonneau/Son/8/Bethnal Green, Middlesex/Census
1881/Susan J Perry/General Servant/16/Bethnal Green, Middlesex/Census

1882/J T Grinonneau/Beer Retailer/../../Post Office Directory

By 1886, John Thomas Grinonneau is at the White Horse, 44 Hare street, Bethnal Green

1891/Frances Gill/Beerhouse Keeper/29/Bethnal Green/Census
1891/Emily A Gill/Wife/23/Kentish Town/Census
1891/?/Domestic Servant/19/Bethnal Green/Census

1891/Frances Gill/Beer Retailer/../../Post Office Directory

1893/Frances Gill/277 Globe road/../../Electoral Register

1894/Isaac Horn/Beer Retailer/../../Post Office Directory **

1895/Isaac Smith / Beer Retailer /../../Post Office Directory **

1899/Edward Leaver/beer retailer/../../Post Office Directory *

1901/Alfred Gower/Beer House Keeper/34/Bow, London/Census
1901/Charles Gower/Brother, Potman/36/Bow, London/Census

1908/Walter Byatt/Beer Retailer/../../Post Office Directory **

1910/Walter Byatt/Beer Retailer/../../Post Office Directory **

1911/Fred Knott/Beerhouse Keeper/32/Bethnal Green, London/Census
1911/Ada Knott/Wife/31/Bethnal Green, London/Census
1911/Fred Knott/Son/7/Bethnal Green, London/Census
1911/Horace Knott/Son/6/Bethnal Green, London/Census

1912/Frederick Knott/Beer Retailer/../../Post Office Directory **

1914/Frederick Knott/beer retailer/../../Post Office Directory *

1915/Frederick Knott/Beer Retailer/../../Post Office Directory **

1917/Frederick Knott/Beer Retailer/../../Post Office Directory **

1921/Arthur Flynn/Beer Retailer/../../Post Office Directory

1934/Albert George Smith/Beer Retailer/../../Kellys Directory **

1938/Arthur George Smith/Beer Retailer/../../Post Office Directory

1983/../Camel, 277 Globe Road E2 : Allied Breweries./../../Pub Directory

1991/../Camel, 277 Globe Road E2/../../Pub Directory



* Provided By Ewan

** Provided By Stephen Harris