Chester Arms, 35 Green Street, Bethnal Green E2
Bethnal Green pub history index
A listing of historical public houses, Taverns, Inns, Beer Houses and Hotels in Bethnal Green, London.
Existed from at least 1861. [Green Street is now the Western half of Roman Road]; This pub seems to have closed in the nineteenth century and the present building at this address may never have been a pub. ** Regarding the Chester Arms, I'm not sure if the building shown dates from 1881 or is a later Victorian replacement. I'm not sure if the building beyond is the original pub. Now in commercial use. *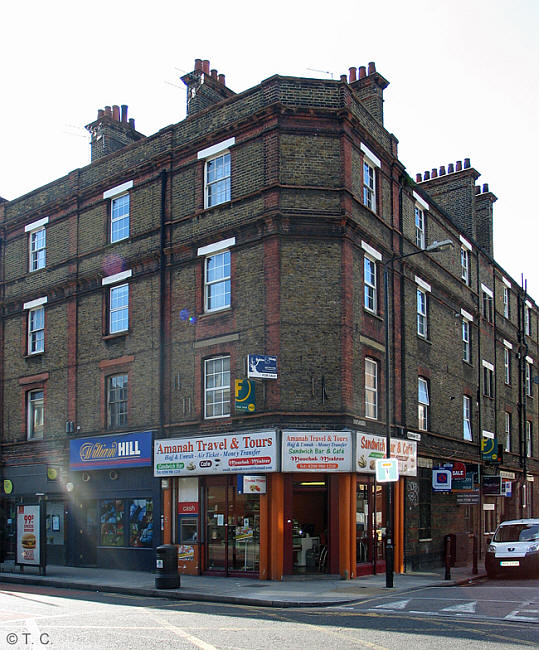 Chester Arms, 35 Roman Road E2 - in June 2014
Kindly provided by Tris

Residents at this address.
1861/Alfred Evans/Beer Seller/43/London, Middlesex/Census
1861/Jane Evans/Wife/43/Portsea, Hampshire/Census
1861/Thomas H Evans/Son/13/Chelsea, Middlesex/Census
1861/Jane Evans/Daughter/11/Chelsea, Middlesex/Census
1861/Edward Evans/Son/7/Chelsea, Middlesex/Census
1861/Elizabeth Evans/Daughter/1/London, Middlesex/Census
1861/Ann Abel/Housemaid/24/London, Middlesex/Census

1869/William Fryer/../../../Post Office Directory

1871/Edward Cakebread/Beer House Keeper/22/Harlow, Gloucestershire/Census
1871/Mary A Cakebread/Wife/22/Stepney/Census
1871/Ellen Cakebread/Daughter/1/Bethnal Green/Census
1871/Edward Cakebread/Son/2 months/Bethnal Green/Census

1872/Edwin Cakebread/../../../Post Office Directory **

1875/Edward Cakebread/../../../Post Office Directory **

1879/Walter Stokes/../../../Post Office Directory **

1881/James Lansdown/Beer Retailer/46/Wells, Somerset/Census
1881/Louisa Lansdown/Wife/33/Margate, Kent/Census
1881/Louisa Lansdown/Daughter/7/Battersea, Surrey/Census
1881/Albert J Lansdown/Son/5/Clapham, Surrey/Census
1881/Kate Lansdown/Daughter/3/Clapham, Surrey/Census
1881/Elizabeth Lansdown/Daughter/1/Bethnal Green, Middlesex/Census
1881/Caroline Stubbs/General Servant/18/Bethnal Green, Middlesex/Census

1882/James Landsdown/beer retailer/../../Post Office Directory *+



* Provided By Tris

*+ Provided By Ewan

** Provided By Stephen Harris