Search London wiki and Pub wiki history sites
All public house, restaurants, bars etc closed for the forseeable future on 20th March 2020, but this is a history site. But how about the landlords give their tenants a break, no business, then please charge them no rent.
City of Paris, 178 Old Ford Road, Bethnal Green E2
Bethnal Green pub history index
Existed from at least 1825. The City of Paris, King street in the 1875 license transfer. It was rebuilt in around the 1960s and since 2004 has gone by the name Habanas Wine Bar. This pub closed in 2008. ** Recently reopened as an Indian restaurant, reverting back to the original name of the City of Paris. This pub now has the alternative address of 74 Bonner Street. *+
Historical London public houses, Taverns, Inns, Beer Houses and Hotels.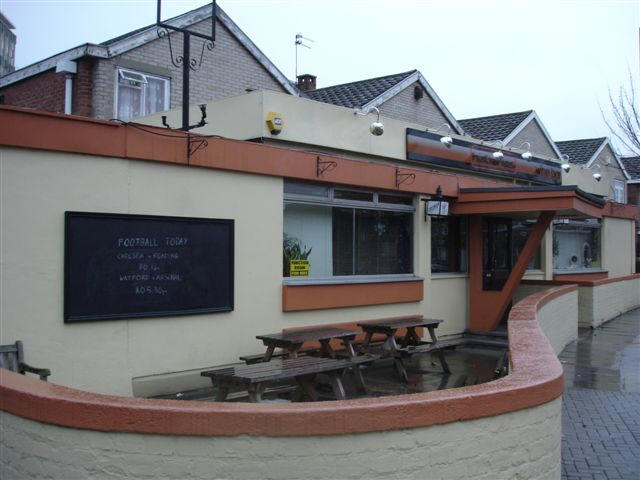 City of Paris, 178 Old Ford Road - in December 2006
Kindly provided by Stephen Harris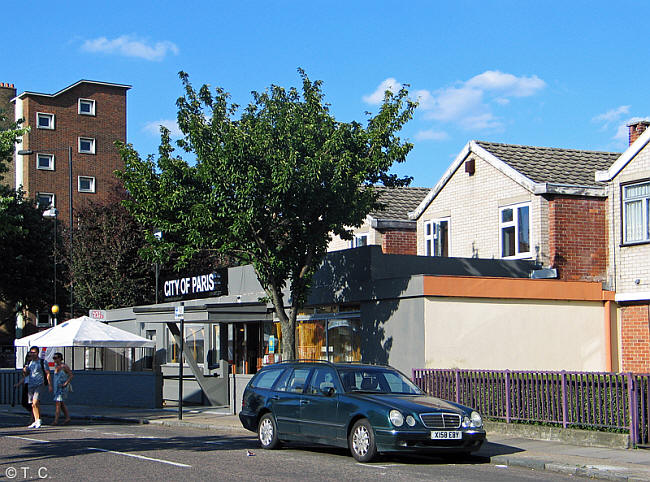 City of Paris, 178 Old Ford Road E2 - in June 2014
Kindly provided by Tris
Residents at this address.
1825/Stephen Carter / Victualler /../../../Sun Fire Office Records held at Guildhall Library **

1826/Stephen Carter / Victualler /../../../Sun Fire Office Records held at Guildhall Library **

1827/Stephen Carter/../../../Licensed Victuallers Association

1828/Stephen Carter / Victualler /../../../Sun Fire Office Records held at Guildhall Library **

1829/Stephen Carter / Victualler /../../../Sun Fire Office Records held at Guildhall Library **

1830/Stephen Carter / Victualler /../../../Sun Fire Office Records held at Guildhall Library **

1833-34/Stephen Carter, City of Paris, Old ford road, Bethnal green/../../Pigots Directory

1836/Edward William Grimwood / Gent /../../../Sun Fire Office Records held at Guildhall Library **

1844/Abraham Keymer/../../../Thompsonís Directory **

1850/Abraham Keymer/../../../P.O. Directory **

1851/Abraham Keymer/../../../Kellyís Directory **

August 1853/Abraham Keymer/Outgoing Licensee/../../Era

August 1853/Edward Keymer/Incoming Licensee/../../Era

1855/Edward Keymer/../../../P.O. Directory **

1856/Edward Keymer/../../../Post Office Directory

May 1862/Edward Keymer/LV Association, Governor/../../Era

November 1863/Edward Keymer/Outgoing Licensee/../../Era

November 1863/Henry John Clifford/Incoming Licensee/../../Era

1866/Henry John Clifford/../../../Post Office Directory

1869/H J Clifford/../../../Post Office Directory

1871/Henry J Clifford/Licensed Victualler/47/Southwark, Surrey/Census
1871/Hannah Clifford/Wife/37/Rockland, Norfolk/Census
1871/Thomas Clifford/Son/2/Bethnal Green, Middlesex/Census
1871/Henry Clifford/Son/10 months/Newington, Middlesex/Census
1871/Esther E Rolf/Niece, Barmaid/20/Reminghall, Norfolk/Census
1871/Georgina Kent/Sister in Law, Barmaid/18/Cottenham, Notts/Census
1871/Elizabeth Gutteridge/Barmaid/23/../Census
1871/Fanny Littlepond/Niece, Barmaid/14/Attleborough, Norfolk/Census
1871/Eliza Beales/Domestic Servant/18/Eccles, Norfolk/Census

1872/H J Clifford/../../../Brabnerís Hackney Directory **

23rd November 1872/Henry John Clifford/Outgoing Licensee/../../East London Observer +

23rd November 1872/James Ayton/Incoming Licensee/../../East London Observer +

1874/James Eyton/../../../Post Office Directory **

14th July 1874/James Ayton/Outgoing Licensee/../../East London Observer +

14th July 1874/Thomas Hoare/Incoming Licensee/../../East London Observer +

November 1875/T Hoare/Outgoing Licensee/../../East London Observer

November 1875/E Keymer/Incoming Licensee/../../East London Observer

1879/Edward Keymer/../../../P.O. Directory **

August 1879/Edward William Keymer/Outgoing Licensee/../../East London Observer

August 1879/Thomas Leigh/Incoming Licensee/../../East London Observer

1880/Thomas Leigh / Licensed Victualler /../../London Gazette, 5 March 1880 **

1881/Charles G Fardell/Publican/32/Stepney, Middlesex/Census
1881/Elizabeth S Fardell/Wife/32/Stepney, Middlesex/Census
1881/Charles J Fardell/Son/5/Stepney, Middlesex/Census
1881/Besse J Fardell/Daughter/3/Stepney, Middlesex/Census
1881/William W Gilbert/Servant/23/Forest Hill, Surrey/Census
1881/Robert F Neale/Servant/18/Rotherhithe, Surrey/Census
1881/Julia Mahoney/Servant/28/Hackney, Middlesex/Census
1881/Elizabeth Godwin/Servant/18/St George East, Middlesex/Census
1881/Millie Fardell/Daughter/1/St George East, Middlesex/Census

1882/Charles George Fardell/../../../Post Office Directory *

1884/Charles G Fardell/../../../Post Office Directory

1886/Frederick Penny/../../../Business Directory of London **

1891/Charles Heath Mackrow/../../../Post Office Directory

15th August 1891/Charles Heath Macrow/Outgoing Licensee/../../East London Observer +

15th August 1891/William Turner/Incoming Licensee/../../East London Observer +

1894/William G Newman/../../../Post Office Directory **

1899/John Key/beer retailer/../../Post Office Directory *

1901/John Alfred Key/Licensed Victualler/39/Grays, Essex/Census
1901/Elizabeth Key/Wife/38/Great Yarmouth/Census
1901/Marie Cole/Siste, Visitor/41/Great Yarmouth/Census
1901/Aola Osborne/Barmaid/18/Old Ford Road, Bethnal Green/Census
1901/Chas Short/Barman/22/Marylebone/Census
1901/Maud Hanney/Domestic Servant/19/../Census

1907/George James Sharp/../../../P.O. Directory **

1910/George James Sharp/../../../Post Office Directory

1911/George James Sharp/Licensed Victualler/48/London/Census
1911/Mary Elizabeth Sharp/Wife/50/Devon/Census
1911/Alfred Lesurf/Barman/21/London/Census
1911/Elizabeth Robinson/Domestic Servant, Widow/52/London/Census

1915/George James Sharp/../../../Post Office Directory

1921/George Carlel Sharp/../../../Kelly's **

1923/Geo. Carlel Sharp/../../../P.O. Directory **

1924/Geo. Carlel Sharp/../../../P.O. Directory **

1934/George Carlel Sharp/../../../Kelly's

1938/George Carlel Sharp/../../../Post Office Directory

1944/George Carlel Sharp/../../../Post Office Directory

Mrs G W Haines, wife of licensee, died on August 27th, 1954 - Black Eagle Journal ***

1988 - 90/E J Barry/74 Bonner Street/../../Watney Truman publicans list



+ Provided by Friends of Tower Hamlets Cemetery Park

* Provided By Ewan

*+ Provided By Tris

** Provided By Stephen Harris

*** Provided By Alex Wilkinson