Search London wiki and Pub wiki history sites
All public house, restaurants, bars etc closed for the forseeable future from 20th March 2020, but this is a history site.
Crown, 222 Bethnal Green Road, Bethnal Green
Bethnal Green pub history index
Existed from at least 1851. At 7 Bethnal Green Road before 1870; being a beer retailer from at least 1869
Historical London public houses, Taverns, Inns, Beer Houses and Hotels.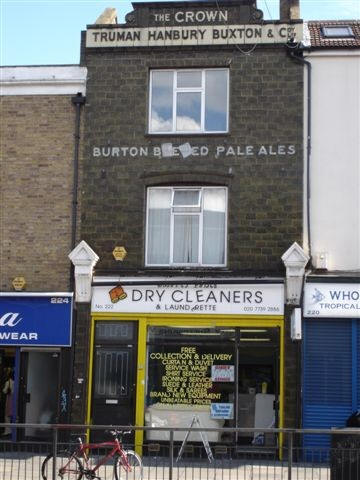 This Crown has been long closed and the premises are now in use as a dry cleaners **
Kindly provided by Stephen Harris
Residents at this address.
1851/Mrs Caroline Lesadd/Milliner/../../Kellys Directory

1856/Mrs Caroline Lesadd/Milliner/../../Post Office Directory

1869/James Lesadd/Beer Retailer/../../Post Office Directory

1870/James Lesadd/Beer Retailer/../../P.O. Directory **

1871/James Lesad/Beer Shop Keeper/47/Bethnal Green, Middlesex/Census
1871/Caroline Lesad/Wife/47/Bethnal Green, Middlesex/Census
1871/Caroline Lesad/Daughter/15/Bethnal Green, Middlesex/Census
1871/Sarah Ann Lesad/Daughter/13/Bethnal Green, Middlesex/Census
1871/Frederick J Lesad/Son/10/Bethnal Green, Middlesex/Census
1871/Arthur A Lesad/Son/6/Bethnal Green, Middlesex/Census

1872/J Lesadd/../../../Brabner�s Hackney Directory **

1874/Isabella C Roberts/../../../H.D. Miles London & Suburban Licensed Victuallers' Directory **

1876/Wm. Chamberlain/../../../P.O. Directory **

1881/Daniel Tomlin/Beerhouse Keeper/43/Leigh, Essex/Census
1881/Eliza R Tomlin/Wife, Beerhouse Keeper/49/Guernsey, Channel Islands/Census
1881/Frederick Holt/Potman/22/Bethnal Green, Middlesex/Census

1882/Daniel Tomlin/Beer Retailer/../../Post Office Directory

1888/Jas. Underwood/Beer Retailer/../../P.O. Directory **

1891/Henry Harrap/Beer Retailer/../../Post Office Directory

1891/Alfred Johnson/BeerHouse Keeper/28/Bethnal Green, London/Census
1891/Louisa Johnson/Wife/30/Bethnal Green, London/Census
1891/Alfred Johnson/Son/9 months/Bethnal Green, London/Census

1895/John Nichols/beer retailer/../../Post Office Directory *

1899/John Nichols/beer retailer/../../Post Office Directory *

1900/Robert William Johnson/Beer Retailer/../../P.O. Directory **

1910/William Duggan/Beer Retailer/../../Post Office Directory

1911/William Duggan/Beer House Keeper/37/Bethnal Green, London/Census
1911/Louisa Duggan/Wife/25/Bethnal Green, London/Census
1911/Alice Duggan/Daughter, Bon Bon Maker/17/Bethnal Green, London/Census
1911/William Duggan/Son/8/Bethnal Green, London/Census
1911/Thomas Duggan/Brother, Potman/24/Bethnal Green, London/Census
1911/Martha Newmier/General Servant/28/Bethnal Green, London/Census

1915/William Duggan/Beer Retailer/../../Post Office Directory

1917/William Duggan/Beer Retailer/../../P.O. Directory **

1921/William Duggan/Beer Retailer/../../Post Office Directory



* Provided By Ewan

** Provided By Stephen Harris