Search London wiki and Pub wiki history sites
All public house, restaurants, bars etc closed for the forseeable future from 20th March 2020, but this is a history site.
Dolphin, 85 Redchurch Street, Bethnal Green E2
Bethnal Green pub history index
Existed from at least 1807. At 38 Church Street before 1884; It was present by 1835 at least and closed in 2002, latterly at 85 Redchurch Street. It is now in residential useage. **
Historical London public houses, Taverns, Inns, Beer Houses and Hotels.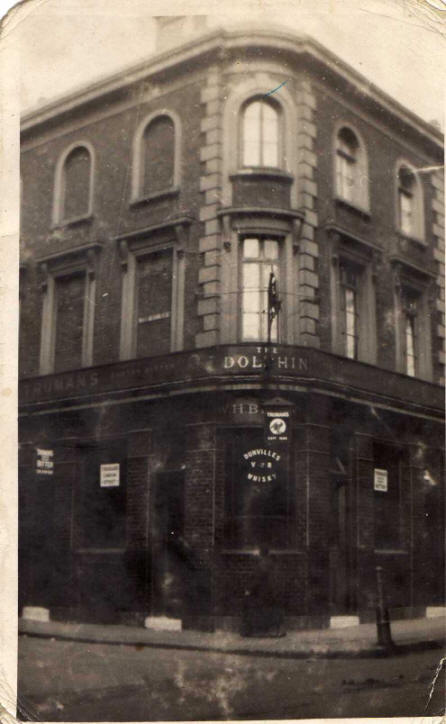 Dolphin, Church Street, Bethnal Green - an earlier picture with the name of W H Brown above the door
Kindly provided by Simon Goodrum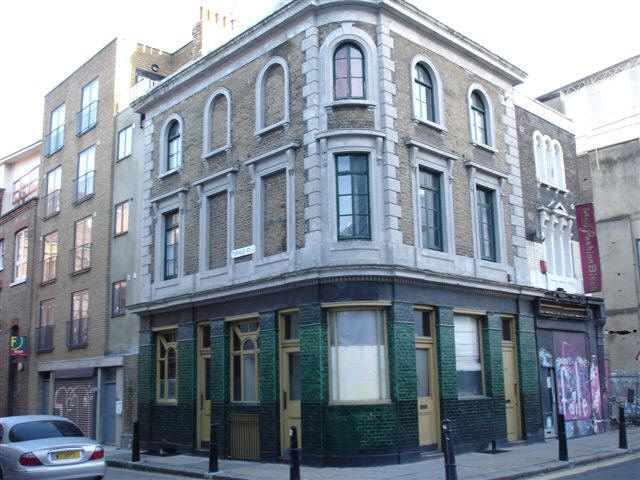 Dolphin, 85 Redchurch Street E2 - in December 2006
Kindly Provided by Stephen Harris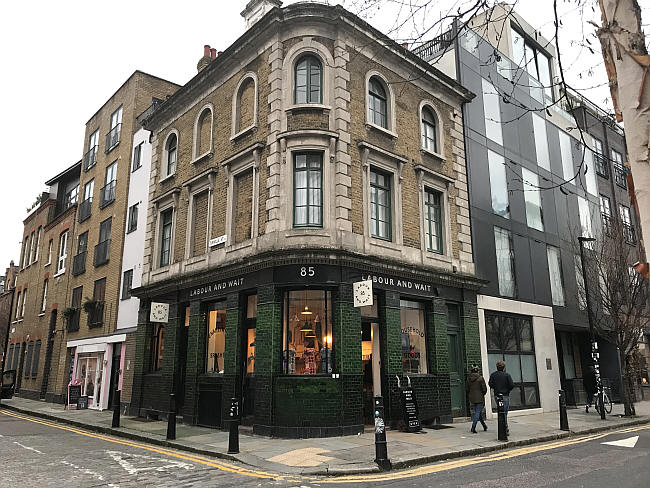 EX Dolphin, 85 Redchurch Street E2 - in January 2020
Kindly Provided by John Robinson
Residents at this address.
1807/James Crosby / Victualler //../../../Sun Fire Office Records held at Guildhall Library **

1808/John Whitling/../../../Holden's Directory *

1827/John Davis/../../../Licensed victuallers Association

1832/James Burdett/Dolphin, 38 Church street/../../Robsons Directory

1839/James Burdett/../../../Pigot's Directory **

1842/J Burdett/../../../Robsons Directory **

1846/James Francis Burdett/../../../Post Office Directory **

March 1849/James Fras Burdett/ Outgoing Licensee /../../The Era

March 1849/James Burbridge/ Incoming Licensee /../../The Era

1851/James Cook/../../../Kelly�s Directory **

November 1852/John Cook, administrator of James Cook/Outgoing Licensee/../../Era Newspaper

November 1852/William Morgan/Incoming Licensee/../../Era Newspaper

May 1853/William Morgan/Outgoing Licensee/../../Era

May 1853/James Macaire/Incoming Licensee/../../Era

1856/James Macaire/../../../Post Office Directory

August 1860/James Macaire/Outgoing Licensee/../../East London Observer

August 1860/Charles Matthews and John Matthews/Incoming Licensee/../../East London Observer

1861/Jane Pool/Licensed victualler, Widow/47/Portsmouth, Hants/Census
1861/Henry Pool/Son, Bar & Cellar Man/18/New Passage, Devon/Census
1861/Livina Pool/Daughter, Barmaid/16/Devonport, Devon/Census
1861/Ambrose Pool/Son/13/Devonport, Devon/Census
1861/Eliza Whiteway/House Servant/21/Poplar, Middlesex/Census

May 1862/Jane Poole/Outgoing Licensee/../../East London Observer +

May 1862/Frederick Ritchie/Incoming Licensee/../../East London Observer +

11th March 1866/John Ehrhart/Outgoing Licensee/../../East London Observer +

11th March 1866/Samuel Bertie/Incoming Licensee/../../East London Observer +

1869/Samuel Bertin/../../../Post Office Directory

May 1869/Samuel Bertin/Outgoing Licensee/../../Era

May 1869/Frederick John Envill/Incoming Licensee/../../Era

1870/Frederick Envill/../../../P.O. Directory **

January 1871/frederick George Envill/Outgoing Licensee/../../Era

January 1871/Eliza Sarah Envill/Incoming Licensee/../../Era

1872/Mrs E Nevill/../../../Brabners Directory **

23rd May 1874/Eliza Sarah Envill/Outgoing Licensee/../../East London Observer +

23rd May 1874/Charles Speight/Incoming Licensee/../../East London Observer +

1876/Charles & Jas Speight/../../../Post Office Directory **

1880/Charles Speight/../../../Post Office Directory **

1882/Charles Speight/../../../Post Office Directory *

1884/Charles Spraight/../../../Post Office Directory

1891/Jas Cooper/../../../Post Office Directory

1891/James Cooper/Licensed Victualler/49/Boston, Suffolk/Census
1891/Mary Cooper/Wife/42/Abbots Roothing, Essex/Census

1895/James Cooper/../../../Post Office Directory

1899/James Cooper/../../../Post Office Directory

1901/George Harper/Bar Manager/30/Islington, London/Census
1901/Sarah Ann Harper/Wife, Manageress/26/Kensington, London/Census
1901/Dorothy Harper/Daughter/3/Kensington, London/Census
1901/Richard Harper/Son/1/Kensington, London/Census
1901/Emily Rebecca Vole/Barmaid/24/Shoreditch, London/Census
1901/Florence Elizabeth Long/Domestic Servant/20/Southampton/Census

1910/James Cooper/../../../Post Office Directory

1911/James Cooper/Licensed Victualler/69/Finningham, Suffolk/Census
1911/Mary Cooper/Wife, Assistant/62/Abotts Roothing, Essex/Census
1911/Emma Bass/Sister in Law, General Help/54/Abotts Roothing, Essex/Census
1911/Jane French/Visitor/62/St Peters in the East, Oxford/Census

1915/Cornelius John Alfred Lindsey/../../../Post Office Directory *

1921/Cornelius John Alfred Lindsay/../../../Post Office Directory

1929/W H Brown/../../../B T Telephone Directory [BIShpsgt 4566] ***

1931/W H Brown/../../../B T Telephone Directory [BIShpsgt 4566] ***

1933/W H Brown/../../../B T Telephone Directory [BIShpsgt 4566] ***

1934/William Hy Brown/../../../Post Office Directory

1938/William Thos Silverton/../../../Post Office Directory

1944/Edwin Chas Cox/../../../Post Office Directory

1988 - 90/Christine Kenzura/../../../Watney Truman publicans list



+ Provided by Friends of Tower Hamlets Cemetery Park

* Provided By Ewan

** Provided by Stephen Harris