Search London wiki and Pub wiki history sites
All public house, restaurants, bars etc closed for the forseeable future from 20th March 2020, but this is a history site.
Dukes Motto, 137 Brick Lane, Bethnal Green E1
Bethnal Green pub history index
Existed from at least 1855. At 151 Brick Lane for 1882 and earlier - named The Dukes Motto by 1962. **
The Jukes motto (151 Brick lane) was known as the Monkey house because it sold raw cider and the beggars and tramps that used the place frequently started fighting and broke the furniture and windows when they were refused more alcohol. *
Historical London public houses, Taverns, Inns, Beer Houses and Hotels.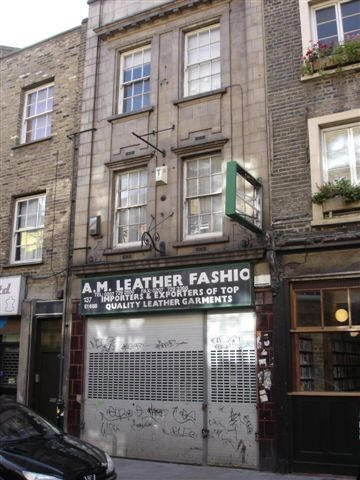 137 Brick Lane pub closed before 1983 and is now a clothes shop **
Kindly provided by Stephen Harris
Residents at this address.
1855/William Hales/../../../P.O. Directory **

1856/William Hales/../../../Post Office Directory

1871/William John Delivett/Beer Retailer/39/Shoreditch, Middlesex/Census
1871/Mary Ann Delivett/Wife/40/Shoreditch, Middlesex/Census
1871/Susan Waller/Niece/11/Bermondsey/Census

1872/W Delivett/../../../Brabner�s Hackney Directory **

1873/William Delivett/../../../P.O. Directory **

1885/Henry Wright/../../../P.O. Directory **

1882/Henry Wright/../../../Post Office Directory

1891/Reuben Butler/Beer Retailer/../../Post Office Directory

1891/Reuben Butler/Beer Retaile/50/Lincolnshire/Census
1891/Julia Butler/Wife/39/Worcestershire/Census
1891/William Butler/Son/15/London W/Census
1891/Maud Butler/Daughter/13/London W/Census
1891/Elizabeth Butler/Daughter/11///Census
1891/John Butler/Son/9/Kentish Town/Census
1891/Arthur Butler/Son/3/Bethnal Green, London/Census
1891/Sidney Butler/Son/16 months/Bethnal Green, London/Census
1891/Emma Butler/Sister, Barmaid/19/Bethnal Green, London/Census

1895/Thos John Ward/../../../Post Office Directory

1899/Thos John Ward/../../../Post Office Directory

1911/Thomas John Ward/Beer House Retailer/47/Bethnal Green/Census
1911/Alice Ward/Wife/44/Bethnal Green/Census
1911/Alice Ward/Daughter, Milliner/23/Bethnal Green/Census
1911/Robert John Ward/Son, Clerk/21/Bethnal Green/Census
1911/Frances Ward/Daughter/16/Bethnal Green/Census
1911/Nancy Ward/Daughter, Barmaid/19/Bethnal Green/Census
1911/Lily Ward/Daughter/15/Bethnal Green/Census
1911/Elsie Ward/Daughter/8 months/Bethnal Green/Census

1912/Thomas John Ward/../../../P.O. Directory **

1915/Thos Martin Lindsell/../../../Post Office Directory

1921/Thos Martin Lindsell/../../../Post Office Directory

1932/Horace Hy. Worrow/../../../P.O. Directory **

1938/Wm P Wells/../../../Kellys Directory

1944/Horace Benj Davey/Beer Retailer/../../Post Office Directory



* Provided By Geoff Main

** Provided By Stephen Harris