Search London wiki and Pub wiki history sites
All public house, restaurants, bars etc closed for the forseeable future from 20th March 2020, but this is a history site.
Florist, 255 Globe Road, Bethnal Green E2
Bethnal Green pub history index
Existed from at least 1871. Address formerly at 7 Globe Street. Formerly known as the Florist's Arms **
Historical London public houses, Taverns, Inns, Beer Houses and Hotels.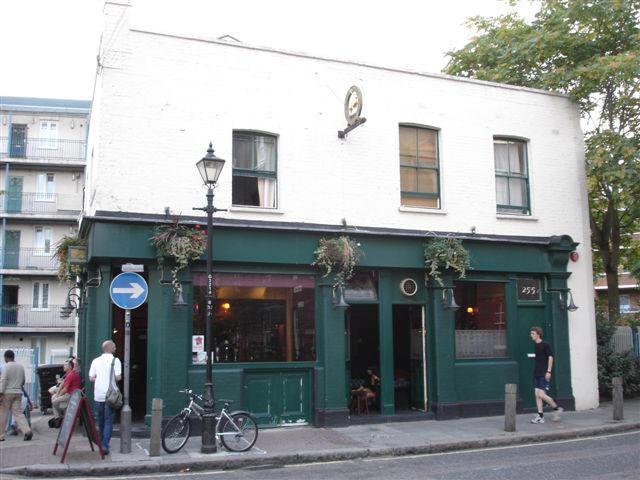 Florist, 355 Globe Road - in September 2006
Kindly Provided by Stephen Harris
Residents at this address.
1871/Elizabeth English/Beer House Keeper, Widow/53/Bethnal Green, London/Census **
1871/Louisa English/Daughter/20/Bethnal Green, London/Census
1871/Mary Ann English/Daughter/17/Bethnal Green, London/Census
1871/Edward English/Son/11/Bethnal Green, London/Census

1872/J F English /../../../Brabnerís Hackney Directory **

1882/Mrs Elizabeth English/Beer Retailer/../../Post Office Directory

1891/Thomas Ormes/Beerhouse Keeper/35/Bethnal Green/Census
1891/Emily Ormes/Wife/35/Bethnal Green/Census
1891/Thomas Ormes/Son/8/Bethnal Green/Census
1891/William Ormes/Son/5/Bethnal Green/Census
1891/Florence Ormes/Daughter/3/Bethnal Green/Census
1891/Eleanor Ormes/Daughter/1/Bethnal Green/Census
1891/Joseph Ormes/Son/4 months/Bethnal Green/Census
1891/Joseph Sosnozki/Father in Law/86/Poland Russian/Census

1891/Thomas Ormes/Beer Retailer/../../Post Office Directory

1894/Thomas Ormes/Beer Retailer/../../Post Office Directory **

1895/Thomas Ormes / Beer Retailer /../../Post Office Directory **

1899/Thomas Ormes/beer retailer/../../Post Office Directory *

1901/Harold Coleman/Beer House Keeper/29/Littlehampton, Sussex/Census
1901/Lily Coleman/Wife/19/Walworth, London/Census
1901/Lillian Coleman/Daughter/6 months/Bethnal Green, London/Census
1901/Violet Rowley/Barmaid/17/Walworth, London/Census
1901/Caroline Smith/Barmaid/15/Bethnal Green, London/Census

1908/Harold Coleman/Beer Retailer/../../Post Office Directory **

1910/John Curno/Beer Retailer/../../Post Office Directory **

1911/John Curno/Beer Retailer/74/Plymouth, Devon/Census
1911/Emma Curno/Wife/72/Whitechapel, London/Census
1911/john Bullen/Grandson, Chemist Analytical/23/Ratcliff, London/Census
1911/Frances Golding/Barmaid/28/Old Ford, London/Census
1911/Bessie Glen/Barmaid/19/Forest Gate, Essex/Census

1912/John Curno/Beer Retailer/../../Post Office Directory **

1914/George Robert Claxton/beer retailer/../../Post Office Directory *

1915/George Henry Claxton/Beer Retailer/../../Post Office Directory **

1917/Benjamin Claxton/Beer Retailer/../../Post Office Directory **

1921/Albert Armes/Beer Retailer/../../Post Office Directory

1934/Edward Balme/Beer Retailer/../../Kellys Directory **

1938/Edward Balme/Beer Retailer/../../Post Office Directory **

1942/Edward Balme/beer retailer/../../Post Office Directory *

1944/Edward Balme/Beer Retailer/../../Post Office Directory **

1988 - 90/Mr D S Booty/../../../Watney Truman publicans list



* Provided By Ewan

** Provided By Stephen Harris