Search London wiki and Pub wiki history sites
All public house, restaurants, bars etc closed for the forseeable future on 20th March 2020, but this is a history site. But how about the landlords give their tenants a break, no business, then please charge them no rent.
Green Man, 287 Cambridge Heath road, Bethnal Green E2
Bethnal Green pub history index
This pub was present by 1750. The address in 1862 is at 10 Cambridge terrace, Cambridge road. It was rebuilt in its present form in 1885 and closed in 2002. Closed and boarded. Work being carried out end of March 2002. Part fish and chip shop part shop by 2004. ** The address is also given as Dog Row in some of the Sun Fire Office insurance records, an older name for Cambridge Road. *
Historical London public houses, Taverns, Inns, Beer Houses and Hotels.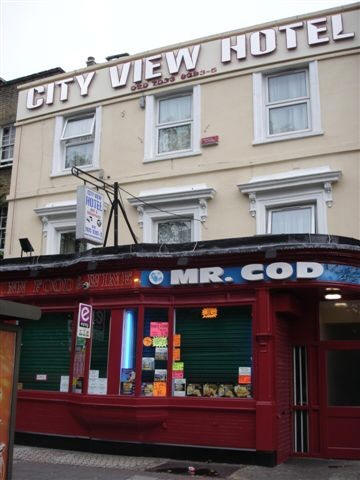 Green Man, 287 Cambridge heath Road - in September 2006
Kindly provided by Stephen Harris
Residents at this address.
1788/John Hill/victualler/../../Sun Fire Office records held at the London Metropolitan Archives *

1808/John Blackburn, Edward Gale Boldero, & Edward Biley / Leaseholders /../../Proceedings of the Old Bailey **

1816/Henry Newman/victualler/../../Sun Fire Office records held at the London Metropolitan Archives *

1821/Henry Newman/victualler/../../Sun Fire Office records held at the London Metropolitan Archives *

1823/Henry Newman/victualler/../../Sun Fire Office records held at the London Metropolitan Archives *

1824/Henry Newman / Victualler / /../../../Sun Fire Office records held at Guildhall Library **

1825/Henry Newman/victualler/../../Sun Fire Office records held at the London Metropolitan Archives *

1826/Henry Newman/victualler/../../Sun Fire Office records held at the London Metropolitan Archives *

1834/Mr Stephen Metcalf/../../../LV Association

1839/Stephen Medcalfe/../../../Pigot's Directory *

1842/S Metcalf/../../../Robsonís Directory **

1844/Stephen Medcalf /../../../Thompsonís Directory **

1851/Stephen Medcalf /Green Man, 10 Sydney Place/../../Kellyís Directory **

1856/Stephen Medcalf /Green Man, 10 Cambridge Terrace/../../Post Office Directory

9 Cambridge Road :
1861/William Cakebread/Victualler/28/Hackney, Middlesex/Census
1861/Harriett Ellen/Daughter/12 months/Hackney, Middlesex/Census
1861/C E Collyer/Nephew/9/Hackney, Middlesex/Census
1861/Mary Palmer/Cousin/15/Hertfordshire/Census
1861/Thomas Common/Servant/20/Bethnal Green, Middlesex/Census
1861/Mary Stone/Servant/21/Buckinghamshire/Census
1861/Rose palmer/Cousin/16/Hertfordshire/Census

May 1862/Wm Cakebread/LV Association/../../Era

1869/W Cakebread/../../../Post Office Directory

1871/William Cakebread/Licensed Victualler, Widow/37/Stepney, Middlesex/Census
1871/Sarah Abbott/Barwoman/34/Stepney, Middlesex/Census
1871/George Tomlin/Waiter/25/Whitechapel, Middlesex/Census
1871/Emma Phipps/Servant/22/St Georges East, Middlesex/Census

1872/W Cakebread /../../../Brabnerís Hackney Directory **

1876/William Cakebread /../../../P.O. Directory **

October 1878/William Cakebread, deceased/Outgoing Licensee/../../East London Observer

October 1878/Sarah Poynter Cakebread, widow and administratrix of William Cakebread/Incoming Licensee/../../East London Observer

1879/Sarah Cakebread / Public House Keeper /../../Proceedings of the Old Bailey **
1879/Robert Shepherd / Barman /../../Proceedings of the Old Bailey

1881/John Williams/Parochial Officer/26/Bethnal Green, Middlesex/Census
1881/Harriett Williams/Wife, Manager Licensed Victualler/21/Bethnal Green, Middlesex/Census
1881/Thomas Smith/Manager Licensed Victualler/33/Bethnal Green, Middlesex/Census
1881/Harry Morduant/Barman/16/Bethnal Green, Middlesex/Census
1881/Mary A Denny/General Servant/24/Shoreditch, Middlesex/Census

1882/Mrs S. P. Cakebread/../../../Post Office Directory *

1884/Richard G Scotcher/../../../Post Office Directory

1885/Daniel Rd. Bates /../../../P.O. Directory **

1891/Miss Margaret Rainbird/../../../Post Office Directory

1895/John Webb/../../../Post Office Directory

1899/William Speight/../../../Post Office Directory

1901/William E Speight/Licensed Victualler/37/London/Census
1901/Jane E Speight/Wife/22/London/Census
1901/Charles Gee/Manager, Widow/42/London/Census
1901/Jane Frankling/Barmaid/19/London/Census
1901/Ann James/Domestic Servant/17/London/Census

1902/William Speight /../../../P.O. Directory **

1903/Richard Fred. Bywater /../../../P.O. Directory **

1910/Arthur Edwin Strong/../../../Post Office Directory

1911/Arthur E Strong/Licensed Victualler/42/Old Ford/Census
1911/Emily Strong/Wife/35/Islington/Census
1911/Madeline D Strong/Daughter, Drapers Assistant/17/West Ham/Census
1911/Hilda R Strong/Daughter, Drapers Assistant/16/West Ham/Census
1911/William Arthur Strong/Son/14/West Ham/Census
1911/Emily Eveline Strong/Daughter/13/West Ham/Census
1911/Edwin Morrow Strong/Son/6/West Ham/Census
1911/Les George Alfred Strong/Son/3/Bethnal Green/Census
1911/Lizzie Evans/Barmaid/21/Earlem, Lancs/Census
1911/Frank Turner/Barman/21/West Ham/Census
1911/Rhodda Hammond/Servant/26/Poplar/Census
1911/Lily Carter/Servant/19/Burdett Road/Census

1915/Arthur Edwin Strong/../../../Post Office Directory

1921/Arthur Edw. Strong /../../../P.O. Directory **

1926/Arth. Edw. Strong /../../../P.O. Directory **

1934/Mrs Emily Strong/../../../Kelly's

1938/Mrs Emily Strong/../../../Post Office Directory

1944/Mrs Emily Strong/../../../Post Office Directory

Mrs E Strong, Green man, Cambridge Heath Road E2, died on December 11th, 1950 ***

1951 - 54/Alexander Norman Clegg/../../../Black Eagle Journal ***

Alexander Norman Clegg, licensee of the Green man, since March 5th, 1951; died on March 30th, 1954 - Black Eagle Journal ***

1988 - 90/P Davis/../../../Watney Truman publicans list



* Provided by Ewan

*+ Later information from Keith Emmerson

** Provided By Stephen Harris

*** Provided By Alex Wilkinson