Search London wiki and Pub wiki history sites
All public house, restaurants, bars etc closed for the forseeable future from 20th March 2020, but this is a history site.
The Hare, 180 Brick Lane, Bethnal Green E2
Bethnal Green pub history index
This pub was present by 1794. At 156 Brick Lane before 1856 due to road renumbering; A grocers by 1921, and is now long closed and in use as a clothes shop. **
Historical London public houses, Taverns, Inns, Beer Houses and Hotels.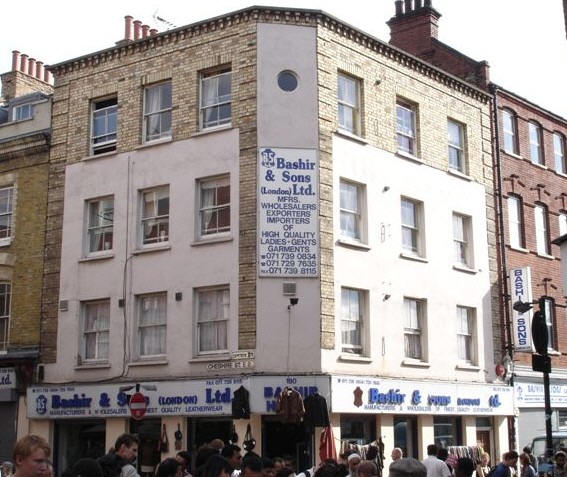 Hare, 180 Bethnal Green Road - in September 2006
Kindly provided by Stephen Harris
Residents at this address.
1794/Edward Williams / Victualler/../../../Sun Fire Office records, held at Guildhall Library **

1824/Robert Winter/victualler/../../Sun Fire Office records held at the London Metropolitan Archives *

1825/John Fox / Victualler/../../../Sun Fire Office records, held at Guildhall Library **

1827/John Abson / Lodger/../../../Proceedings of the Old Bailey **

1830/James Ingram / Victualler/../../../Sun Fire Office records, held at Guildhall Library **

1833/James Ingram / Victualler/../../../Sun Fire Office records, held at Guildhall Library **

1832/John Fox/../../../Robsons Directory

1834/James Ingram/victualler/../../Sun Fire Office records held at the London Metropolitan Archives *

1835/James Ingram/../../../Robson�s Directory **

1836/Isaac Mills Carter / Victualler/../../../Sun Fire Office records, held at Guildhall Library **

1839/John Davies/../../../Pigot�s Directory **

1840/Stephen Brown/victualler/../../Sun Fire Office records held at the London Metropolitan Archives *

1841/John Davies/../../../Post Office Directory

1842/F Lee/../../../Robson�s Directory **

1846/John Scouse/../../../P.O. Directory **

August 1847/Richard William Pyne/ Outgoing Licensee /../../The Era

August 1847/James Hudson Walker/ Incoming Licensee /../../The Era

December 1848/James Hudson Walker/Outgoing Licensee/../../Era Newspaper

December 1848/Norman Harrison/Incoming Licensee/../../Era Newspaper

1851/James Fletcher/../../../Post Office Directory

1852/James Fletcher/../../../Watkins Directory **

1855/James Fletcher/../../../P.O. Directory **

1856/James Fletcher/../../../Post Office Directory

1861/James Huxley/Publican/35/Bethnal Green, Middlesex/Census
1861/Mary Ann Huxley/Wife/31/Bethnal Green, Middlesex/Census
1861/William Huxley/Son/7/Bethnal Green, Middlesex/Census
1861/Mary Ann Huxley/Daughter/5/Bethnal Green, Middlesex/Census
1861/Sarah Huxley/Daughter/2/Bethnal Green, Middlesex/Census
1861/Elizabeth Huxley/Sister/38/Bethnal Green, Middlesex/Census
1861/Mary Ann Huxley/Sister/18/Bethnal Green, Middlesex/Census
1861/Charles Barber/Potman/20/Bethnal Green, Middlesex/Census
1861/Eliza Galer/Servant/15/Bethnal Green, Middlesex/Census

1866/James Huxley/../../../P.O. Directory **

November 1867/James Huxley/Outgoing Licensee/../../Era

November 1867/Samuel Robert Pether/Incoming Licensee/../../Era

January 1869/assignee of Samuel Robert Pether/Outgoing Licensee/../../Era

January 1869/John Richmond/Incoming Licensee/../../Era

1870/Frederick Richmond/../../../P.O. Directory **

1873/John Richmond/../../../P.O. Directory **

19th July 1873/John Richmond/Outgoing Licensee/../../East London Observer +

19th July 1873/Edward Carter/Incoming Licensee/../../East London Observer +

6th March 1875/Edward Carter, late occupier/Outgoing Licensee/../../East London Observer +

6th March 1875/Louisa Ann Carter, widow and administratrix/Incoming Licensee/../../East London Observer +

1875/Mrs Louisa Ann Carter/../../../P.O. Directory **

1877/William Butler/../../../P.O. Directory **

12th May 1877/William Butler/Outgoing Licensee/../../East London Observer +

12th May 1877/James George Spesight/Incoming Licensee/../../East London Observer +

September 1878/Edward Taylor/Outgoing Licensee/../../East London Observer

September 1878/Robert Newstead/Incoming Licensee/../../East London Observer

1881/William Griffin/Licensed Victualler/36/St Albans/Census
1881/Sarah Griffin/Wife/31/Sandridge, Hertford/Census
1881/Ada Griffin/Daughter/10/St Albans/Census
1881/William Griffin/Son/9/St Albans/Census
1881/Victoria Griffin/Daughter/4/Southwark, Surrey/Census
1881/T Griffin/Daughter/2/Lambeth, Surrey/Census
1881/Robert Neuxter/Visitor/12/Poplar, Middlesex/Census
1881/Patrick Sway/Barman/26/Shoreditch, Middlesex/Census

1882/Robert Newstead/../../../Post Office Directory

1885/Robert Newstead/../../../P.O. Directory **

1891/Muddle & Witherick/../../../Post Office Directory

1891/Thomas Hatu/Publican/57/Litchfield, Staffs/Census
1891/Sarah Hatu/Wife/34/Bradwell, Essex/Census
1891/Minnie Hatu/Daughter, Barmaid/21/London/Census
1891/Sidney W Hatu/Son/2 months/London/Census
1891/Walter Hewson/Barman/21/London/Census

1893/Thomas Slater/../../../Post Office Directory

1895/Thomas Slater/../../../Post Office Directory

1899/Thomas Slater/../../../Post Office Directory

1903/Samuel Abrahams/../../../Post Office Directory

1907/Arthur Thomas Taylor/../../../Post Office Directory

1910/Mrs Ada Taylor/../../../Post Office Directory

1911/Ada Taylor/Licensed Victualler, Widow/35/Woolwich, Kent/Census
1911/Elsie Taylor/Daughter/14/Plumstead, Kent/Census
1911/Muriel Taylor/Daughter/10/Norwich, Norfolk/Census
1911/Henry Taylor/Father in Law, Retired Blacksmith, Widow/68/Poplar/Census
1911/Howard Game/Visitor, Traveller Toimber Trade/28/Kidderminster, Warwickshire/Census

1912/Mrs Ada Game/../../../Post Office Directory **

1915/Mrs Ada Game/../../../Post Office Directory

1917/Hyman Logitch/../../../Post Office Directory

1921/Solomon Bardiger/wholesale grocer/../../Post Office Directory



+ Provided by Friends of Tower Hamlets Cemetery Park

* Provided By Ewan

** Provided By Stephen Harris