Hare, 505 Cambridge Heath Road, Bethnal Green E2
Bethnal Green pub history index
Historical London public houses, Taverns, Inns, Beer Houses and Hotels.
This pub was present by 1800. It is listed as at 15 Heath Place, Cambridge Heath in 1848 and 1851 ** The address is also given as Hackney Road in the 1805 Directory, and the Sun Fire Office insurance records, an older name for this stretch of road. *+

The Hare, 16 September 2005.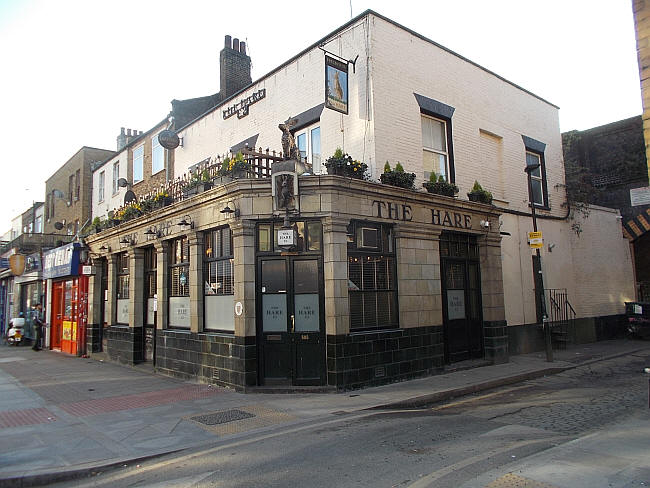 Hare, 505 Cambridge Heath Road, Bethnal Green E2 - in February 2019
Residents at this address.
1805/William Rowe/../../../Holden's Directory *+

1811/William Rowe, the Hare, East place, Hackney road/../../Holdens Directory

1823/William Bacon/victualler/../../Sun Fire Office records held at the London Metropolitan Archives *+

1827/William Bacon, Hare, Heath place, Cambridge heath/../../Pigot's Directory

1839/Thomas Harding/../../../Pigots Directory

1842/Wm. Wright/../../../Robson�s Directory **

1844/John Bloomfield /../../../Thompson�s Directory **

George Needham senior was the licensee of the Norfolk Arms in Ivimey Street (William Street). His wife was Eliza Pottier. Their first son George junior was born in 1827. This was just before George senior and Eliza took on the Norfolk Arms. Their second son Joseph was born in the Norfolk Arms pub in March 1828. French Huguenot Friendly societies used to meet at this pub during George senior and Eliza Pottier�s time there. George and Eliza Pottier�s two sons also became licensed victuallers. *

The elder one, George junior, became the licensee of the Hare Tavern in Heath Place, Cambridge heath Road. The younger son, Joseph, became the licensee of the Prince of Wales in Buxton Street. *

George junior married Elizabeth Sweeting. She was the daughter of Samuel and Jane Sweeting. Samuel Sweeting was the licensee of the Red Lyon Inn, South Ockenden, Near Romford, Essex. *

The 1851 census shows George junior and Elizabeth Needham (Sweeting) at the Hare Tavern, 16, Heath Place, Cambridge Heath, Bethnal Green. The London Post Office Directory for 1848 also gives George as the licensee of the Hare. Being 21 years old in 1848, I believe that this would have made him one of the youngest publicans in London at the time. His younger brother, Joseph was the publican of the Prince of Wales pub In Buxton Street in the census of 1851 and it is possible that their father, George, may still have been the publican of the Norfolk Arms in William Street. All of them were Bethnal Green Publicans. In the 1861 census George, his wife Elizabeth Needham nee Sweeting, and children Joseph and Eliza Jane were staying at the Red Lyon Inn in South Ockenden with Elizabeth's parents, Samuel and Jane Sweeting. George still described himself as a licensed victualler and I am fairly certain that he was the landlord of The Dolphin in Romford just after the 1861 census. Kelly's directory gives a George Needham as the publican of the Dolphin in 1862 and also White's directory in 1863. South Ockenden is about 8 miles from Romford. George and Elizabeth's other son, George Sweeting Needham, was at the Licensed Victuallers School in Kennington Lane, Lambeth at the time of the 1861 census. The son states that his birthplace was Cambridge Heath. This means that his father was still the landlord of The Hare at the time of his son�s birth in July 1852. By the 1871 census George was describing himself as an "out of business licensed victualler" and living in South Ockendon. *

1848/Geo Needham/../../../Post Office Directory *

1851/George Needham/../../../Kellys Directory *

1851/George Needham/Licensed Victualler/24/Bethnal Green, Middlesex/Census
1851/Elizabeth Needham/Wife/23/South Ockendon, Essex/Census
1851/Eliza Needham/Daughter/11 months/Bethnal Green, Middlesex/Census
1851/Mary Sweeting/Sister in Law, Assistant/19/South Ockendon, Essex/Census
1851/Lydia Burton/House Servant/18/South Ockendon, Essex/Census
1851/George Polton/Potman/22/Halstead, Essex/Census

1856/Hy Silley/../../../Post Office Directory

1861/Henry Selley/Victualler/45/Marylebone, Middlesex/Census
1861/Eliza Selley/Wife/51/Frimley, Surrey/Census
1861/Jas Selley/Son/20/Dalston, Middlesex/Census
1861/Elizabeth Jeffery/Barmaid/26/Norwood Green, Middlesex/Census

1866/A Keymer /../../../P.O. Directory **

1869/Abraham Keymer/../../../Post Office Directory

1872/T Hoare /../../../Brabner�s Hackney Directory **

23rd November 1872/Abraham Keymer/Outgoing Licensee/../../East London Observer +

23rd November 1872/Sarah Jull/Incoming Licensee/../../East London Observer +

1874/Sarah Jull/../../../H D Miles London & Suburban Licensed Victuallers Directory **

1876/Sarah Jull /../../../P.O. Directory **

July 1877/John North/Outgoing Licensee/../../East London Observer

July 1877/Sidney Edwards/Incoming Licensee/../../East London Observer

1881/Sidney Edwards/Licensed Victualler/38/City, Middlesex/Census
1881/Emily Edwards/Wife/35/Enfield, Middlesex/Census
1881/Jessey Rowsell/Sister, Barmaid/17/Kingsland, Middlesex/Census
1881/Fanny Leach/Cousin, Visitor/25/City, Middlesex/Census
1881/Thomas Dowsett/Visitor/14/Bethnal Green, Middlesex/Census
1881/Jane Poll/General Servant/20/Stepney, Middlesex/Census

1882/Sidney Edwards/../../../Post Office Directory *+

1885/Sidney Edwards /../../../P.O. Directory **

1891/Sidney Edwards/../../../Post Office Directory

1895/James Rogers/../../../Post Office Directory

1899/Frederick Hill/../../../Post Office Directory

1901/Benjamin Currell/Licensed Victuallers Manager/58/Poplar, London/Census
1901/Alice Currell/Wife/48/Poplar, London/Census
1901/Florence Currell/Daughter, Barmaid/24/Poplar, London/Census
1901/Lydia Currell/Daughter, Barmaid/22/Old Ford, London/Census
1901/Ethel Currell/Daughter/13/Old Ford, London/Census
1901/Marie Bonest/Visitor/20/Millwall, London/Census
1901/William McGrath//20/London/Census

1902/Henry Smith /../../../P.O. Directory **

1903/Henry Smith /../../../P.O. Directory **

1910/Henry Smith/../../../Post Office Directory

1911/Henry Smith / Licensed Victualler /../../Proceedings of the Old Bailey **

1911/Henry Smith/Licensed Victualler/63/March, Cambridgeshire/Census
1911/Matilda Smith/Wife, Assistant/60/Taunton, Somerset/Census
1911/Katherine Smith/Daughter, Assistant/30/Ponders End, Middlesex/Census
1911/William Bradley/Grandson/14/Windsor, Berkshire/Census

1915/Henry Smith/../../../Post Office Directory

1921/Henry Smith/../../../Post Office Directory

1926/William Edward Aillud /../../../P.O. Directory **

1928/Charles Alfred James Yeo/../../../Black Eagle Journal ***

1934/Charles Alfred James Yeo/../../../Kelly's

1938/Chas Alfd Jas Yeo/../../../Post Office Directory

1944/Chas Alfd Jas Yeo/../../../Post Office Directory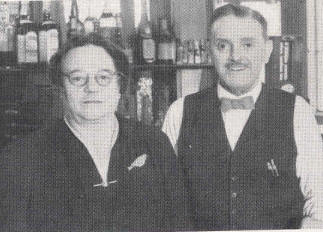 Charles Alfred James Yeo & Mrs Yeo, licensee of the Hare, Cambridge Heath Road - in 1949
Kindly provided by Alex Wilkinson
Charles Alfred James Yeo & Mrs Yeo, licensee of the Hare, Cambridge Heath Road - in 1949

Kindly provided by Alex Wilkinson

Charles Alfred James Yeo, licensee of the Hare, Cambridge Heath Road, Bethnal Green, has been associated with Truman's for 42 years. On September 18th, 1907, he became the landlord of the Black Horse, Abbey Street (now Buckfast Street) when he was 21 years of age, one of the youngest ever to hold a licence.

After service with the R.A.S.C. in the 1914 - 18 War, during which time Mrs Yeo gallantly carried on, Mr Yeo returned to the Black Horse and stayed there until 1928, when he moved to his present house, the Hare.

It was difficult to persuade Mr Yeo to talk about his life, although he did admit to a keen interest in sport during his early years.

Mr and Mrs Yeo have been happily married for over forty years and, having met them both, it is easy to understand the reason for their happiness; they are two very pleasant and human people. ***

1949/Charles Alfred James Yeo/../../../Black Eagle Journal ***


+ Provided by Friends of Tower Hamlets Cemetery Park

* Provided by Bob Needham

*+ Provided by Ewan

** Provided by Stephen Harris