Search London wiki and Pub wiki history sites
All public house, restaurants, bars etc closed for the forseeable future from 20th March 2020, but this is a history site.
King & Queen, 89 Cheshire Street, Bethnal Green E2
Bethnal Green pub history index
Existed from at least 1771. The King & Queen was at 51 Hare Street in 1869 and earlier, it appears under its old-style address of 89 Hare Street. It closed in 1996 and was converted to residential use **
Historical London public houses, Taverns, Inns, Beer Houses and Hotels.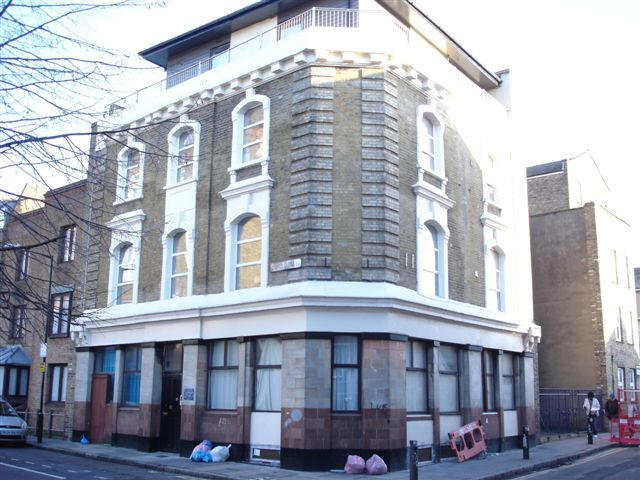 King & Queen, 89 Cheshire Street - in December 2006
Kindly provided by Stephen Harris
Residents at this address.
1771/Robert Baldwin / Public House Keeper/../../../Proceedings of the Old Bailey **

1779/Sarah Lloyd / Public House Keeper�s wife/../../../Proceedings of the Old Bailey **

1783/John Lloyd / Landlord / /../../../Proceedings of the Old Bailey **

1794/John Lloyd/victualler/../../Sun Fire Office records held at the London Metropolitan Archives *

1795/John Lloyd / Victualler/../../../Sun Fire Office records, held at Guildhall Library **

1798/John Temple/victualler/../../Sun Fire Office records held at the London Metropolitan Archives *

1805/Luke Pridmore/victualler/../../Sun Fire Office records held at the London Metropolitan Archives *

1811/James Thompson, King and Queen, Hare street, Spitalfields/../../Holdens Directory

1814/James Thompson/victualler/../../Sun Fire Office records held at the London Metropolitan Archives *

1819/William Wright/victualler/../../Sun Fire Office records held at the London Metropolitan Archives *

1833-34/Benjamin Homer, King & Queen, Hare street, Bethnal green/../../Pigots Directory

1836/Benjamin Homer, King & Queen, Hare street, Bethnal green/../../Pigots Directory

1841/William Snowley /../../../P.O. Directory **

1842/William Snowley/../../../Robson�s Directory **

1851/William Snowley/Licensed Victualler/67/Frethorp, Norfolk/Census
1851/Mary Ann Snowley/Wife/36/Clerkenwell, Middlesex/Census
1851/Emma Ford/Wifes Sister, Barmaid/30/Clerkenwell, Middlesex/Census
1851/Ann Overs/House Servant/24/Bishopsgate, Middlesex/Census
1851/William Lemon/Pot Man/33/Bethnal Green, Middlesex/Census

1852/William Snowley /../../../Watkins Directory **

January 1854/Emilia Mair/Outgoing Licensee/../../Era

January 1854/Frederick Houle/Incoming Licensee/../../Era

1856/Frederick Houle/../../../Post Office Directory *

[ At number 51 Hare Street in 1861 - street renumbering]

1861/William Coxen/Victualler/51/Old Brentford, Middlesex/Census
1861/Mary Coxen/Mother, Widow/72/Old Brentford, Middlesex/Census
1861/Elizabeth Coxen/Sister/44/Twickenham, Middlesex/Census
1861/Ann Coxen/Sister/32/Twickenham, Middlesex/Census
1861/William Coxen/Nephew/24/Hammersmith, Middlesex/Census
1861/Sarah Ann Milton/General Servant/24/Upwell, Cambs/Census
1861/Henry Clark/Potman/20/Ipswich, Suffolk/Census

September 1864/William Coxen/Outgoing Licensee/../../Era

September 1864/Charles Parfett/Incoming Licensee/../../Era

August 1866/Charles Parfett/ Outgoing Licensee /../../Morning Advertiser

August 1866/John Henry Collins/ Incoming Licensee /../../Morning Advertiser

1869/John Hen. Collins/../../../Post Office Directory

1872/H J Collins /../../../Brabner�s Hackney Directory **

1873/John Hen. Collins/../../../Post Office Directory **

1874/John Henry Collins / Licensed Victualler, now deceased/../../../London Gazette, 3 July 1874 **

19th July 1873/John Henry Collins/Outgoing Licensee/../../East London Observer +

19th July 1873/William Lloyd/Incoming Licensee/../../East London Observer +

1881/William Lloyd/Licensed Victualler/33/Gt Cornard, Suffolk/Census
1881/Mary Lloyd/Wife/34/Cambridge/Census
1881/Alice Annie Lloyd/Daughter/6/Bethnal Green, Middlesex/Census
1881/William G Lloyd/Son/4/Bethnal Green, Middlesex/Census
1881/Florence M Lloyd/Daughter/3/Bethnal Green, Middlesex/Census
1881/Maud E Lloyd/Daughter/8 months/Bethnal Green, Middlesex/Census
1881/William Rose/Potman/Southwark/Old Ford, Middlesex/Census
1881/Henry Whitenbury/Barman/Canning Town//Census
1881/Eliza Tucker/General Servant/17/Bromley, Middlesex/Census
1881/Annie Chaplin/House Girl/?/?/Census - check these

1882/William Lloyd/../../../Post Office Directory *

1884/William Lloyd/../../../Post Office Directory

1891/John Jas Stevens/../../../Post Office Directory

1891/John J Stevens/Publican/37/Cambridge, Cambs./Census
1891/Alice Stevens/Wife/37/Bethnal Green, London/Census
1891/Edith A Stevens/Daughter/13/Cambridge, Cambs/Census
1891/John J Stevens/Son/12/Cambridge, Cambs/Census
1891/Harvey S Stevens/Son/9/Cambridge, Cambs/Census
1891/Alice B Stevens/Daughter/6/Marylebone, London/Census
1891/Percy E Stevens/Son/4/Leytonstone, London/Census
1891/Joseph Clements/Barman/16/Sraton, Southall, Middx/Census
1891/Annie Knight/General Servant/22/Shoreditch, London/Census

1895/Jn Jas Stevens/../../../Post Office Directory

1899/Jn Jas Stevens/../../../Post Office Directory

1902/William George Lloyd /../../../P.O. Directory **

1910/Walter Percy Hudson/../../../Post Office Directory

1911/Walter Percy Hudson/Licensed Victualler/35/Bermondsey, London/Census
1911/John William Freeman/Publicans Manager/53/Bermondsey, London/Census
1911/Ellen Ada Cooper/Cook/38/Stevenage, Hertfordshire/Census
1911/Alice Walter/Servant/19/Bethnal Green/Census
1911/Mabel Emma Freeman/Niece, Book Keeper/28/Peckham/Census
1911/Maud Gertrude Violet Freeman/Niece, Saleswoman/27/New Cross/Census
1911/Gladys Ada Lillian Freeman/Niece, Student/17/Holborn/Census

1915/Jack Louis Levy/../../../Post Office Directory

1934/Thomas Blake/../../../Kelly's

1938/Henry Hulton/../../../Post Office Directory

1944/Henry James Lamb/../../../Post Office Directory

Mrs Lamb, wife of the licensee, died on 26th May, 1949 at the age of 52. - Black Eagle Journal ***



+ Provided by Friends of Tower Hamlets Cemetery Park

* Provided by Ewan

** Provided By Stephen Harris

*** Provided by Alex Wilkinson