Search London wiki and Pub wiki history sites
All public house, restaurants, bars etc closed for the forseeable future from 20th March 2020, but this is a history site.
Kings Arms, 11a Buckfast Street, Bethnal Green E2
Bethnal Green pub history index
Existed from at least 1829. [At 1 Abbey Street up until 1882; At 11a Abbey Street from 1884 to 1934 and renamed to 11a Buckfast Street by 1944; now Buckfast street] * This pub closed circa 2013 to undergo conversion to residential use. The Kings Arms has now re-opened with residential usage above (Christmas 2013). *+
Historical London public houses, Taverns, Inns, Beer Houses and Hotels.

Kings Arms, Buckfast Street - 1990's (thumbnail)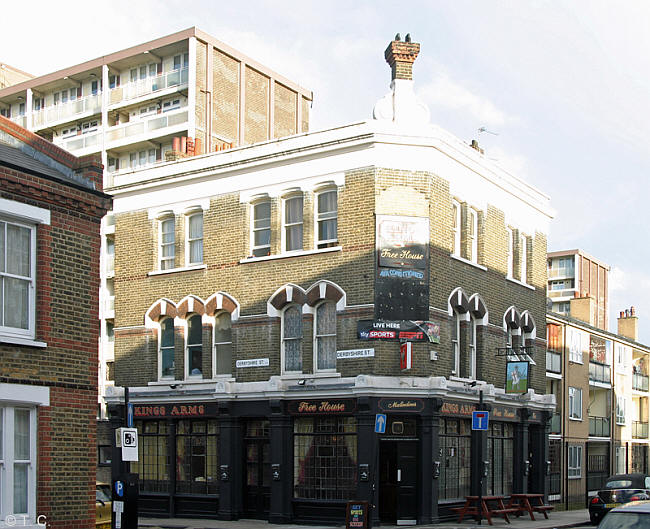 Kings Arms, Buckfast Street, Bethnal green
Kindly provided by Tris
Residents at this address.
1829/J Turner, Kings Arms, Abbey street, Bethnal green/../../Pigot�s Directory

1835/George Nichs Winton/../../../Robsons Directory

1839/Thomas Cannon/../../../Pigots Directory

1841/J Burbridge/../../../Post Office Directory

1842/Henry Smith/../../../Robsons Directory

1845/Henry Smith/../../../Post Office Directory

1851/Samuel Smith/../../../Post Office Directory

1851/Sophia Smith/Victualler, Widow/32/London Wall, London/Census
1851/Samuel Smith/Son, Assisstant/14/Shoreditch, Middlesex/Census
1851/Sidney Smith/Son, Errand Boy/13/Bethnal Green, Middlesex/Census
1851/Stafford Smith/Son/11/Bethnal Green, Middlesex/Census
1851/Sophia Smith/Daughter/9/Bethnal Green, Middlesex/Census
1851/Saul Smith/Son/6/Bethnal Green, Middlesex/Census
1851/Betsy Child/Visitor/13/Bethnal Green, Middlesex/Census
1851/James Croft/Potman/17/Bethnal Green, Middlesex/Census

July 1854/Gilbert Byard/Outgoing Licensee/../../Era

July 1854/Joseph Davis/Incoming Licensee/../../Era

1856/Joseph Davis/../../../Post Office Directory **+

1861/Joseph Davis/Victualler/38/Bethnal Green, Middlesex/Census
1861/Mary Davis/Wife/42/East Cowes, Isle of Wight/Census
1861/John Davis/Son/16/Bethnal Green, Middlesex/Census
1861/Mary A Davis/Daughter/11/Bethnal Green, Middlesex/Census
1861/Susan Davis/Daughter/9/Bethnal Green, Middlesex/Census
1861/Jane Davis/Daughter/6/Bethnal Green, Middlesex/Census
1861/Sarah Davis/Daughter/6/Bethnal Green, Middlesex/Census
1861/William Davis/Son/4/Bethnal Green, Middlesex/Census
1861/Sarah Jackson/Servant/20/St Sepulchre, Middlesex/Census

1869/Joseph Davis/../../../Post Office Directory **+

1871/Joseph Davis/Licensed Victualler/48/Bethnal Green, Middlesex/Census ***
1871/Mary Davis/Wife/52/Bethnal Green, Middlesex/Census
1871/Susan Davis/Daughter/18/Bethnal Green, Middlesex/Census
1871/Sarah Davis/Daughter/16/Bethnal Green, Middlesex/Census
1871/Sarah Davis/Daughter/16/Bethnal Green, Middlesex/Census
1871/William Davis/Son/14/Bethnal Green, Middlesex/Census

1872/J Davis /../../../Brabner�s Hackney Directory

1880/Joseph Davis /../../../P.O. Directory

1881/Joseph Davis/Publican, Widow/58/Bethnal Green, Middlesex/Census ***
1881/Mary A Latham/Daughter, Widow, Domestic/30/Bethnal Green, Middlesex/Census
1881/Eliza Davis/Sister in Law, Widow, Domestic/60/Bethnal Green, Middlesex/Census
1881/Sarah C May/Housemaid/25/Norton Folgate/Census
1881/Mary Norris/HGeneral Servant/50/Aldersgate/Census

1882/Joseph Davis/../../../Post Office Directory

1884/Joseph Davis/../../../Post Office Directory

1891/Joseph Johnson/../../../Post Office Directory

1891/Joseph Johnson/Publican/45/Homerton, London/Census
1891/Amelia Johnson/Wife/44/Homerton, London/Census
1891/Matilda Johnson/Daughter, Barmaid/22/Homerton, London/Census
1891/James Johnson/Son, Barman/19/Homerton, London/Census
1891/Amelia Johnson/Daughter/16/Homerton, London/Census
1891/Ellen Johnson/Daughter/11/Bethnal Green, London/Census
1891/Francis Johnson/Son/8/Bethnal Green, London/Census

1891/James Hodge / Licensed Victualler /../../London Gazette, deceased / Died 8 July 1891 /../../London Gazette, 4 September 12891

1892/Joseph William Bansback/../../../Post Office Directory **

1894/Felix Loughlin/../../../Post Office Directory *

1895/Felix Loughlin/../../../Post Office Directory

1897/Felix Loughlin/../../../Post Office Directory *

In the 1894 and 1897 trade directories Felix Loughlin was listed as proprietor of the King's Arms, Abbey Street (now Buckfast Street), and in the 1899 and 1902 directories he was proprietor of the Prince of Wales, Barnet Grove. I did find mention of a Lawrence Loughlin managing the Prince of Wales in 1897, but have been unable to verify this. Felix was Vestry Treasurer of the Parish of St. Matthew (a local government district) and in 1900 became the first Mayor when Bethnal Green was made into a Metropolitan Borough. His wife, Jane, was a member of the Bethnal Green Board of Guardians. *

1899/John Perry/../../../Post Office Directory

November 1904/Transfer of licence of the Kings Arms, Abbey street, from Harry Amos Dixon to Walter Herbert Green/../../East London Observer

1910/William Thomas Malandine/../../../Post Office

1911/William Malindine/Publican/30/Bethnal Green/Census
1911/Beatrice Malindine/Wife/27/../Census
1911/Edward Malindine/Son/5/../Census
1911/Toty Lyons/Cook, widow/48/../Census

1915/William Thos Malindine/../../../Post Office

1921/William Thomas Malandine /../../../P.O. Directory

1934/William Thomas Malandine/../../../Post Office Directory

1938/William Thomas Malandine/../../../Post Office Directory

1944/George Edward Ashdown/../../../Post Office Directory



* Provided by Joan Mayhew

*+ Provided by Tris

** Provided by Mike Bansback

**+ Provided by Ewan

*** Provided by Diane Grant-Salmon

Provided by Stephen Harris