Search London wiki and Pub wiki history sites
All public house, restaurants, bars etc closed for the forseeable future from 20th March 2020, but this is a history site.
Lion, 8 Tapp Street, Three Colt Lane, Bethnal Green E1
Bethnal Green pub history index
Historical London public houses, Taverns, Inns, Beer Houses and Hotels.
Existed from at least 1853. It closed in 2002 and is now in residential use. **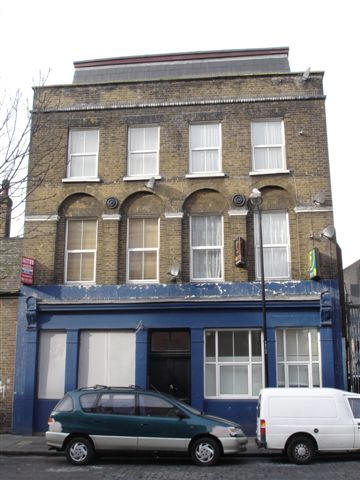 Lion, 8 Tapp Street - in February 2007
Kindly provided by Stephen Harris
Residents at this address.
September 1853/Samuel Emsley/ Outgoing Licensee /../../The Era

September 1853/Elizabeth Gilbert/ Incoming Licensee /../../The Era

October 1856/Robert Green Grimes/ Outgoing Licensee /../../The Era

October 1856/Elizabeth Gilbert/ Incoming Licensee /../../The Era

May 1858/Elizabeth Gilbert/Outgoing Licensee/../../East London Observer

May 1858/George Warne Gilbert/Incoming Licensee/../../East London Observer

August 1860/George Ward Gilbert/Outgoing Licensee/../../East London Observer

August 1860/Clement Houghton/Incoming Licensee/../../East London Observer

November 1865/Clement Houghton/Outgoing Licensee/../../Era

November 1865/John Reid/Incoming Licensee/../../Era

1868/George Ward Gilbert / Former Licensed Victualler, now a prisoner in the Debtors Prison for London & Middlesex /../../London Gazette, 5 June 1868 **

1871/John Reid/Licensed Victualler, Widow/40/Ayrshire, Scotland/Census
1871/George Wyborn/Brother in Law, Barman/19/Great Wakering, Essex/Census
1871/Elizabeth Coffield/Housekeeper/37/Stepney, Middlesex/Census
1871/William Benn/Potman/49/Spitalfields, Middlesex/Census

1872/J Reice /../../../Brabner�s Hackney Directory **

1874/J Reid/../../../H.D. Miles London & Suburban Licensed Victuallers' Directory **

18th August 1877/John Reid, late landlord/Outgoing Licensee/../../East London Observer +

18th August 1877/George Reid, adminstrator/Incoming Licensee/../../East London Observer +

October 1877/George Reid/Outgoing Licensee/../../East London Observer

October 1877/Rienzi Hillier/Incoming Licensee/../../East London Observer

March 1879/Rienzi Hiller/Outgoing Licensee/../../East London Observer

March 1879/Joseph Ruff/Incoming Licensee/../../East London Observer

1882/George Hine/../../../Post Office Directory **

1891/Geo Fredk Hine/../../../Post Office Directory **

1891/William C Hine/Licensed Victualler/22/City London, Thames St/Census
1891/Elizabeth Geofroy/Domestic Servant/22/Golden Square/Census
1891/Ellen M Watson/Barmaid/27/Bow/Census

1895/George Frederick Hine/../../../Post Office Directory **

1899/Christopher George Barnes/../../../Post Office Directory **

My great grandfather Thomas Nethercott the son of George Nethercott (Barley Mow) is on the 1901 census where he ran the Lion Pub in Tapp Street Bethnal Green. He is listed as Thomas W Nethercott 32 Manager of Beer House. Wife Louisa 27/George 10/Rose 7/ Louisa 1. Unfortunately Thomas gave up the pub trade, instead becoming a tram conductor. Where he was tragically killed being crushed between two trams in the depot in 1916 leaving Louisa with 7 children and another on the way. *

November 1900/Albert Nethercott baptised son of Thomas William & Louisa Nethercott at 27 Tapp Street, publicans manager/../../../Post Office Directory *

1910/Joseph Hamann/../../../Post Office Directory **

1921/James Martin Betey/../../../Post Office Directory **

1944/Hy Sharp/../../../Post Office Directory **

1983/Trumans/../../../Pub Directory

1991/../../../../Pub Directory



+ Provided by Friends of Tower Hamlets Cemetery Park

* Provided By Jean Ellis

** Provided By Stephen Harris