Marquis of Cornwallis, 304 Bethnal Green Road, Bethnal Green E2
Bethnal Green pub history index
Historical London public houses, Taverns, Inns, Beer Houses and Hotels.
Existed from at least 1793. At 72 Bethnal Green road in 1839; at 89 Bethnal Green road before 1870; The name is generally given as the Marquis Cornwallis in 1895 and earlier. *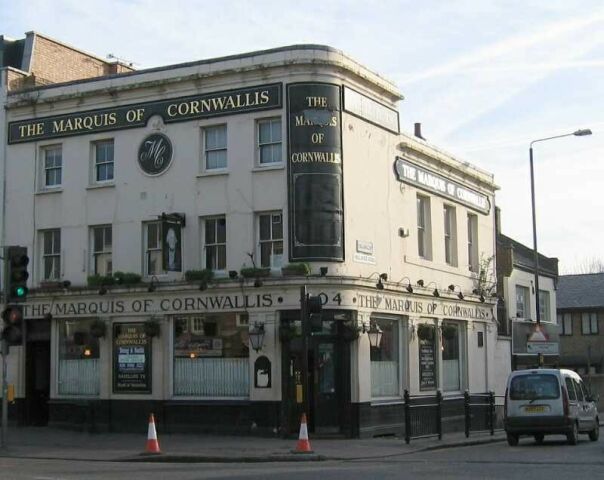 Kindly provided by Ken Finch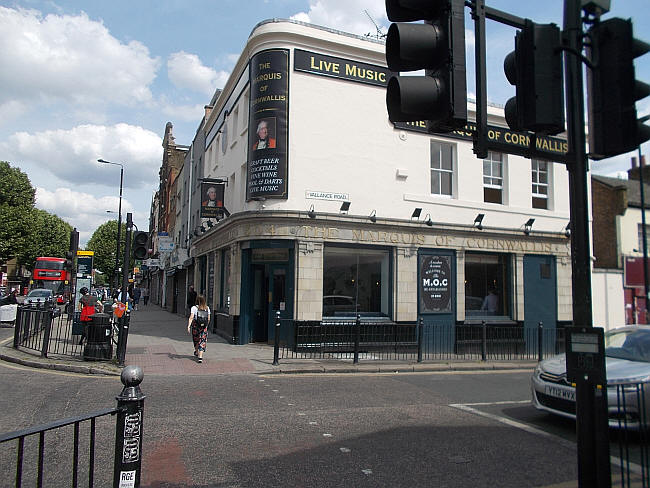 Marquis of Cornwallis, 304 Bethnal Green Road, Bethnal Green E2 - in June 2018
Residents at this address.
1793/Henry Pearse/victualler/../../Sun Fire Office records held at the London Metropolitan Archives *+

1794/George Hegson / Victualler /../../Sun Fire Office records, held at London Metropolitan Archives **

1805/William Clark, the Marquis Cornwallis, Bethnal green road/../../Holdens Directory

1806/Mr Clark, Marquis Cornwallis, Bethnal Green road/../../London Brewery 1806 customer for supplying the public with genuine malt liquor

1827/George Phillips, Cornwallis, Bethnal Green/../../Licensed Victuallers Association

1829/Henry Phillips/../../../Pigots Directory

1833-34/Henry Phillips/../../../Pigots Directory

1835/Henry Phillips/../../../Robson's Directory **

1836/William Hunt, Marquess of Cornwallis, Bethnal green road/../../Pigots Directory

August 1836/William Hart / Victualler /../../Sun Fire Office records, held at London Metropolitan Archives **

1839/William Hart/../../../Pigots Directory

1842/Sl. Turner/../../../Robson's Directory **

1844/S Turner/../../../Thompson's Directory **

1850/Benj. Johnson/../../../P.O. Directory **

James Brown is the son of George Brown (born about 1792). *

1851/James Brown/Licensed Victualler/41/Bethnal Green, Middlesex/Census *
1851/James Brown/Son/16/Bethnal Green, Middlesex/Census
1851/H Early/Servant, Laundress/24/Stratford, Essex/Census
1851/James Barpit/Servant, Barman/17/Wiltshire/Census
1851/Eliza laing/Servant, Hat Trimmer/17/West End, Middlesex/Census

November 1852/James Brown/Outgoing Licensee/../../Era Newspaper

November 1852/John Brown/Incoming Licensee/../../Era Newspaper

January 1853/John Brown/Outgoing Licensee/../../Era

January 1853/William Baker/Incoming Licensee/../../Era

John Brown is the son of George Brown (George was born about 1792). *

1856/John Brown/../../../Post Office Directory

4th March 1858/James Brown/Outgoing Licensee/../../East London Observer +

4th March 1858/John Brown/Incoming Licensee/../../East London Observer +

1861/J Brown/Licensed Victualler/45/Middlesex/Census *
1861/Eliza Brown/Wife/40/Middlesex/Census
1861/Elizabeth Brown/Daughter/16/Middlesex/Census
1861/Alfred Cole/Barman/18/Kent/Census
1861/Henry S Rimmer/Barman/20/Middlesex/Census
1861/Walter Brown/Son/8 months/Middlesex/Census

1866/J Brown/../../../P.O. Directory **

1869/John Brown/../../../P.O. Directory **

1870/John Brown/../../../P.O. Directory **

1871/John Brown/Licensed Victualler/53/Shoreditch, Middlesex/Census *
1871/Eliza Brown/Wife/49/Bishopsgate, Middlesex/Census
1871/William Brown/Son, Licensed Victualler/21/Bethnal Green, Middlesex/Census
1871/George Brown/Son, Licensed Victualler/19/Bethnal Green, Middlesex/Census
1871/David Brown/Son/12/Bethnal Green, Middlesex/Census
1871/Mrs Cole/Boarder, Widow/61/Brick Lane, Middlesex/Census
1871/Fulcher Johnson/Barman/22/Clerkenwell, Middlesex/Census

1872/J Brown/../../../Brabner's Hackney Directory **

1876/John Brown/../../../P.O. Directory **

September 1878/John Brown/Outgoing Licensee/../../East London Observer

September 1878/William Brown/Incoming Licensee/../../East London Observer

1881/William Brown/Licensed Victualler/31/Westminster, Middlesex/Census
1881/Emma Louisa Brown/Wife/29/Bethnal Green, Middlesex/Census
1881/Frederick Russell/Barman/22/Bethnal Green, Middlesex/Census
1881/William Linfoot/Boarder/21/Peckham, Surrey/Census
1881/Emma Elyart/Servant Domestic/36/Abingdon, Berkshire/Census

1882/Wm Brown/../../../Post Office Directory

1884/William Brown/../../../Post Office Directory

1888/Wm. Brown/../../../P.O. Directory **

1891/Frederick William Ayres/../../../Post Office Directory

1891/William Blaine/Manager, Licensed Victualler/23/Kent/Census
1891/Alfred Baker/Barman/22/Suffolk/Census
1891/Flory Parry/Barman/19/Limehouse/Census
1891/Richard Parry/Barman/18/Wapping/Census
1891/Hetty Adkins/Cook/30/Gloster/Census

1895/Frederick William Ayres/../../../Post Office Directory

1899/Alfred John Selby/../../../Post Office Directory

1900/Alfred John Selby/../../../P.O. Directory **

1910/Alfred John Selby/../../../Post Office Directory

1911/Alfred John Selby/Licensed Victualler/43/Minories, London/Census
1911/Olive Violet Selby/Wife/29/Gravesend, Kent/Census
1911/Edna Olive Selby/Daughter/7/Bethnal Green, London/Census
1911/Herbert Stroud/Barman/25/Maidstone, Kent/Census
1911/Fredrick Phillips/Barman/25/Homerton, London/Census
1911/Selian Putterford/General Servant/19/Canning Town, Essex/Census

1915/Alfred John Selby/../../../Post Office Directory

1917/Alfred John Selby/../../../P.O. Directory **

1921/Alfred John Selby/../../../Post Office Directory *+

1934/Joseph Norden/../../../Kelly's

1938/Joseph Norden/../../../Post Office Directory

1944/Joseph Norden/../../../Post Office Directory

1947/Joseph Norden / Licensed Victualler /../../London Gazette, 11 July 1947 **

1952/Mr & Mrs D H G Nugent/../../../Black Eagle Journal ***

1988/J L Sutherland/../../../Trumans Watney List ***



* Provided by Ian Brown

*+ Provided by Ewan

+ Provided by Friends of Tower Hamlets Cemetery Park

*** Provided by Alex Wilkinson