Kings Arms, 67 Old Bethnal Green Road, Bethnal Green E2
Bethnal Green pub history index
Historical London public houses, Taverns, Inns, Beer Houses and Hotels.
Existed from at least 1856. At 12 Old Bethnal Green Road in 1873 and earlier, before renumbering. This pub closed in 2001 and was converted to private residential use. **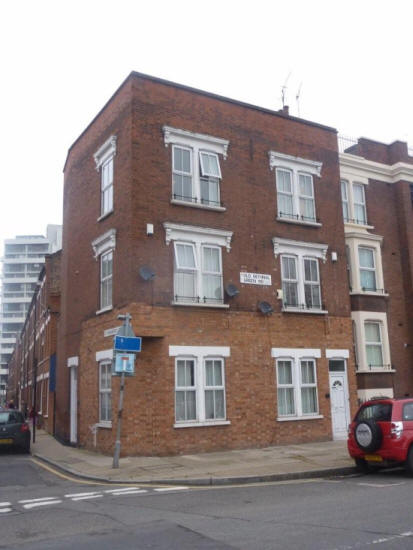 Kings Arms, Old Bethnal Green Road, E2 - in November 2010
Kindly provided by Stephen Harris
Residents at this address.
1856/Henry Russell/Beer Retailer/../../Post Office Directory

1869/John Akin/Beer Retailer/../../Post Office Directory

1871/John Akin / Beer Retailer, 12 Old Bethnal green road/../../Post Office Directory

1872/J Akin /../../../Brabner�s Hackney Directory **

1873/John Akin / Beer Retailer, 12 Old Bethnal green road/../../Post Office Directory

1874/John Akin / Beer Retailer /../../Post Office Directory **

1873/John Akin / Beer Retailer, 67 Old Bethnal green road/../../Post Office Directory

1881/John Akin/Beer Retailer/51/Bethnal Green, Middlesex/Census
1881/Harriett Akin/Wife/50/Bethnal Green, Middlesex/Census
1881/Jane Akin/Daughter, Teacher/22/Bethnal Green, Middlesex/Census
1881/Robert Akin/Son, Confectioner/19/Bethnal Green, Middlesex/Census
1881/William Akin/Son, Boy Clerk/17/Bethnal Green, Middlesex/Census
1881/Henry Akin/Son/13/Bethnal Green, Middlesex/Census
1881/George Akin/Son/11/Bethnal Green, Middlesex/Census
1881/Eliza Akin/Daughter/8/Bethnal Green, Middlesex/Census

1882/John Akin/Beer Retailer/../../Post Office Directory

1884/John Akin /../../../Morris� Business Directory of London **

1891/Robert Akin/Beer House Keeper/28/Bethnal Green, London/Census
1891/Eliza Akin/Wife/28/Haggerston, London/Census
1891/Robert Akin/Son/8/Bethnal Green, London/Census

1895/Robert Akin/beer retailer/../../Post Office Directory *

1899/Robert Akin/beer retailer/../../Post Office Directory *

1901/William Castle/Beer Retailer/57/Spitalfields, London/Census
1901/Mary Castle/Wife/56/Bethnal Green, London/Census
1901/Mary M Castle/Daughter/23/Bethnal Green, London/Census

1910/William Castle/Beer Retailer/../../Post Office Directory

1911/Amelia Hawkins/Beer Retailer, Widow/40/Poplar, London/Census
1911/Frederick Wicke/Brother, Barman & Cellerman/31/Poplar, London/Census
1911/Amelia Wicke/Niece/14/Poplar, London/Census

1914/Mrs Amelia Hankins/beer retailer/../../Post Office Directory *

1915/James Morris/Beer Retailer/../../Post Office Directory

1921/Jas Edward Allison/Beer Retailer/../../Post Office Directory

1934/Thos H Millard/Beer Retailer/../../Kelly's

1935/Thos. H Millward /../../../P.O. Directory **

1938/Thomas H. Millward/beer retailer/../../Post Office Directory *

1942/Mrs Martha A. Humphreys/beer retailer/../../Post Office Directory *

1944/Mrs Martha A. Humphreys/beer retailer/../../Post Office Directory *



* Provided by Ewan

** Provided By Stephen Harris