Park Hotel, 105 Approach Road, Bethnal Green E2
Bethnal Green pub history index
Existed from at least 1882. The Gore Arms on Approach Road (which is named as the Grove Arms in the 1874 Directory ) is named as the Park Hotel at 156 Bishops Road by the 1882 Directory, and by 1910 has returned to being listed as 105 Approach Road. *
The address up until 1910 is at 156 Bishops road which is at the junction with 105 Approach road. Demolished by enemy action and closed on 19th March 1941.
Historical London public houses, Taverns, Inns, Beer Houses and Hotels.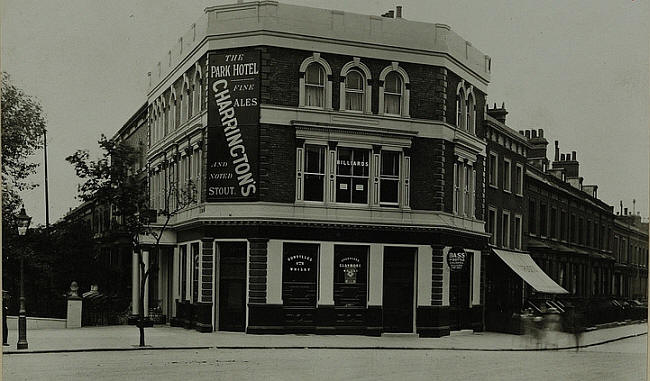 Park Hotel, 105 Approach Road, Bethnal Green E2
Residents at this address.
1882/James Edwin Jessup/../../../Post Office Directory *

1891/Frederick Richardson/../../../Post Office Directory

1895/Frederick Richardson/../../../Post Office Directory *

1899/Edwin Jackson/../../../Post Office Directory

1901/Edwin Jackson/Licensed Victualler/53/Limehouse, London/Census
1901/Emma Jackson/Wife/42/Cambridge, Cambridgeshire/Census
1901/Ada Jackson/Daughter/18/Stepney, London/Census
1901/Maria Jackson/Daughter/17/Stepney, London/Census
1901/James J Jackson/Son/16/Stratford, Essex/Census
1901/Fredk Jackson/Son/15/Stepney, London/Census
1901/Albert Jackson/Son/13/Stepney, London/Census
1901/Sarah Bagnell/Domestic Servant/56/Bethnal Green, London/Census
1901/Lillian B Pratt/Domestic Servant/33/Reading, Berkshire/Census
1901/Amy Sullivan/Domestic Servant/22/Fulham, London/Census

1910/Abraham Sugarman/../../../Post Office Directory

1913 - 1921/Jones/../../../Freehold

1915/Henry Cornelius Jones/../../../Post Office Directory *

1921/Henry Cornelius Jones/../../../Post Office Directory

1922 - 1931/Jones junmior/../../../Freehold

1932 - 1937/D J Harris/../../../Freehold

1934/David Jack Harris/../../../Post Office Directory *

1938/David Jack Harris/../../../Post Office Directory

1938 - 1941/Horsman/../../../Freehold

1938/David Jack Harris/../../../Post Office Directory *

1940/Arthur Horsman/../../../Post Office Directory *



* Provided by Ewan

** Provided By Stephen Harris