Search London wiki and Pub wiki history sites
All public house, restaurants, bars etc closed for the forseeable future from 20th March 2020, but this is a history site.
Old Pitts Head, 230 Brick lane, Bethnal Green E2
Bethnal Green pub history index
Existed from at least 1829. aka Old Pitts Head, 17 Tyssen Street & 230 Brick Lane; This pub was present by 1820 and closed before 1983. The premises are now in retail use. **
Historical London public houses, Taverns, Inns, Beer Houses and Hotels.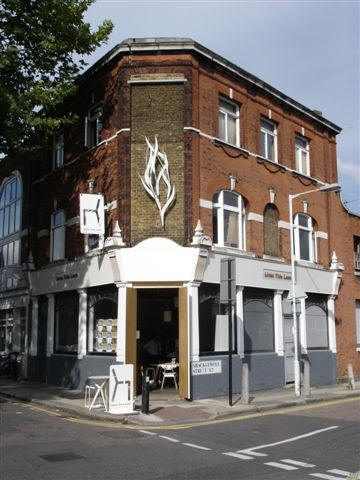 Old Pitts Head, 230 Brick Lane - in September 2006
Kindly provided by Stephen Harris
Residents at this address.
1829/James Potter, Pitts Head, 17 Tyssen Street, Brick lane/../../Pigotís Directory

1833-34/Joseph Potter, Pitts Head, 17 Tyssen Street, Bethnal Green/../../Pigots Directory

1839/James Potter /../../../Pigotís Directory **

1851/William Turnell/../../../Post Office Directory

1856/William Turnell/../../../Post Office Directory

1861/William Turrell/Licensed victualler/53/Bethnal Green, Middlesex/Census
1861/Elizabeth Turrell/Wife/52/Bethnal Green, Middlesex/Census
1861/Elizabeth Turrell/Daughter/25/Spitalfields, Middlesex/Census
1861/Ann Turrell/Daughter/23/Spitalfields, Middlesex/Census
1861/William Turrell/Son/22/Spitalfields, Middlesex/Census
1861/Thomas Turrell/Son/18/Spitalfields, Middlesex/Census
1861/Sarah Turrell/Daughter/13/Bethnal Green, Middlesex/Census
1861/Mary Phillipson/House Servant/20/Hull, Yorks/Census

1869/William Turnell/../../../Post Office Directory

1872/W Turnell /../../../Brabnerís Hackney Directory **

August 1872/William Turnell/Outgoing Licensee/../../Era

August 1872/Samuel Pritchett/Incoming Licensee/../../Era

July 1878/J Higgins/Outgoing Licensee/../../East London Observer

July 1878/W P Hughes/Incoming Licensee/../../East London Observer

1881/Albert Henry Hughes/Licensed Victualler Manager/36/Shoreditch, Middlesex/Census
1881/Albert William Hughes/Son/13/Shoreditch, Middlesex/Census
1881/Caroline Louisa MacDonald/Aunt, Dress Maker/67/Killkenny, Ireland/Census
1881/Harriett Stubbs/Barmaid/27/Hackney, Middlesex/Census
1881/Fanny Margaret Linden/Servant/25/Bideford, Devon/Census

1882/William F Hughes/../../../Post Office Directory

1891/Thomas Burgess/../../../Post Office Directory

1891/Robert W Newstead/Licensed Victualler/33/Isle of Dogs, London/Census
1891/Maud E Newstead/Wife/25/Monmouth/Census
1891/Maud A Newstead/Daughter/1/Peckham, London/Census
1891/Edward Nowell/Potman/19/Whitechapel, London/Census
1891/Henrietta Robinson/General Servant/22/Norton Folgate, London/Census

1895/Robert William Newstead/../../../Post Office Directory

1899/Louis Lipman/../../../Post Office Directory

1901/William Yardley/Licensed Victualler/35/Bethnal Green, London/Census
1901/Sarah Yardley/Wife/32/Bethnal Green, London/Census
1901/Sarah Yardley/Daughter/10/Bethnal Green, London/Census
1901/Jane Yardley/Daughter/8/Bethnal Green, London/Census
1901/Sanuel Yardley/Son/2/Bethnal Green, London/Census

November 1904/Transfer of licence of the Pitts Head, Brick lane, from Richard Galbraith to Frederick William Hamilton/../../East London Observer

1907/Reuben Rosenthal/../../../Birth of Daughter - see 1911 census at Britannia, 8 D'Arbley Street

1910/Morris Harris/../../../Post Office Directory

1911/Samuel Barnett/Licensed Victualler/47/Whitechapel/Census
1911/Alice Barnett/Wife/44/Bethnal Green/Census
1911/Joseph Barnett/Son, Barman/18/Hackney/Census
1911/Jacob Barnett/Son, Cycle Engineer/16/Mile End/Census
1911/Abraham Barnett/Son/13/Stepney/Census
1911/Mark Barnett/Son/7/../Census
1911/Reuben Barnett/Son/4/../Census
1911/Mary Glasson/General Servant/27/Westminster/Census

1912/Samuel Barnett /../../../P.O. Directory **

1915/Mrs Leah Colp/../../../Post Office Directory



** Provided By Stephen Harris