Search London wiki and Pub wiki history sites
Prince of Wales, 76 Bishops way, Old Ford, Bethnal Green E2
Bethnal Green pub history index
Existed from at least 1855. The Pub closed in 2000 and is now residential; the modern address is at Bishops way ** The address is also given as Bonner Road (the intersecting street) in 1869 and 1856 directories, and as Prospect Place in the 1856 Directory *.
Historical London public houses, Taverns, Inns, Beer Houses and Hotels.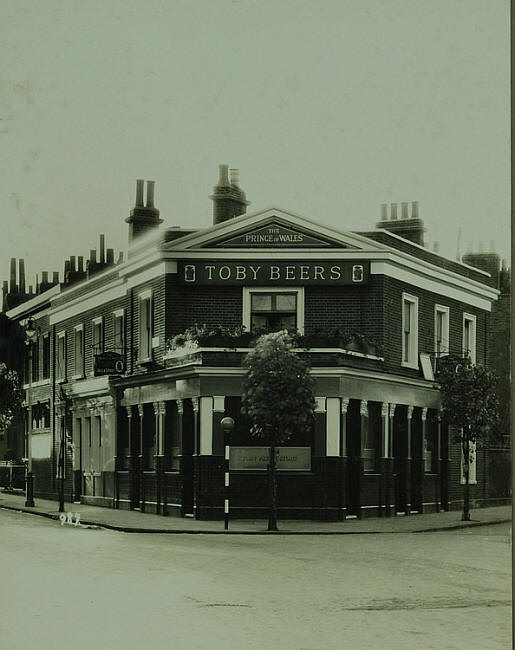 Prince of Wales, 76 Bishops Road, Bethnal Green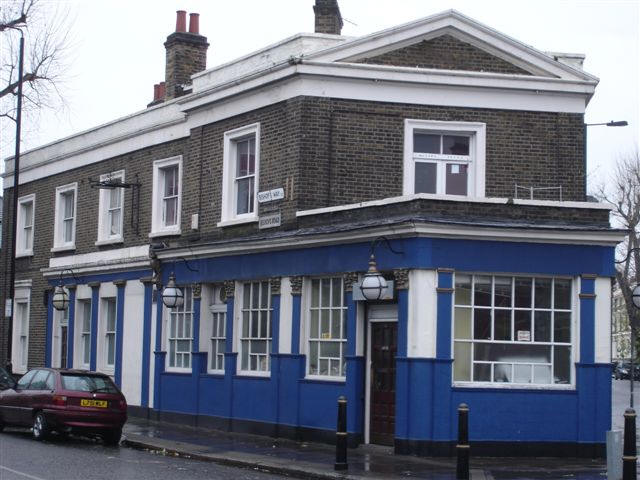 Prince of Wales, 76 Bishop's Way, E2 - in December 2006
Kindly provided by Stephen Harris
Residents at this address.
September 1855/Charles Drew, deceased/Outgoing Licensee/../../Era

1856/Charles Drew/../../../Post Office Directory *

September 1855/Susan Drew, widow of Charles Drew/Incoming Licensee/../../Era

November 1855/Susan Drew and George Davis/ Outgoing Licensee /../../The Era

November 1855/Susan Drew/ Incoming Licensee /../../The Era

1861/William Frederick Fearn/Licensed Victualler/33/Fairfield, Derbyshire/Census
1861/Elizabeth J Fearn/Wife/37/Shoreditch, Middlesex/Census
1861/George Fearn/Son/9/Shoreditch, Middlesex/Census
1861/Grace Fearn/Daughter/8/Shoreditch, Middlesex/Census
1861/Agnes Fearn/Daughter/6/Shoreditch, Middlesex/Census
1861/Frederic Fearn/Son/3/Shoreditch, Middlesex/Census
1861/Walter J Fearn/son/1/Shoreditch, Middlesex/Census
1861/Ann Fearn/Sister, Assistant/28/Fairfield, Derbyshire/Census
1861/Mark Cottee/Potman/16/Essex/Census
1861/William Smith/Lodger, Assistant Ostler/20/Tolleshunt Darcey, Essex/Census

October 1862/Henry Leatherdale/ Outgoing Licensee /../../East London Observer

October 1862/William Frederick Fearn/ Incoming Licensee /../../East London Observer

11th March 1865/William Frederick Fearn/Outgoing Licensee/../../East London Observer +

11th March 1865/Herbert Harris Cannon, official assignee/Incoming Licensee/../../East London Observer +

July 1865/Mansfield Parkyns offical assignee/Outgoing Licensee/../../East London Observer +

July 1865/William Richardson/Incoming Licensee/../../East London Observer +

1866/William Richardson/../../../P.O. Directory **

1869/William Richardson/../../../Post Office Directory *

1871/William Richardson/Licensed Victualler/46/Kingsland, Middlesex/Census
1871/Mary Ann Richardson/Wife/38/Leatherhead, Surrey/Census
1871/Henry Fordham/Barman/32/Woodburton, Cambridgeshire/Census
1871/William Samuel Cant/Barman/21/Colchester, Essex/Census
1871/James Whisker/Potman/18/Bethnal Green, Middlesex/Census
1871/Jane Riley/General Servant/26/Newark, Nottinghamshire/Census

1874/William Richardson/../../../Post Office Directory **

1878/W Richardson/../../../Middlesex Post Office Directory

1881/William Richardson/Licensed Victualler, Widow/56/Kingsland, Middlesex/Census
1881/Henry John Dearley/Nephew, Clerk/20/Poplar, Middlesex/Census
1881/Ellen Hipkins/House Keeper, Widow/49/Lewisham, Kent/Census
1881/Joseph Hazell/Barman/24/Shrivenham, Berks/Census
1881/Samuel Evans/Potman/18/Shoreditch, Middlesex/Census
1881/Julia Callahan/Domestic Servant/32/Cork, Ireland/Census

1882/William Richardson/../../../Post Office Directory

1884/William Richardson/../../../Post Office Directory

1891/George Thomas Barr/../../../Post Office Directory

1895/George Thomas Barr/../../../Post Office Directory *

1896/Francis Jn Spicer/../../../Post Office Directory **

1897/Francis Jn Spicer/../../../Post Office Directory **

1899/William Kinchela Miller/../../../Post Office Directory **

1902/Hy Vaux/../../../Post Office Directory **

1910/Alfred Richard Banton/../../../Post Office Directory **

1911/Alfred Banton/Publican/53/St Georges East/Census
1911/Moya Banton/Wife/52/St Georges East/Census
1911/Ellen Rawlins/Domestic Servant/29/Bromley by Bow/Census
1911/Elizabeth Rawlins/Barmaid/22/Bromley by Bow/Census

1915/Henry Yetton/../../../Post Office Directory **

1921/George Holmes/../../../Post Office Directory *

1926/William T Lapping/../../../Post Office Directory **

1930/William Thomas Lapping/../../../Kellys Directory **

1933 -1939/Mrs A G Clarke/../../../Freehold

1940/J L Green/../../../Freehold

1941 -1943/C H Horsman/../../../Freehold

1944/Mrs L M Everest/../../../Freehold

1945 -1957/L Gore/../../../Freehold

1958 -1965/Mrs Gore/../../../Freehold

1966/L C Millar/../../../Freehold



+ Provided by Friends of Tower Hamlets Cemetery Park

* Provided by Ewan

** Provided By Stephen Harris