Prince of Wales, 76 Bishops way, Old Ford, Bethnal Green E2
Bethnal Green pub history index
Existed from at least 1855. The Pub closed in 2000 and is now residential; the modern address is at Bishops way **
The address is also given as Bonner Road (the intersecting street) in 1869 and 1856 directories, and as Prospect Place in the 1856 Directory *.
Historical London public houses, Taverns, Inns, Beer Houses and Hotels.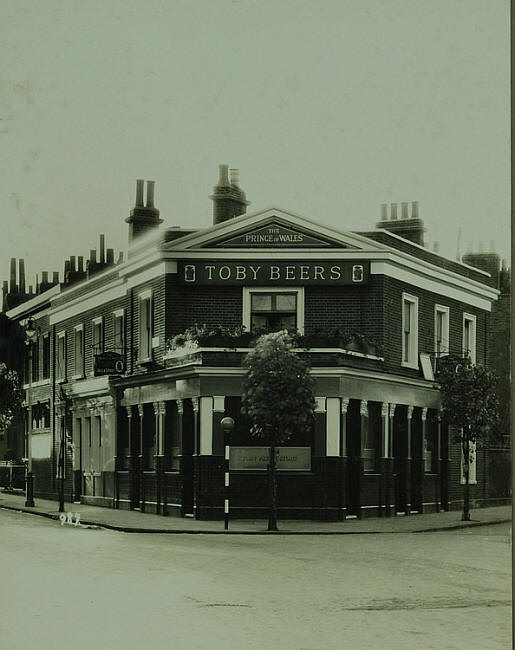 Prince of Wales, 76 Bishops Road, Bethnal Green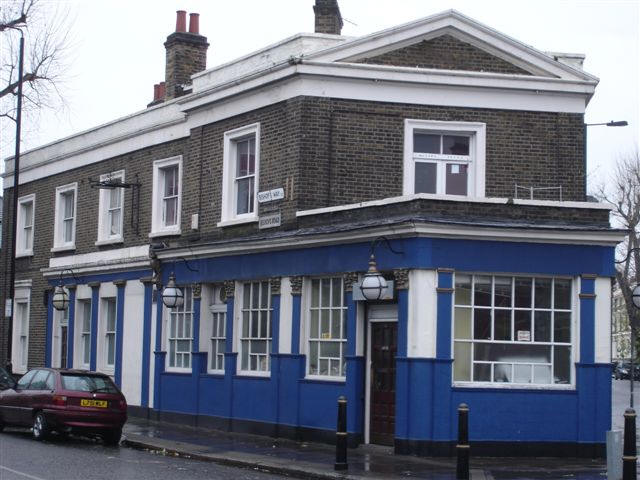 Prince of Wales, 76 Bishop's Way, E2 - in December 2006
Kindly provided by Stephen Harris
Residents at this address.
September 1855/Charles Drew, deceased/Outgoing Licensee/../../Era

1856/Charles Drew/../../../Post Office Directory *

September 1855/Susan Drew, widow of Charles Drew/Incoming Licensee/../../Era

November 1855/Susan Drew and George Davis/ Outgoing Licensee /../../The Era

November 1855/Susan Drew/ Incoming Licensee /../../The Era

1861/William Frederick Fearn/Licensed Victualler/33/Fairfield, Derbyshire/Census
1861/Elizabeth J Fearn/Wife/37/Shoreditch, Middlesex/Census
1861/George Fearn/Son/9/Shoreditch, Middlesex/Census
1861/Grace Fearn/Daughter/8/Shoreditch, Middlesex/Census
1861/Agnes Fearn/Daughter/6/Shoreditch, Middlesex/Census
1861/Frederic Fearn/Son/3/Shoreditch, Middlesex/Census
1861/Walter J Fearn/son/1/Shoreditch, Middlesex/Census
1861/Ann Fearn/Sister, Assistant/28/Fairfield, Derbyshire/Census
1861/Mark Cottee/Potman/16/Essex/Census
1861/William Smith/Lodger, Assistant Ostler/20/Tolleshunt Darcey, Essex/Census

October 1862/Henry Leatherdale/ Outgoing Licensee /../../East London Observer

October 1862/William Frederick Fearn/ Incoming Licensee /../../East London Observer

11th March 1865/William Frederick Fearn/Outgoing Licensee/../../East London Observer +

11th March 1865/Herbert Harris Cannon, official assignee/Incoming Licensee/../../East London Observer +

July 1865/Mansfield Parkyns offical assignee/Outgoing Licensee/../../East London Observer +

July 1865/William Richardson/Incoming Licensee/../../East London Observer +

1866/William Richardson/../../../P.O. Directory **

1869/William Richardson/../../../Post Office Directory *

1871/William Richardson/Licensed Victualler/46/Kingsland, Middlesex/Census
1871/Mary Ann Richardson/Wife/38/Leatherhead, Surrey/Census
1871/Henry Fordham/Barman/32/Woodburton, Cambridgeshire/Census
1871/William Samuel Cant/Barman/21/Colchester, Essex/Census
1871/James Whisker/Potman/18/Bethnal Green, Middlesex/Census
1871/Jane Riley/General Servant/26/Newark, Nottinghamshire/Census

1874/William Richardson/../../../Post Office Directory **

1878/W Richardson/../../../Middlesex Post Office Directory

1881/William Richardson/Licensed Victualler, Widow/56/Kingsland, Middlesex/Census
1881/Henry John Dearley/Nephew, Clerk/20/Poplar, Middlesex/Census
1881/Ellen Hipkins/House Keeper, Widow/49/Lewisham, Kent/Census
1881/Joseph Hazell/Barman/24/Shrivenham, Berks/Census
1881/Samuel Evans/Potman/18/Shoreditch, Middlesex/Census
1881/Julia Callahan/Domestic Servant/32/Cork, Ireland/Census

1882/William Richardson/../../../Post Office Directory

1884/William Richardson/../../../Post Office Directory

1891/George Thomas Barr/../../../Post Office Directory

1895/George Thomas Barr/../../../Post Office Directory *

1896/Francis Jn Spicer/../../../Post Office Directory **

1897/Francis Jn Spicer/../../../Post Office Directory **

1899/William Kinchela Miller/../../../Post Office Directory **

1902/Hy Vaux/../../../Post Office Directory **

1910/Alfred Richard Banton/../../../Post Office Directory **

1911/Alfred Banton/Publican/53/St Georges East/Census
1911/Moya Banton/Wife/52/St Georges East/Census
1911/Ellen Rawlins/Domestic Servant/29/Bromley by Bow/Census
1911/Elizabeth Rawlins/Barmaid/22/Bromley by Bow/Census

1915/Henry Yetton/../../../Post Office Directory **

1921/George Holmes/../../../Post Office Directory *

1926/William T Lapping/../../../Post Office Directory **

1930/William Thomas Lapping/../../../Kellys Directory **

1933 -1939/Mrs A G Clarke/../../../Freehold

1940/J L Green/../../../Freehold

1941 -1943/C H Horsman/../../../Freehold

1944/Mrs L M Everest/../../../Freehold

1945 -1957/L Gore/../../../Freehold

1958 -1965/Mrs Gore/../../../Freehold

1966/L C Millar/../../../Freehold



+ Provided by Friends of Tower Hamlets Cemetery Park

* Provided by Ewan

** Provided By Stephen Harris