Red Deer, 393 Cambridge Heath road, Bethnal Green E2
Bethnal Green pub history index
Historical London public houses, Taverns, Inns, Beer Houses and Hotels.
Existed from at least 1805. The address in the 1861 census and earlier is at Patriot Row. This pub closed in 2005 and now serves as an estate agent's offices. **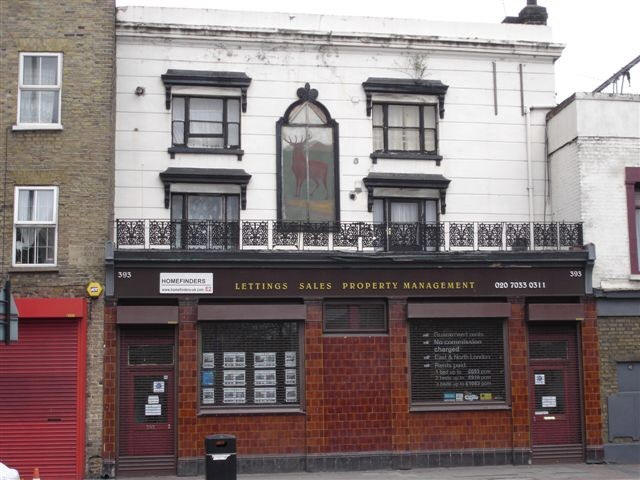 Red Deer, 393 Cambridge Heath Road - in April 2006
Kindly provided by Stephen Harris
Residents at this address.
1805/James Barber/[Rein Deer]/../../Holden's Directory *

1817/James Purser / Victualler / /../../../Sun Fire Office Records held at Guildhall Library **

1819/James Purser/victualler/../../Sun Fire Office records held at the London Metropolitan Archives *

1827/Thomas Turner / Public House Keeper /../../Proceedings of the Old Bailey **

1828/Thomas Turner/victualler/../../Sun Fire Office records held at the London Metropolitan Archives *

1833-34/Thomas Turner/../../../Pigot's Directory

1839/Thomas Turner /../../../Pigot�s Directory **

Patriot row
1841/Isaac Bocking/Publican/28//Census
1841/Susannah Brocking/../27//Census
1841/Marian Puttick/Female Servant/20//Census
1841/Thomas Gurnsey/Male Servant/22//Census

1842/Bocking/../../../Robson�s Directory **

December 1848/Isaac Bocking/Outgoing Licensee/../../Era Newspaper

December 1848/Henry Smith/Incoming Licensee/../../Era Newspaper

1851/Henry Smith/Licensed Victualler/30/Bethnal Green, Middlesex/Census *
1851/Elizabeth Smith/Wife/29/Bethnal Green, Middlesex/Census
1851/George Smith/Son/7/Bethnal Green, Middlesex/Census
1851/Sidney Smith/Son/3/Bethnal Green, Middlesex/Census
1851/Elizabeth Dorton/Bar Maid/16/Bethnal Green, Middlesex/Census
1851/Sarah Wedge/General Servant/21/Chester, Cheshire/Census
1851/Maria Stevens/Nurse Maid/29/Cambridge, Cambridgeshire/Census
1851/Thomas Brooks/Pot Boy/23/Cambridge, Cambridgeshire/Census

1856/James Hunter/Red Deer, 18 Patriot Row/../../Post Office Directory

1861/James Hunter/Publican/44/Bethnal Green, Middlesex/Census
1861/Eliza Hunter/Wife/45/Bethnal Green, Middlesex/Census
1861/James Hunter/Son/15/Bethnal Green, Middlesex/Census
1861/Eliza Hunter/Daughter/10/Shoreditch, Middlesex/Census
1861/Emma Wells/House Servant/18/Mile End, Middlesex/Census
1861/Joseph Robinson/Pot Man/25/City Road, Middlesex/Census
1861/Ann Hogg/Visitor, Dressmaker/41/Warwickshire/Census
1861/Benjamin Hogg/Visitor/6/Hackney Road, Middlesex/Census

May 1861/James Hunter/Outgoing Licensee/../../East London Observer

May 1861/Jasper Smith/Incoming Licensee/../../East London Observer

May 1862/Jasper Smith/Outgoing Licensee/../../East London Observer +

May 1862/Maria Smith/Incoming Licensee/../../East London Observer +

October 1863/Maria Smith/Outgoing Licensee/../../East London Observer +

October 1863/Jesse Smith/Incoming Licensee/../../East London Observer +

November 1864/John Smith/Outgoing Licensee/../../East London Observer

November 1864/William Alfred Clark/Incoming Licensee/../../East London Observer

November 1865/William Alfred Clarke/Outgoing Licensee/../../Era

November 1865/Robert Horn/Incoming Licensee/../../Era

1869/Robert Horn /../../../P.O. Directory **

January 1871/Robert Horn/Outgoing Licensee/../../Era

January 1871/George Thomas Plumb/Incoming Licensee/../../Era

George Plumb is correctly shown as having been born in Corby, Northants, whilst his wife Annie was born in Rothwell Lodge, Kettering, Northants. The children's birthplace is given as Corby, Northants, which is also incorrect as most of them were born at Cransley, Northants. ***

1871/George T Plumb/Licensed Victualler/29/Corby, Northamptonshire/Census ***
1871/Annie E Plumb/Wife/30/Corby, Northamptonshire/Census
1871/George T Plumb/Son/1 month/Bethnal Green, Middlesex/Census
1871/Frederick Plumb/Brother/31/Corby, Northamptonshire/Census
1871/Thomas J Lee/Son in Law/10/Corby, Northamptonshire/Census
1871/Annie R Lee/Daughter/9/Corby, Northamptonshire/Census
1871/Georgiana Lee/Grand Daughter/5/Corby, Northamptonshire/Census
1871/Elenor Tebbut/Servant/22/Corby, Northamptonshire/Census
1871/Jame Harrison/Niece, Monthly Nurse, Widow/54/Corby, Northamptonshire/Census
1871/Edith Lee/Daughter/7/Bethnal Green, Middlesex/Census

1872/G T Plumb /../../../Brabner�s Hackney Directory **

May 1873/George Thomas Plumb/Outgoing Licensee/../../East London Observer

May 1873/Alfred Paine/Incoming Licensee/../../East London Observer

1876/Alfred Paine /../../../P.O. Directory **

January 1879/Alfred Coote/Outgoing Licensee/../../East London Observer

January 1879/John De Lee Chilver/Incoming Licensee/../../East London Observer

March 1879/John De Lee Chilver/Outgoing Licensee/../../East London Observer

March 1879/Susannah Ann Chilver/Incoming Licensee/../../East London Observer

1881/George Cakebread/Licensed Victualler/22/Kingsland, Middlesex/Census
1881/Elizabeth Cakebread/Wife/23/Ramsgate, Kent/Census
1881/Frederick W Cooper/Barman/23/Brightlingsea, Essex/Census
1881/Alice Taylor/General Servant/20/Stepney, Middlesex/Census

1882/Samuel George Cakebread/../../../Post Office Directory *

1884/George Cakebread/../../../Post Office Directory

1885/George Cakebread /../../../P.O. Directory **

1891/George Cakebread/../../../Post Office Directory

1891/George Cakebread/Licensed Victualler/32/Shoreditch, London/Census *+
1891/Elizabeth Cakebread/Wife/33/Ramsgate, Kent/Census
1891/John Tottman/Barman/19/Ramsgate, Kent/Census
1891/Florence Allard/Barman/21/Plumstead, Kent/Census
1891/Helen Webb/General Servant/37/Blackley, Northampton/Census

1895/George Cakebread/../../../Post Office Directory

1899/Robert Allard/../../../Post Office Directory

1901/Robert Allard/Licensed Victualler/38/Plumstead, Kent/Census *+
1901/Emma I Allard/Wife/35/Benwick, Cambs/Census
1901/Clive Allard/Son/13/Eastchurch, Kent/Census
1901/Elsie Mary Allard/Daughter/6/Bethnal Green, London/Census
1901/George Brumble/Barman/24/Islington, London/Census
1901/Mildred Stanley/General Servant/26/Bow, London/Census

1902/Robert Allard /../../../P.O. Directory **

1903/Robert Allard /../../../P.O. Directory **

1910/Robert Allard/../../../Post Office Directory

1911/Robert Allard/Licensed Victualler/47/Woolwich, Kent/Census
1911/Eliza Allard/Wife/41/Benwick, Cambridgeshire/Census
1911/Elsie Mary Allard/Daughter, Drapers Assistant/16/Bethnal Green, London/Census
1911/May Eleanor Allard/Daughter/6/Bethnal Green, London/Census
1911/Thomas F Cooper/Bar Assistant/34/Birmingham, Warwickshire/Census
1911/Annie Richardson/Domestic Servant/31/Bermondsey, London/Census

1915/Chas Wm Poultney/../../../Post Office Directory

1926/Mrs Lilian May Millar /../../../P.O. Directory **

1934/Ernest G Haddock/../../../Kellys Directory

1936/Mrs Sarah Lee/../../../.. **

1938/Herbert Peter Mickleburgh/../../../Post Office Directory

1944/Hy Hill/../../../Post Office Directory



+ Provided by Friends of Tower Hamlets Cemetery Park

* Provided By Ewan

*+ Provided By Mike Spring

** Provided By Stephen Harris

*** Provided By Jean Buswell