Search London wiki and Pub wiki history sites
All public house, restaurants, bars etc closed for the forseeable future from 20th March 2020, but this is a history site.
Rising Sun, 152 Hackney Road, Bethnal Green E2
Bethnal Green pub history index
Existed from at least 1822. The earlier address is at 20 Hackney Road Crescent, Hackney Road south side. The Rising Sun, Hackney Road Crescent in the 1861 census. It has been closed for many years, and in the past year has been substantially rebuilt as a residential property with only the ground floor frontage surviving **
Historical London public houses, Taverns, Inns, Beer Houses and Hotels.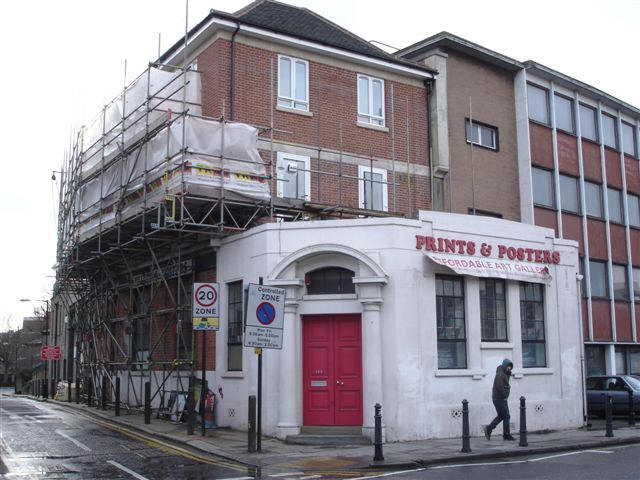 Rising Sun, 152 Hackney Road - in January 2007
Kindly provided by Stephen Harris
Residents at this address.
1822/Peter Belton/victualler/../../Sun Fire Office records held at the London Metropolitan Archives *

1827/John Bellingham/../../../Licensed Victuallers Association

1828/John Bellingham/victualler/../../Sun Fire Office records held at the London Metropolitan Archives *

1829/J Bellingham, Rising Sun, 20 Hackney road, Crescent/../../Pigots Directory

1833-34/William Bellingham, Rising Sun, 20 Hackney road, Crescent/../../Pigots Directory

1835/John Bellingham/victualler, Rising Sun Tavern/../../Sun Fire Office records held at the London Metropolitan Archives *

1836/John Bellingham/victualler/../../Sun Fire Office records held at the London Metropolitan Archives *

1839/James Bellingham/../../../Pigot's Directory *

1844/Josh Stephens/../../../Thompsons Directory **

1850/Jos. Clewett Stephens/../../../P.O. Directory **

1851/Jos. Clewett Stephens/../../../Kellys Directory **

1851/Joseph Stevens/Licensed Victualler/40/Hampshire/Census
1851/Ann Stevens/Wife/33/Berkshire/Census
1851/Joseph Stevens/Son/8/Marylebone, Middlesex/Census
1851/Emily Stevens/Daughter/6/Bethnal Green, Middlesex/Census
1851/William Stevens/Son/4/Bethnal Green, Middlesex/Census
1851/Alfred Stevens/Son/1/Bethnal Green, Middlesex/Census
1851/Ann Stevens/Daughter/10/Marylebone, Middlesex/Census
1851/Emma Binks/Servant/21/Westminster/Census
1851/Elizabeth Wombey/Servant/20/Merton, Surrey/Census
1851/Ann Pepperjohn/Servant/38/Bathpool, somerset/Census
1851/Fanny Cale/Servant/18/Boughton, Kent/Census
1851/Charles Thorn/Pot Boy/19/Chertsey, Surrey/Census

1856/Jos Clewett Stephens/../../../Post Office Directory

September 1860/Joseph Clewitt Stephens/Outgoing Licensee/../../Era

September 1860/John Henry Meyer/Incoming Licensee/../../Era

1861/John H Meyer/Publican/47/Westminster, Middlesex/Census
1861/Jessy Meyer/Wife/45/Westminster, Middlesex/Census
1861/John Meyer/Son, Barman/16/Southwark, Surrey/Census
1861/Bernard Meyer/Son, Clerk (Distillery)/15/Southwark, Surrey/Census
1861/Jessy Meyer/Daughter/11/Southwark, Surrey/Census
1861/Henry Meyer/Son/9/Southwark, Surrey/Census
1861/Mary Ann Agland/General servant/25/St Lukes, Middlesex/Census

1869/John Henry Meyer/../../../Post Office Directory

1871/John H Meyer/Publican/57/Covent Garden, Middlesex/Census
1871/Jesse J Meyer/Wife/54/Enfield, Middlesex/Census
1871/Jesse Meyer/Daughter/21/Southwark, Surrey/Census
1871/Henry Meyer/Son, Clerk/19/Southwark, Surrey/Census
1871/Charles T Hill/Potman/18/Marylebone, Middlesex/Census

30th September 1871/John Henry Meyer/Outgoing Licensee/../../East London Observer +

30th September 1871/Bernard Meyer/Incoming Licensee/../../East London Observer +

1874/Bernard Meyer/../../../Post Office Directory **

30th September 1876/Barnard Mayer/Outgoing Licensee/../../East London Observer +

30th September 1876/Frederick William Ayres/Incoming Licensee/../../East London Observer +

October 1878/Frederick William Ayres/Outgoing Licensee/../../East London Observer

October 1878/William Galton/Incoming Licensee/../../East London Observer

1881/John W Galton/Licensed Victualler/34/Bethnal Green, Middlesex/Census
1881/Elizabeth C Galton/Wife/36/Bethnal Green, Middlesex/Census
1881/Elizabeth C Galton/Daughter/12/Shoreditch, Middlesex/Census
1881/Henrietta Galton/Daughter/10/Shoreditch, Middlesex/Census
1881/Beatrice Galton/Daughter/9/Shoreditch, Middlesex/Census
1881/Minnie Galton/Daughter/8/Shoreditch, Middlesex/Census
1881/Reuben Galton/Son/5/Bow, Middlesex/Census
1881/Mary Ann McNelly/Barmaid/19/Hampton, Middlesex/Census
1881/Sophia Klein/Barmaid/20/Whitechapel, Middlesex/Census
1881/Mary Higginson/General Servant/15/Clerkenwell, Middlesex/Census
1881/Infabt Galton/Daughter/2 months/Bethnal Green, Middlesex/Census

1882/John William Galton/../../../Post Office Directory *

1884/John W Galton/../../../Post Office Directory

1891/Crisp & Newton/../../../Post Office Directory

1891/George B Newton/Licensed Victualler/33/Marylebone, London/Census
1891/Frances Newton/Mother, Widow/64/Nottingham/Census
1891/Ada E Newton/Sister/21/Hammersmith/Census
1891/William Galton/Visitor, Licensed Victualler/47/Bethnal Green, London/Census
1891/Abel Page/Barman/26/Oxfordshire/Census
1891/Richard Platt/Barman/27/South Hackney/Census
1891/Rebecca Jolledge/Servant/25//Census

1895/Crisp & Newton/../../../Post Office Directory **

1896/George Wyatt/../../../Post Office Directory

My great great grandfather, William Joseph Edward Hopperton Carter, was the licensee in 1897. You have an entry for 1899 for Thomas William Carter. He is not a close relation, or alternatively, it could mean Thomas Patrick and William Carter. Thomas Patrick was his brother in law. *+
On the 23rd July 1883, William Joseph Edward Hopperton Carter married Clara Sophia Patrick. He is a Licensed Victualler, she is daughter of Thomas Patrick, a Licensed Victualler. Both list their address as 84 Theobalds road, the White Horse.

Clara Sophie Carter (nee Patrick) had 8 children between 1886 and 1900. *+

On August 24th 1884, William Edward Carter is baptised to William Joseph Edward Hopperton Carter and Clara Sophia Carter, he is a Licensed Victualler with address of 216 Essex road - the Golden Fleece.

On July 25th 1886, Harry Gordon Carter is baptised to William Joseph Edward Hopperton Carter and Clara Sophia Carter, he is a Licensed Victualler with address of 216 Essex road - the Golden Fleece.

On January 5th 1890, Evelyn Clara Harriett Carter is baptised, in Islington, to William Joseph Edward Hopperton Carter and Clara Sophia Carter, he is a Licensed Victualler with address of 216 Essex road - the Golden Fleece.

On 24 June 1894, Clara Kathleen is baptised to William Joseph Edward Hopperton Carter and Clara Sophia Carter, he is a Licensed Victualler in Epsom

On October 1st 1895, William Patrick is baptised to William Joseph Edward Hopperton Carter and Clara Sophia Carter, he is a Licensed Victualler with address of White Hart, High street, in Epsom

On 13 June 1897, at Shoreditch, Ada Victoria is baptised to William Joseph Edward Hopperton Carter and Clara Sophia Carter, he is a Licensed Victualler at the Rising sun, Hackney road

The source of information is from 2 graves in Abney Park. : *+
William Patrick Carter buried 9.4.1897 Burial 096275, section L05, age 18 months, of Rising sun, Hackney Road.
Ada Victoria Carter burial 19.7.1897...age 7 months of 152 Hackney road, NE

1898/William Hopperton Carter/../../../Post Office Directory

By the 1901 census, William H Carter is a Licensed Victualler at Queens road, Buckhurst hill, in Essex - the Railway Tavern.

1899/Thomas William Carter/../../../Post Office Directory

1900/Thomas William Carter/../../../Post Office Directory

1901/Frederick Cooper Lyle/Publican/53/Camberwell, London/Census
1901/Caroline Lyle/Wife/42/Bristol/Census
1901/Henry Lyle/Son/19/Paddington, London/Census
1901/Lena Williams/Domestic Servant/21/Bristol/Census
1901/Ada Johnson/Domestic Servant/18/Old Ford, London/Census

1904/Frederick Cooper Liles/../../../Post Office Directory **

1910/Mrs Caroline Liles/../../../Post Office Directory **

1911/Caroline Liles/Licensed Victualler, Widow/50/Bristol, Gloucestershire/Census
1911/Albert Edward Liles/Son, Manager/19/Notting Hill, London/Census
1911/Daniel Simmons/Potman & Barman/32/Liverpool, Lancashire/Census
1911/Martha King/General Servant/26/St Pancras, London/Census

1913/Mrs Caroline Liles/../../../Post Office Directory **

1915/Alfred Jacobs/../../../Post Office Directory

1922/Alfred Jacobs/../../../Post Office Directory **



+ Provided by Friends of Tower Hamlets Cemetery Park

* Provided by Ewan

*+ Provided by Janifer Pearl

** Provided By Stephen Harris