Royal Oak, 73 Columbia Road, Bethnal Green E2
Bethnal Green pub history index
Existed from at least 1839. Address formerly 19 Barnet Street. This pub was re-built in its current form in 1923. **
Historical London public houses, Taverns, Inns, Beer Houses and Hotels.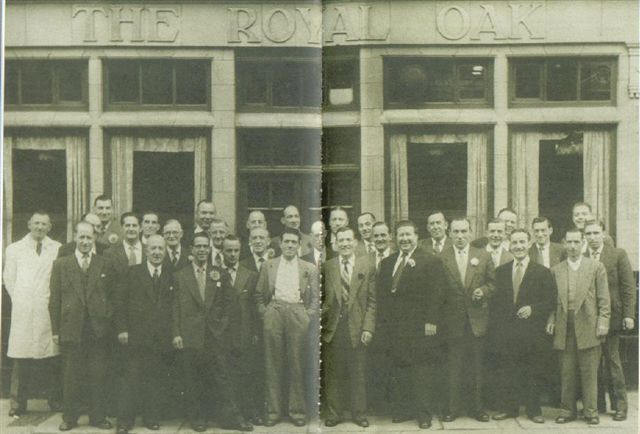 Outside The Royal Oak, in the late 1950's
This Royal Oak is still in Columbia Road Flower Market Bethnal Green. Featured in the Kray film and was used for the TV series 'Goodnight Sweetheart'. This was the series starring Nicholas Lyndhurst (Del Boy's Rodney) when he was able to go back to WW2 by walking through a wall *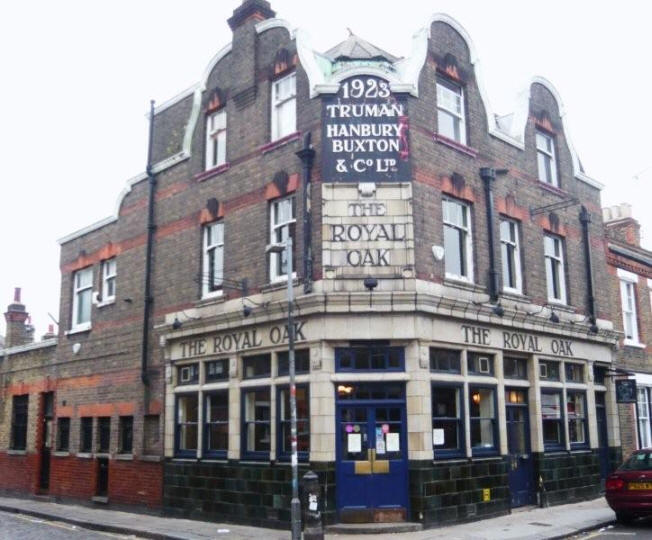 Royal Oak, 73 Columbia Road, E2 - in November 2008
Kindly provided by Stephen Harris
Residents at this address.
1839/Thomas Draper/../../../Pigots Directory

1842/Richard Brown/../../../Robson�s Directory **

1843/James Mann/../../../Post Office Directory

1848/John Tacey Cousins/../../../Post Office Directory

1851/Frederick Rouse/../../../Kellys Directory

1851/Frederick Rouse/Licensed Victualler/26/Easthampstead, Berkshire/Census *+
1851/Hannah Rouse/Wife/22/Bethnal Green, Middlesex/Census
1851/Richard Manning/Pot Man/20/Shoreditch, Middlesex/Census

January 1853/John Cox/Outgoing Licensee/../../Era

January 1853/Thomas Sharpe/Incoming Licensee/../../Era

1856/Thomas Sharp/../../../Post Office Directory

October 1856/Thomas Sharp/ Outgoing Licensee /../../The Era

October 1856/Daniel Baker/ Incoming Licensee /../../The Era

November 1859/Daniel Baker/Outgoing Licensee/../../Era

November 1859/William John Todd/Incoming Licensee/../../Era

January 1860/William John Todd/Outgoing Licensee/../../Era Newspaper

January 1860/Richard Coltman/Incoming Licensee/../../Era Newspaper

1861/Richard Coltman/Baker & Publican/45/Shoreditch, Middlesex/Census
1861/Mary A Coltman/Wife/41/Shoreditch, Middlesex/Census
1861/William Coltman/Son, Cooper/14/Limehouse, Middlesex/Census
1861/Eliza Coltman/Daughter/12/Bermondsey, Surrey/Census
1861/Alfred H Coltman/Son/9/Bermondsey, Surrey/Census
1861/Joseph /Servant/20/Shoreditch, Middlesex/Census
1861/Fanny/Servant/16/Bermondsey, Surrey/Census

November 1865/Richard Coltman/Outgoing Licensee/../../Era

November 1865/William Clay/Incoming Licensee/../../Era

1869/William Clay/../../../Post Office Directory

1871/William Clay/Licensed Victualler/47/Spitalfields, Middlesex/Census
1871/Elizabeth Sarah Clay/Wife/42/Spitalfields, Middlesex/Census
1871/Jane Mary Ann Clay/Daughter/24/Bethnal Green, Middlesex/Census
1871/Mary Ann Clay/Daughter/19/Bethnal Green, Middlesex/Census
1871/Samuel Baker/Potman/28/Hackney, Middlesex/Census

1872/W Clay/../../../Brabner�s Hackney Directory **

1873/William Clay/../../../Post Office Directory

1874/B Hyams/../../../Licensed Victualler & Hoteliers Directory

1876/Benjamin Hyams/../../../Post Office Directory **

1882/Benjamin Hyams/../../../Post Office Directory

1884/Alfred J Lawrence/../../../Post Office Directory

1885/Alfred James Lawrence/../../../Post Office Directory **

1891/Key & Butler/../../../Post Office Directory

1891/Walter Key/Licensed Victualler/37/Bethnal Green, London/Census
1891/Sarah Key/Wife/40/Bethnal Green, London/Census
1891/George Butler/Barman/37/Bethnal Green, London/Census
1891/Emily Butler/General Servant/33/Bethnal Green, London/Census

1895/William Brian Dawson/../../../Post Office Directory

1899/William Brian Dawson/../../../Post Office Directory

1901/William B Dawson/Publican/65/Bethnal Green, London/Census
1901/Jane F Dawson/Wife/66/Bethnal Green, London/Census
1901/Lydia Dawson/Daughter/25/Bethnal Green, London/Census

1902/Mrs Jane Frances Dawson/../../../Post Office Directory **

1910/Francis John Hunt/../../../Post Office Directory

1911/Francis John Hunt/Licensed Victualler/49/Mile End Old Town, London/Census
1911/Emily Hunt/Wife, Assistant/48/Hereford, Herefordshire/Census

1915/Howard Thomas Hewlett/../../../Post Office Directory

1938/Mrs Maud Amelia Bailey/../../../Post Office Directory

1944/Mrs Maud Amelia Bailey/../../../Post Office Directory

1945/William Piercy / Licensed Victualler /../../London Gazette, 31 August 1945 **

Mr R J Bayley, licensee of the Royal Oak, Bethnal Green, had to post "full house" notices when Joe Hitchcock and his Licensed Victuallers Darts Four visited the house. An additional attraction was the presence of a darts team of four footballers from the Arsenal. (1949) ***

1949/R J Bailey/../../../Black Eagle Journal ***



* Provided by Ron Pummell

*+ Provided By Karen Wilson

** Provided By Stephen Harris

*** Provided by Alex Wilkinson